'Highly Contagious' Disease Outbreak Forces Quarantine After 57 Horses Die
A federal wild horse facility in Colorado is under quarantine after an unknown yet "highly contagious" disease outbreak killed dozens of the animals in a matter of days, according to the Bureau of Land Management (BLM).
The Cañon City Wild Horse and Burro Facility, which is located on the grounds of a state prison and operated by the BLM, announced the outbreak on Monday. So far, at least 57 horses have died from the unknown disease since April 23. Officials are now working to determine the cause of the illness.
"We are working with local, state and federal officials to determine what is impacting horses in the facility and how we can respond as effectively as possible," Stephen Leonard, BLM Colorado Wild Horse and Burro Program Manager said in a statement shared with Newsweek.
Most of the horses that died from the outbreak were captured on Colorado's West Douglas range in Rio Blanco County last year, according to federal officials.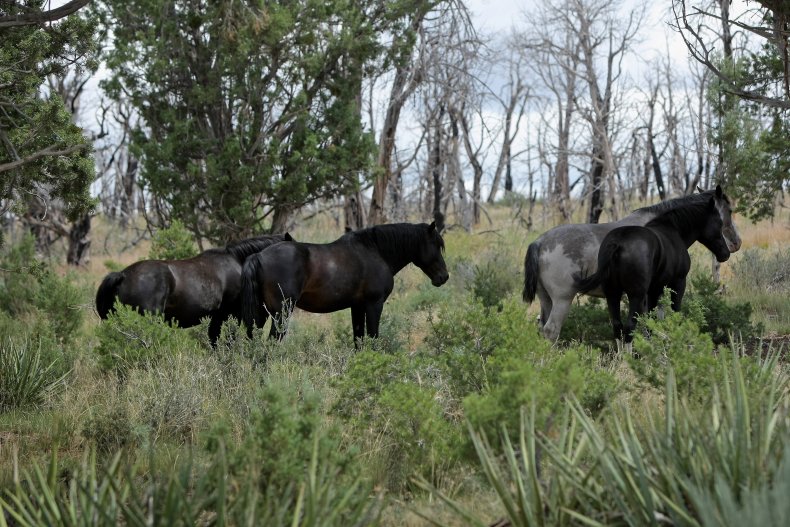 The horse facility is located at the Colorado Department of Corrections in Cañon City, and can house up to 3,000 animals at a time. It is one of just five facilities in the nation with a Wild Horse Inmate Program (WHIP), according to the BLM website.
Under the WHIP program, inmates at the prison feed, care for and train the wild horses for adoption in order to gain "meaningful and marketable experience they can use when they reenter the workforce," according to the BLM.
"While the Cañon City facility holds adoptions for both trained and untrained mustangs, the WHIP offers trained horses to people who may not have the experience, time or facilities to train a mustang on their own. Generally, inmates at Cañon City finish training about seven to 10 horses each month," it adds.
At the time of the outbreak, the facility was housing 2,550 horses, federal officials said Monday. That includes some 450 captured last July and August from the West Douglas range, the Colorado Sun reported.
The BLM says it gathers and removes wild horses and burros from public lands due to overpopulation. The efforts, it says, help to "protect the health of the animals and health of our nation's public rangelands."
However, the Cañon City wild horse facility has previously come under fire, after some advocates alleged last year that the horses are mistreated or subject to starvation, according to a CBS4 investigation. The facility has denied those allegations by showing veterinary reports that conclude that the "vast majority" of horses are in "good condition."
The BLM did not provide an additional comment to Newsweek on Tuesday.