Highly Mutated C.1.2 Variant Does Not Appear to Be Spreading, WHO Says
The World Health Organization (WHO) is aware of a potentially concerning COVID-19 variant in South Africa, but as of now, the new virus variant doesn't appear to be spreading around the world.
Researchers in South Africa found the C.1.2 lineage is the most mutated COVID-19 variant discovered and it contains mutations that have made other variants of the virus more transmissible and indicate it could potentially evade vaccines. However, it is not yet clear if this will be the case with the new C.1.2 variant.
Scientists are also worried about the mutation rate of the C.1.2 lineage, which is nearly two times faster than the global rate.
According to scientists, more research is needed to determine if the variant is more dangerous to humans than the Delta variant and it has yet to be classified as a variant of concern or even interest by the WHO.
On Monday, Tarik Jasarevic, a spokesperson for the World Health Organization, told Newsweek that the C.1.2 variant "does not appear to be increasing in circulation. Margaret Harris, another WHO spokesperson, reiterated the sentiment on Tuesday during a United Nations briefing.
First detected in May, there have only been about 100 sequences of the C.1.2 variant reported globally, according to the WHO. It's been detected in nine countries, including Mauritius, Zimbabwe, Botswana, China, New Zealand, Portugal, Switzerland and the United Kingdom. Cases have been found in all but three provinces in South Africa.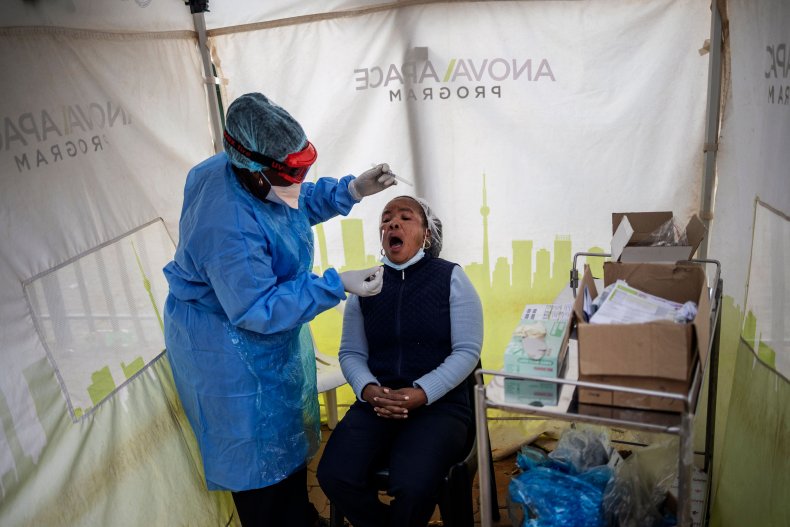 The C.1.2 lineage accounts for fewer than one percent of all COVID-19 cases worldwide, according to data from the WHO, but scientists studying the variant believe its prevalence may be underrepresented.
There's still much to be learned about this variant, according to researchers and it's unclear if the variant is more transmissible and could resist vaccines. But Tulio de Oliveira, a professor at South Africa's University of KwaZulu-Natal and co-author of a recent study, which is waiting for peer review, said they wanted to publish the paper because during a pandemic it's crucial to "share info quicker [rather] than later."
The WHO was informed about the researchers' findings in July and Jasarevic credited their collaborations for helping WHO to "quickly monitor and assess variants." This gives officials the ability to inform the world about potentially dangerous variants.
Low global vaccination rates are fostering the spread of COVID-19 throughout the world, giving rise to the virus's ability to mutate. Along with the death and economic toll that spikes in cases are having, health officials have warned the virus being able to spread poses a risk to even those who are vaccinated.
The more a virus is able to circulate in a population, the more likely it is that a mutation will occur that evades vaccines. In the event that happens, it will require scientists to develop a new vaccine and every country would have to revaccinate its populations, a worst-case scenario that could create a never-ending outbreak.
Anban Pillay, deputy director-general of South Africa's Department of Health, told New Frame the emergence of new variants is expected. He added that scientists are researching if the C.1.2 lineage could evade vaccines and pushed for people to continue to adhere to public health measures to fight the variants.