Doctors Say Pussy Riot Member Probably Poisoned, as Reports Emerge He Was Investigating Murder of Russian Journalists
German doctors revealed its "highly plausible" that the member of Pussy Riot, a Russian anti-Kremlin protest group, who fell sick last week, was poisoned.
Pyotr Verzilov, 30, began experiencing symptoms of vision loss, speech loss and difficulties walking last Tuesday after attending a friend's court hearing in Moscow, reported The Guardian. That evening, he was rushed to a local hospital after his sickness worsened, with additional symptoms of widened pupils and disorientation.
He arrived in Germany on Monday to continue his treatment away from Russia. The Cinema for Peace Foundation, one of Pussy Riot's allies, organized his flight.
"It's highly plausible that a poisoning took place," Kai-Uwe Eckardt, who heads the intensive care unit at Berlin's Charité hospital, told reporters. "[There's] no evidence whatsoever that there would be another explanation for his condition."
"We assume he has an intoxication lasting almost a week now. The clinical findings speak for a specific drug group, but the substance is unknown," the doctor added.
However, despite his concerning condition, the medical staff at Charité hospital confirmed they were confident Verzilov would make a full recovery. "Pyotr Verzilov improves day by day and he is no longer at risk," Dr. Karl Max Einhäupl, the hospital's chairman, said, reported CBS News.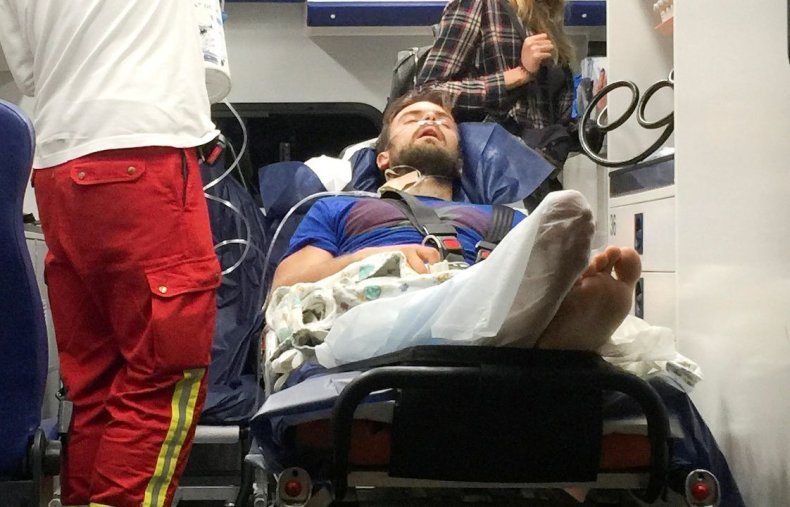 Verzilov has been undergoing intensive care treatment, but the German doctors have said that his condition is not life-threatening. Although the protestor's symptoms are likely to be from a disruption to a part of his nervous system, the doctors could not yet determine on how it could have happened or who could have done this to him.
However, the rest of Pussy Riot claimed immediately after he fell sick last week that Verzilov was poisoned.
On Saturday, Verzilov's ex-wife Nadezhda Tolokonnikova, who is perhaps the best-known Pussy Riot member, posted a short video of their plane arriving at Berlin's Schönefeld Airport. Since Verzilov fell ill, she has told German tabloid newspaper Bild that someone "deliberately" did this to her ex-husband to either "intimidate or even attempt to murder" him.
Veronika Nikulshina, another Pussy Riot member and Verzilov's current girlfriend, thanked their supporters for expressing concern for her partner. "Three times hurrah to everyone who wrote, phoned, visited, cried and sang. We're in Berlin. All is well," she wrote on Facebook.
According to Russia's Zona Media, Verzilov was involved in the investigation of the murder of Russian journalists prior to falling sick. The activist reportedly became joined in the investigation because he was a close friend of the deceased Alexander Rastorguev, a film director and Putin critic who was killed alongside two other journalists in Central African Republic while making a film about Russian mercenaries there. He was reportedly looking to hire investigators who would visit the African country to gather evidence.
In July, Verzilov and three other Pussy Riot protestors stormed the field during the second half of the World Cup final between France and Croatia in Moscow dressed in police gear, reported CBS News. The members of the group were sentenced to 15 days in jail for the demonstration.