Highly Venomous Snake Slithers Into School to Use the Air Conditioning
Venomous snakes seeking food or shelter have had to be relocated this month after slithering into multiple schools in northeast Australia, including one species that seemingly wanted to take advantage of air conditioning.
Faculty members have been forced to call for expert assistance after finding that dangerous snakes had made their way inside a staff office and a student tuck shop. Most recently, a relatively harmless species was removed from a school's lunchroom.
The encounters have been documented on Facebook by the page N&S Snake Catcher, a reptile business, managed by husband and wife duo Norman and Sally Hill, that covers multiple areas in the state of Queensland, including the cities of Brisbane and Ipswich.
On December 3, a deadly eastern brown snake was found hiding among cables behind a desk at Bundamba State School, which is based in a suburb of Ipswich.
"It's not very often we are called out to schools but a brown snake made its way into an office," Sally Hill told Brisbane Times. "That was an extremely hot day so it must have come in to keep cool in the air conditioning and it was sitting next to the tables."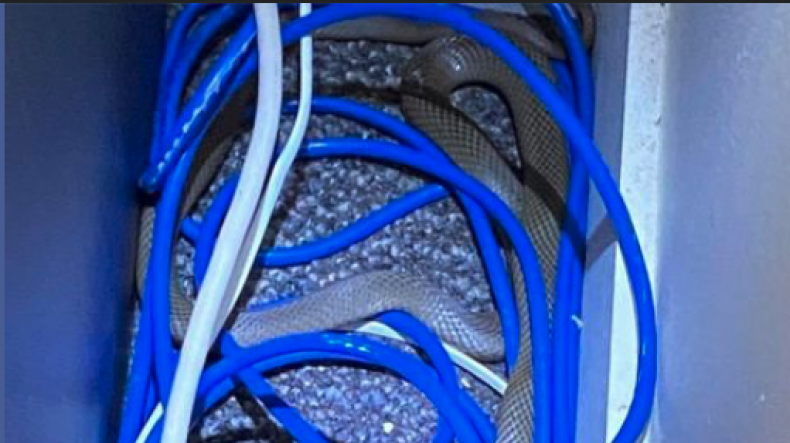 One day later, a red-bellied black snake was discovered lurking under a cash register counter of a tuck shop at Hills International College in the town of Jimboomba.
"I lifted up the counter and my husband grabbed the snake. [Staff] were a bit frightened and... the snake was much bigger than what they thought," Hill added to the Brisbane Times, also sharing a photo of the snake to the Facebook page.
Earlier today (December 10) the business shared a picture of a "cheeky" common tree snake that made its way into the lunch hall of a school in Augustine Heights.
Out of the three, brown snakes are easily the most dangerous species—documented as the second most toxic land snake in the world with a bite containing venom that can be fatal. "This species has the unfortunate distinction of causing more deaths from snake bite than any other species of snake in Australia," the Australian Museum says.
Red-bellied black snakes are also considered to be highly-venomous, but typically more shy, while common tree snakes are both non-venomous and non-confrontational.
The Queensland government says in a fact-sheet on its website that roughly 65 percent of the state's 120 species of snakes are venomous. Officials stress that all native wildlife in the country is protected under law and it is illegal to kill a native animal.
Earlier this week, reptile removal experts in the region advised residents to snake-proof their homes after multiple call-outs to wrangle species found in people's bedrooms.