Easter weekend saw an unusual amount of jellyfish activity in Australia's Whitsunday Islands, leaving five people, including three children, hospitalized with stings.
The influx of incidents has prompted Whitsundays' Volunteer Marine Rescue (VRM) service to stress the importance of wearing a protective suit while swimming in local waters.
The aquatic assailants are believed to be the highly venomous Irukandji jellyfish, a species so toxic that it even has a cluster of symptoms named after it: "Irukandji syndrome." On average, Irukandji cause anywhere from 50 to 100 hospitalizations every year, according to Barrier Reef Australia.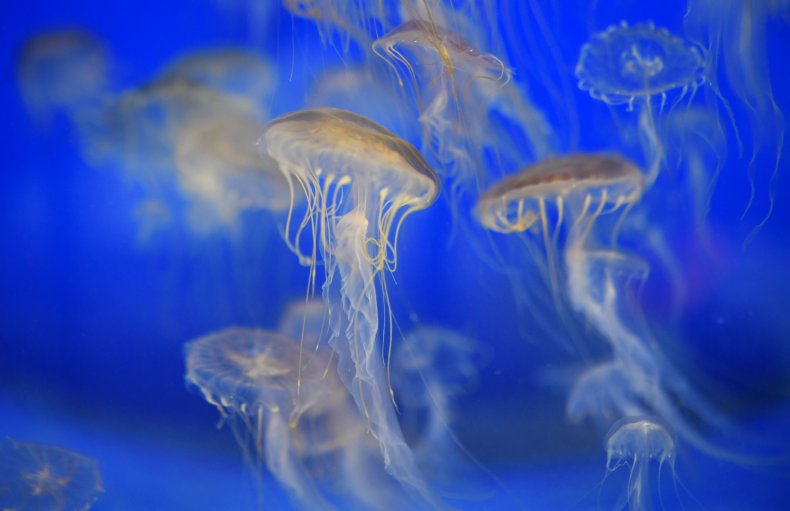 The victims included Queensland resident Danny McGovern's 10-year-old daughter Danika, and the girl's eight-year-old friend who was identified only as "Billy" by ABC Tropical North. In an interview with the outlet, McGovern recounted how the two had emerged from the water at Dingo Beach with red rashes visible on the backs of their knees and thighs. But McGovern and the other adults present didn't think anything of it at first.
"My little one had had a couple of sea lice stings in the past, it looked exactly like sea lice," he said.
Within half an hour, however, Danika and Billy were both complaining of severe stomach pain. Halfway back to the rental, Billy fell to the ground, unable to walk. When McGovern went to inspect the rashes he'd noticed earlier, he saw that they had morphed into sizable welts.
"She started to really stress mentally about stuff and I'm going, 'this ain't sea lice,'" he said.
The adults called a health information hotline and were advised to take Danika and Billy to the hospital. By the time they arrived, McGovern said, "Both kids were in full vomit mode ... the pain was that much that they were vomiting." There, they were treated with magnesium sulfate.
In addition to Danika and Billy, a 31-year-old man, a 27-year-old woman, and a 17-year-old boy were stung. The boy, who seems to have been the most seriously injured, was medically evacuated from Whitehaven Beach on Saturday. Onboard the rescue boat, he was "violently shaking," according to a VRM Facebook post by skipper Ken Bryce.
"If you had seen this young man, as I did, and the reaction from his body, you would definitely wear a protective suit," Bryce wrote.
It appears that all of the victims have been discharged from the hospital. But McGovern said that the experience has left him with a renewed appreciation for recommended safety precautions.
"We all know our area is prone to stingers and Irukandji, [so] just because everybody else is swimming in the water without all of the protective gear on, it's just not worth it," he said.