A highly venomous snake was filmed slithering around a Florida home as an officer tried to catch it.
The Boynton Beach Police Department arrived at the property on April 20 to find the coral snake lurking in an office space.
The footage was taken through the bodycam of Officer Hall, who was "perfect for the job," the police department said on Facebook.
"He grew up with snakes, loves reptiles and pretty much anything to do with the outdoors and nature. He had no trouble capturing the highly venomous snake and rehoming it in the Rosemary Scrub Park," the police department said on Facebook.
In a comment on the Facebook post, social media user Ria Frazier said: "Way to go! I would have died and thrown the whole house away!!"
Coral snakes have an incredibly dangerous bite, possessing a potent venom that is second only to the black mamba, which is one of the deadliest snakes in the world.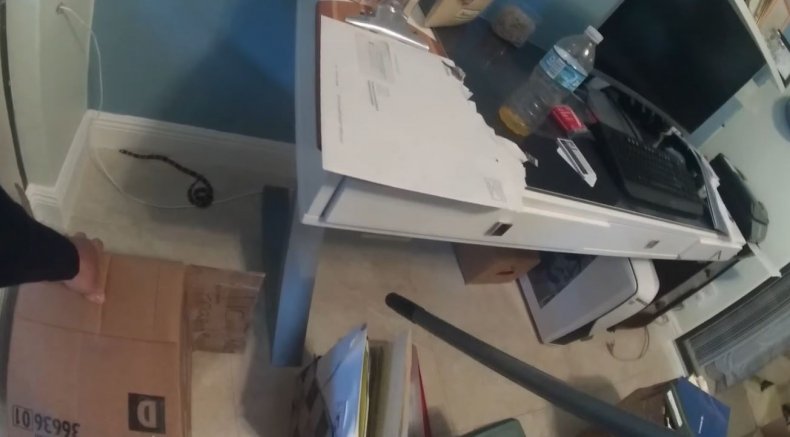 The bodycam footage begins by showing the snake resting on the floor of the room. Hall leans down and gently touches the tail of the snake. The snake suddenly begins to slither away in search of a hiding place.
The officer than reaches for a box, being passed over to him by a colleague. The snake can now be seen hiding underneath a desk, out of reach.
Hall uses a brush handle to guide the snake out into the open. The officer places the opening of the box near the escape route, poised to catch the serpent.
Hall continues to use the brush handle to guide the snake into the box. The snake eventually slithers inside the box, and Hall tapes it up, before releasing it into the wilderness nearby.
Coral snakes live throughout the south east of the U.S. They are most abundant in Florida, where they are found in every county. The elusive snakes only measure between 20-30 inches and prefer hiding in the ground and under debris.
Despite their dangerous bite, the snakes are usually considered less dangerous than the rattlesnake as they rarely attack people. The species are generally non-aggressive, and always seek to hide rather than to attack.
Most bites occur when they are deliberately provoked. The snake in the footage appears intent on finding a hiding place, and does not appear to lash out at the officer.
Snakes are more active in the warmer weather, meaning there are generally more sightings during the spring and summer months.
Another Facebook user, Jenn Birdy Morgan said she currently has one "lingering around [her] house."
"Look out for him every single day now," she wrote.
Newsweek has contacted the Boynton Beach Police Department for a comment.