High School Sweethearts Pose by Tree They Planted Together 15 Years Ago
A couple who were high school sweethearts have shared a moving montage of photos taken in front of a tree, planted on their one-year anniversary.
Kelsey Riley Dixon revealed her then-boyfriend, Wes Dixon, now 31, gifted her a tree after they'd been going out for a year.
The couple, originally from Pennsylvania, planted it in Kelsey's mom's backyard, and began a tradition of taking a photo in front of it every single year.
Some 15 years later the tree now dwarfs them, originally coming up to their shoulders when they first planted it.
The pair, who are now married and live in Seattle, collated all the snaps and shared a clip to TikTok on Monday, which has since been viewed more than a million times.
Kelsey, who's the co-founder and president of digital marketing agency Davies and Dixon, captioned it: "It's a tradition now."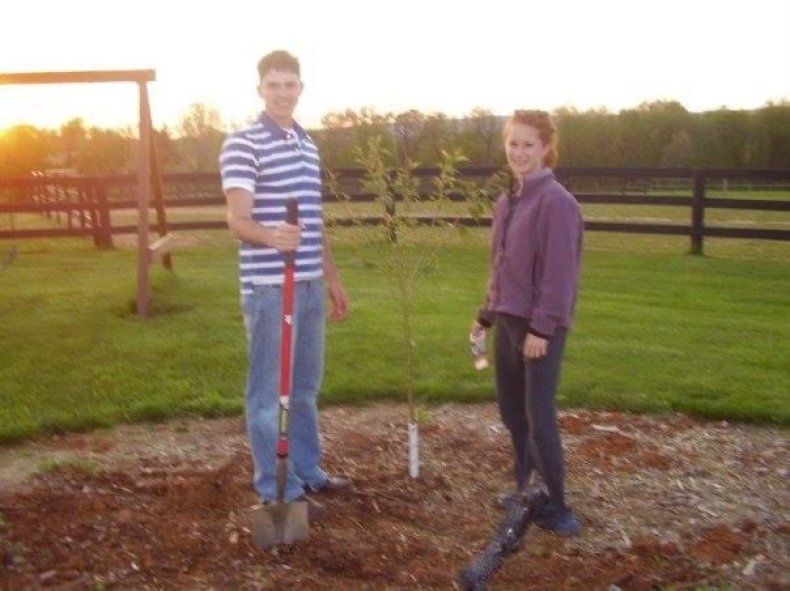 She said: "We are high school sweethearts. In 2007, at ages 17, he got me a tree for our one-year dating anniversary. Every year since then, we've taken a photo in front of it. It's been 15 years. (2019 we forgot.)"
Speaking to Newsweek, Kelsey reminisced about the tree, and explained why they missed out 2019.
She said: "Wes got it for me as a one-year dating anniversary gift and we planted it that day. We were 17! I don't recall who's idea it was to purposefully take a photo each year, but I'm so glad we have! My mom has taken every photo since for us.
"We missed 2019 because life happens and we simply forgot that year. (Since we live across the country, frankly, I feel it's already amazing we've gotten 14 out of 15! We are also always on the move. That year, we were on flights multiple times a month whether for work or play, and had visited 12 countries.) And while I was bummed at first, I kind of love it now that we missed it: it's a good demonstration of imperfection being part of life and relationships. I am so glad it's inspiring people."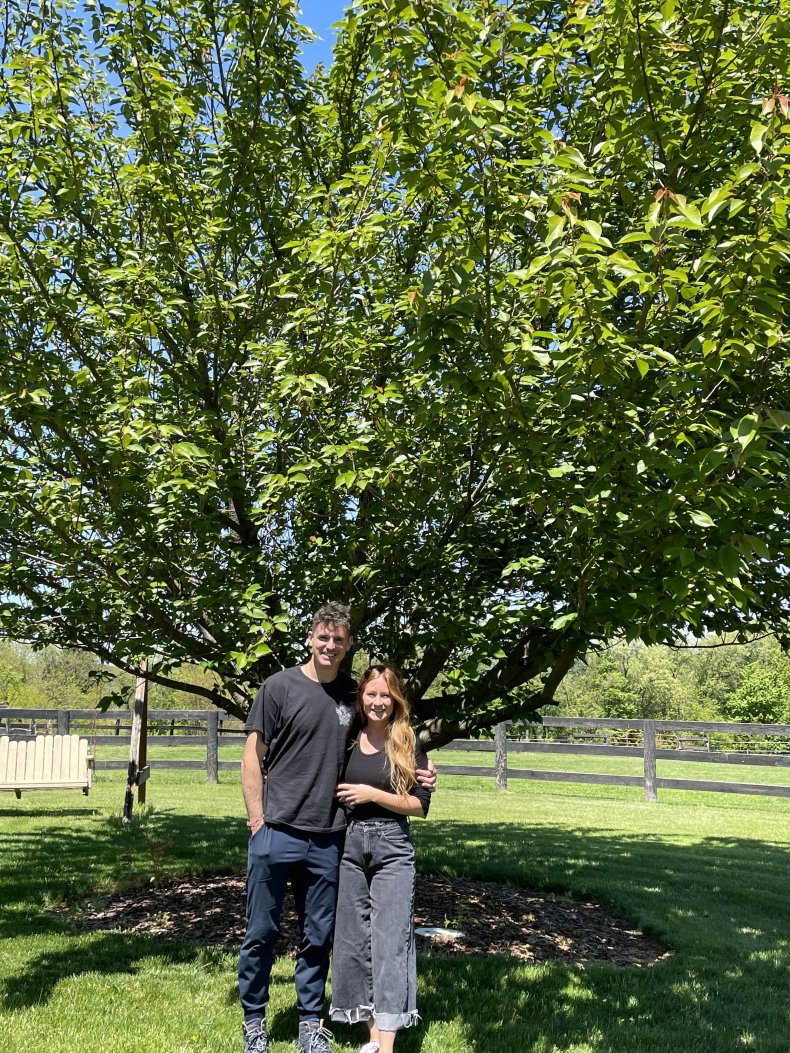 Responding to comments about their adorable symbol of love, Kelsey said: "We got married nine years ago, but we are thinking it'd be cool to renew our vows in front of the tree for our 10 next year! It's at my mother's house where I grew up! We aren't sure what we would do if she leaves that house."
Wes, a carpenter who went to Eastern York High School, in Pennsylvania, paid tribute to his wife on her 31st birthday last year, calling her "my light."
In an Instagram post showing the pair at their graduation in 2008, he said: "The level of stoke and admiration I have for this woman is truly beyond words. Everyday I am humbled by her grace, compassion, and perseverance in life."
Kelsey shared a similar throwback post on Instagram as they celebrated their 14th anniversary last year.
She wrote: "Happy 14th date-aversary to the one who brings so much joy to my life! Throwing it back to our pre-married life years @jwesdixon. Spoiler alert: yes we worked at Sonic in summer 2009. the high school years by the @hollisterco logos."
People have gushed over the touching gesture online, with Marshall Wood pointing out: "Imagine family pictures with it."
"He was planting roots," Kayla thought.
Sean Safrit raved: "That's such an awesome idea!"
While Sabrina commented: "Sending this to my bf right now."
While Maren Hoofdmann said: "This is so cute I want to throw up but also wanna do this."
Agreeing, Kyla Dawn commented: "Such a sweet idea! Now my high school sweetheart husband will be questioned about why he didn't get me a tree. Congrats on 15 years!"
You Are Loved asked themselves: "Why am I mad at my bf for not getting me a tree?"
Jia Min added: "How do I tell my bf to travel back in time 7 years to plant me a tree so we can do this."