Video of the conclusion of a police chase on an open Kentucky road on Sunday led to the arrest of a man on multiple charges.
The video, posted by Kentucky news station WKYT and credited to Emily Smith, shows a red 1992 Chevrolet truck, allegedly belonging to Aaron Elliot, being closely followed by a Stanton Police Department SUV on Mountain Parkway in Powell County.
The SUV hits the middle portion of Elliot's truck, spinning it around and forcing him to accelerate in the opposite direction. As Elliot continues to drive, another police SUV slams into the back of the truck, bringing it to a full stop in a ditch.
The suspect is then seen vacating the vehicle and running uphill as he is chased by multiple officers. Elliot eventually jumps head-first over a shrub and the video cuts off.
Powell County Detention Center records show that Elliot, 30, of Mount Sterling, was charged with assault on a police officer, fleeing or evading police, resisting arrest, reckless driving, operating a vehicle under the influence, failure to maintain insurance and operating on a suspended/revoked license.
"We were just getting in the car to watch my little brother play baseball," Isaiah Stupart told WKYT. His girlfriend recorded the chase that has gone viral. "The last thing we were expecting to see was a big police chase like that."
Footage of the chase has been viewed more than 455,000 times.
The Stanton Police Department said the chase began at about 2:54 p.m. Sunday when Powell County Dispatch advised law enforcement of a motor vehicle pursuit coming from Winchester in Clark County.
Winchester police pursued the truck toward Powell County, where officers with the Stanton Police Department, Clay City Police Department and Powell County Sheriff's Office went to assist.
Shortly after the vehicle entered Powell County, the vehicle crossed the median and began traveling eastbound in the westbound lane.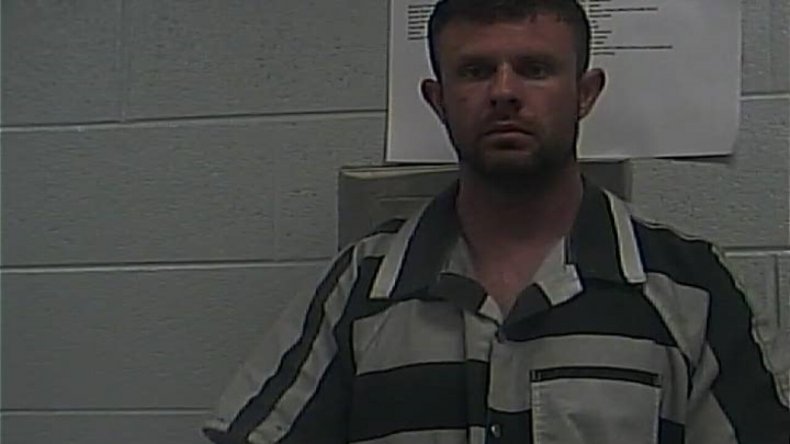 A police report obtained by Newsweek and conducted by Stanton Police said Officer Christopher Friel had been in an on-duty collision with another vehicle presumed to belong to Elliot.
Police arrived at the scene and spoke to Friel, who said that Winchester Police were involved in a motor vehicle pursuit extending into Powell County.
Friel reportedly advised other officers that the suspect "crossed the median and struck his patrol vehicle at excess speeds." Because the suspect was "driving reckless and crossing the median," he eventually merged into Friel's lane, "causing both vehicles to collide and incapacitating Friel's vehicle."
After Elliot's vehicle was spun around, and "due to the pursued total disregard and extreme indifference to human life," as police described, Officer Martin Tipton of the Clay City Police Department pitted Elliot's vehicle in the ditch line. That was when, as video showed, the suspect exited his vehicle and made a run for it.
Police said that when Elliot was advised he was under arrest, he initially resisted before being placed under arrest.
"Elliot was very unsteady on his feet and kept nodding his head," the police report said.
Friel was transported to the Clark Regional Medical Center for evaluation.
After the suspect was transported to the Powell County Detention Center, where he is being held, he allegedly asked for an attorney and refused a blood test.
Detention records show that Elliot was not issued bond for any of his charges. His next court date is scheduled for May 4.