'The Highwaymen' True Story: Netflix Movie Retells Bonnie and Clyde Ambush from Frank Hamer's Perspective
Bonnie Parker and Clyde Barrow met in 1930, but it wasn't until 1932 they began one of the most famous crime sprees in American history. On May 23, 1934, it was ended, when police led by former Texas Ranger Frank Hamer ambushed the couple's car and killed them with a combined 130 shotgun, pistol and automatic rifle rounds. The true story, including exactly what precipitated their deaths, has always been contested—more now, with the release of Netflix's new movie The Highwaymen.
Bonnie and Clyde became even more famous in death, memorialized in songs, their fairgrounds-touring death car and movies, most famously 1967's Bonnie and Clyde, starring Faye Dunaway and Warren Beatty as Parker and Barrow, which pioneered new heights in movie violence. Hamer was portrayed as a vengeful fool, determined to kill Bonnie and Clyde after the duo humiliate him in a first encounter invented for the movie (Hamer never saw Parker or Barrow before ambushing them). The Highwaymen tells a very different story.
Netflix's The Highwaymen True Story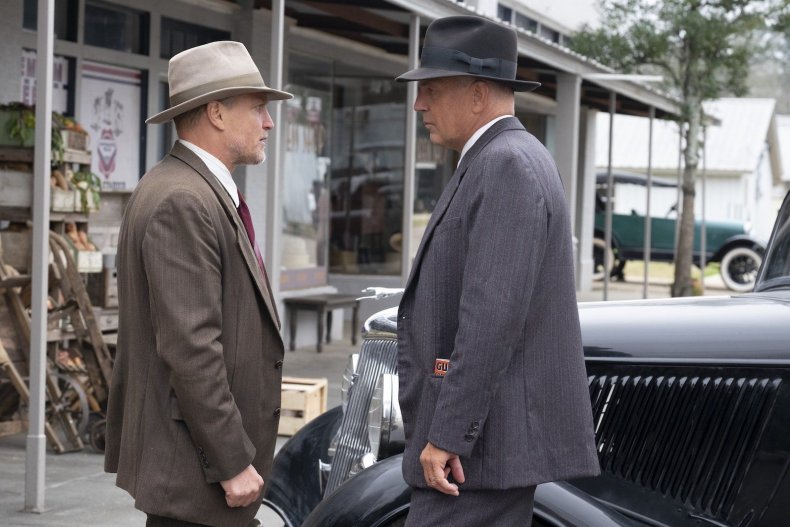 Netflix movie The Highwaymen inverts the perspective of the '67 movie, following Hamer, played by Kevin Costner, and Woody Harrelson as fellow former Texas Ranger Maney Gault.
"When you're doing a historical piece, sometimes you might do something that kind of dramatizes the greater truth," director John Lee Hancock says in a featurette released by Netflix. "So we're reducing a 100 days of actual history into two hours, so sometimes you combine things, but you also have to be dramatic and you have to entertain. So I think you want to be as true as you can to the story and as true as you can to history, and make it as historically correct as you can."
The true story of the hunt for Bonnie and Clyde begins in January 1934, when Barrow Gang member Raymond Hamilton escaped from an Eastham Prison Farm work crew with four other inmates (one, Henry Methvin, joined up with the gang), using guns smuggled under the prison fence by Barrow days earlier. Two guards were shot, one fatally wounded, while Parker remained in the getaway car.
The "Eastham Breakout" was the last straw for Texas law enforcement. Barrow and his gang were already responsible for a string of robberies, murders, shootouts with police and military base heists, stretching back to 1932 and from Louisiana to Minnesota. With approval from Texas Governor Miriam "Ma" Ferguson (played by Kathy Bates in The Highwaymen), Lee Simmons, general manager of the Texas Prison Systems (played by John Caroll Lynch) convinced Frank Hamer to come out of retirement and instructed him, according to American History magazine, "to put Clyde and Bonnie on the spot and then shoot everyone in sight." In lieu of a big paycheck, Simmons offered Hamer whatever he wanted of the Barrow Gang's possessions.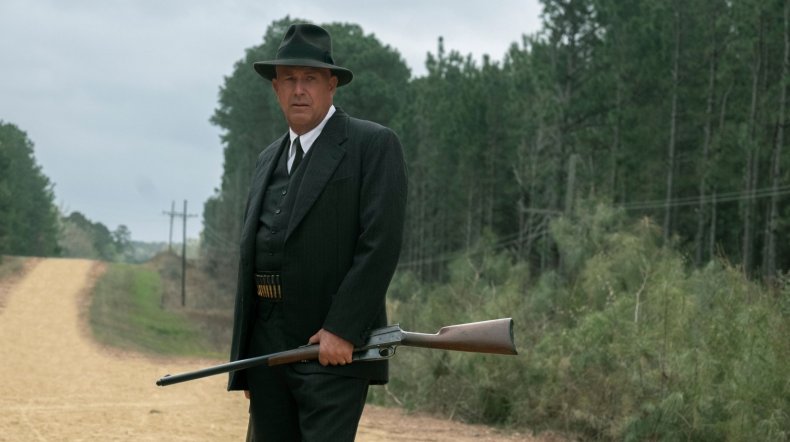 Hamer was known as the quintessential cowboy lawman, having spent decades fighting bootleggers, livestock thieves, smugglers and the Texas KKK, thwarting more than a dozen lynchings. Before hunting Bonnie and Clyde he was already famous for exposing a murder ring—what he called the "bankers' murder machine"—organized by Texas police to collect $5,000 rewards from the Texas Bankers' Association by killing and framing minor criminals.
Public affection for the duo had also waned by 1934, especially after the Easter Sunday murder of two Texas Highway Patrol officers. An eyewitness account, later discredited, described Parker drunkenly executing one officer and laughing (you can see this version of events in The Highwaymen trailer above). The actual gunmen were Barrow and Methvin. Nevertheless, Hamer blamed Parker for the murder, even in interviews after the ambush.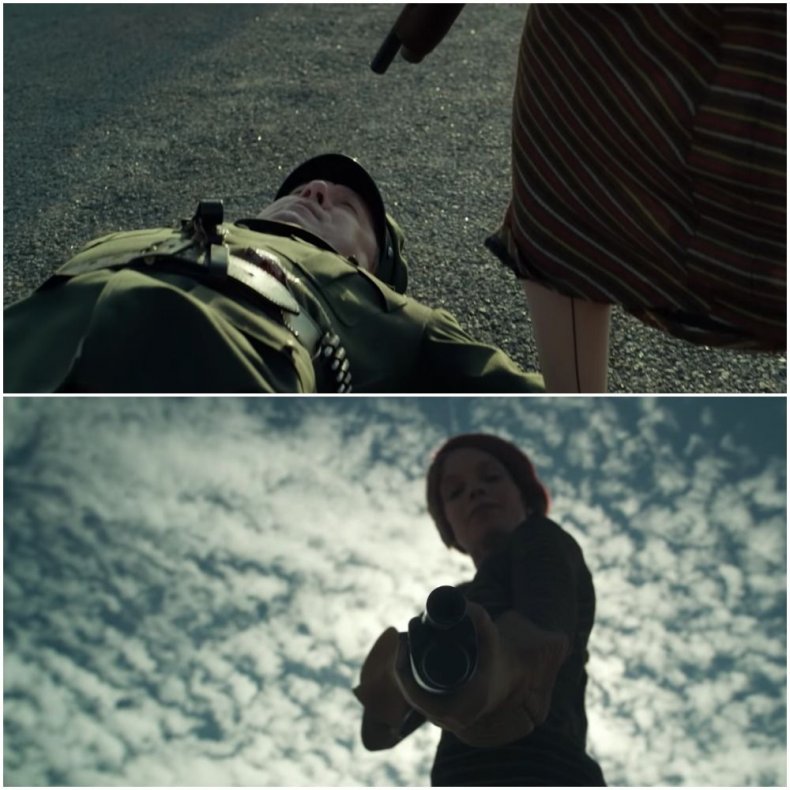 Hamer followed the gang's robberies and killings, but the opportunity for an ambush didn't emerge until March 1934, when the family of Henry Methvin reached out to Sheriff Henderson Jordan in Louisiana. Through intermediaries, Methvin agreed to set up Bonnie and Clyde in exchange for a pardon from the state of Texas, which was soon delivered. On May 21, Methvin split with the duo and made plans with them to rendezvous at his parents' house.
Hamer, Gault and Dallas County Sheriff's deputies Bob Alcorn and Ted Hinton joined with Sheriff Jordan and his deputy, marksman Prentiss Oakley to set up along the road to the Methvin family home near Gibsland, Louisiana. What happened next is highly disputed, with the six police shooters sharing wildly variable versions of Barrow and Parker's deaths. The Highwaymen restages Bonnie and Clyde's deaths at the exact same location as the real ambush, but it's impossible to fully judge the accuracy of their version.
The only agreed on fact is that Deputy Oakley (Brian F. Durkin in The Highwaymen) fired first, killing Barrow instantly with a bullet to the head. Here's an account offered by the two deputy sheriffs to the Dallas Dispatch the day after the killings:
"There must have been a signal given, but who it came from is another thing. We just all acted together, stepped out into the road and raised our guns. We all yelled 'Halt!' at once. They didn't halt. The car was going slowly and Clyde let go of the wheel. We could see him grab at a gun in his lap. Bonnie was going for something on the other side. Then all hell broke loose. There were six men shooting at once. Machine guns? No, thank God. We had shotguns and Browning automatics… You couldn't hear any one shot. It was just a roar, a continuous roar, and it kept up for several minutes. We emptied our guns, reloaded and kept shooting. No chances with Clyde and Bonnie."
The warning given to Barrow and Parker before firing is especially disputed, with some accounts ascribing the warning to different officers and others claiming no warning was given. "They died with their guns in their hands," Hamer claimed, according to John Boessenecker, author of Texas Ranger: The Epic Life of Frank Hamer, the Man Who Killed Bonnie and Clyde.
Both Barrow and Parker had been shot in the head multiple times. In the car they found what Hamer described as "an arsenal on wheels," including automatic rifles, sawed-off shotguns, ten pistols and 5000 rounds of ammunition. Hamer kept the weapons and also took a box of fishing gear.
Many surviving members of the Barrow Gang were eventually arrested and several were executed. While pardoned in Texas, Methvin was sentenced for a murder in Oklahoma, paroled in 1942, and died after passing out drunk on train tracks. Hamer became a strike breaker for oil companies and shipping interests. He died in 1955.