'Hijacking' of Tanker Ends After Special Forces Storm Ship
Seven stowaways on a tanker have been detained off the Isle of Wight by U.K. Special Forces following a suspected hijacking.
The 10-hour standoff was bought to an end by 16 members of the Special Boat Service (SBS) after a request was made by Hampshire police on Sunday night, after the captain of the Nave Andromeda put out a rescue call. The tanker had been due to dock in Southampton earlier on Sunday.
Hampshire police said they had received reports that a number of stowaways were on board the vessel and had made threats towards the crew. They reportedly boarded in Lagos, Nigeria.
A police spokesperson said: "At 10.04am (local time) today (25 October) concerns were raised to police for the welfare of crew on board the vessel, which was situated approximately six miles off the coast of Bembridge.
"The vessel had been traveling in the direction of Southampton, having sailed from Lagos in Nigeria. It was reported that a number of stowaways were on board, and they had made threats towards the crew. Following a multi-agency response by police with support from the military and other emergency service partners, seven people were detained by police. All 22 crew members are safe and well.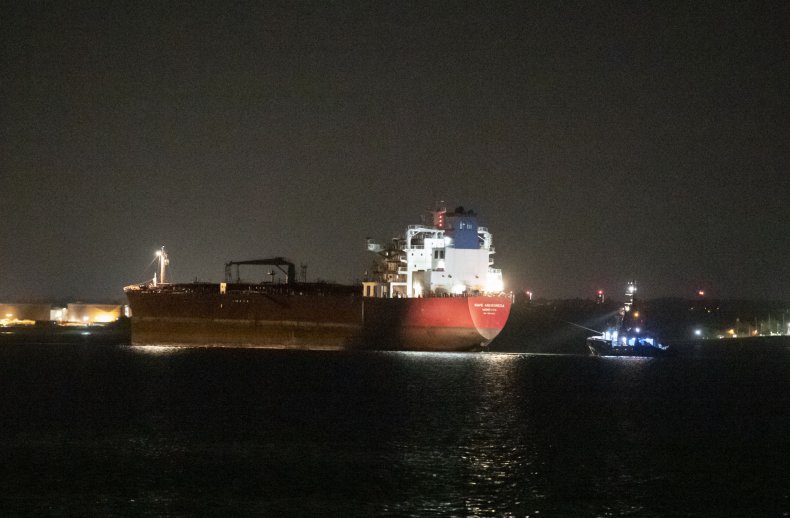 "Police are investigating this incident and we have a number of enquiries to carry out to establish the full circumstances."
Special forces descended onto the tanker via four Royal Navy helicopters after nightfall. The Ministry of Defence called the incident a "suspected hijacking" and said Defense Secretary Ben Wallace and Home Secretary Priti Patel had authorized the operation in response to a police request.
Wallace said: "I commend the hard work of the armed forces and police to protect lives and secure the ship. In dark skies, and worsening weather, we should all be grateful for our brave personnel. People are safe tonight thanks to their efforts."
Patel tweeted that she was grateful for the quick and decisive action of the police and armed forces who were able to bring the situation under control, guaranteeing the safety of all those on board.
The 22 crew members had locked themselves into the ship's citadel, a secure area in the ship, protecting themselves against the suspected hijackers, from where they were then able to contact the coastguard who alerted police.
A Government spokesperson said: "In response to a police request, the Defense Secretary and Home Secretary authorized Armed Forces personnel to board a ship in the English Channel to safeguard life and secure a ship that was subject to suspected hijacking. Armed forces have gained control of the ship and seven individuals have been detained. Police investigations will now continue. Initial reports confirm crew safe and well."