Hiker Covered in Blood After 8-Ft. Snake Bites His Head: Felt Like a 'Slap'
A hiker in Queensland, Australia, was bitten in the head by a hanging python in an apparently unprovoked attack on Monday.
Joey Zayne was on his way home from a swim with a friend at Behana Gorge in Cairns, Far North Queensland, when the incident occurred,
"As we were leaving, walking up the track, another couple pointed out the scrub python hanging from the trees above the path, about 2.5 meters [8 feet] long, we estimate," Zayne told Newsweek. "I'm assuming it was getting ready to feed on bats."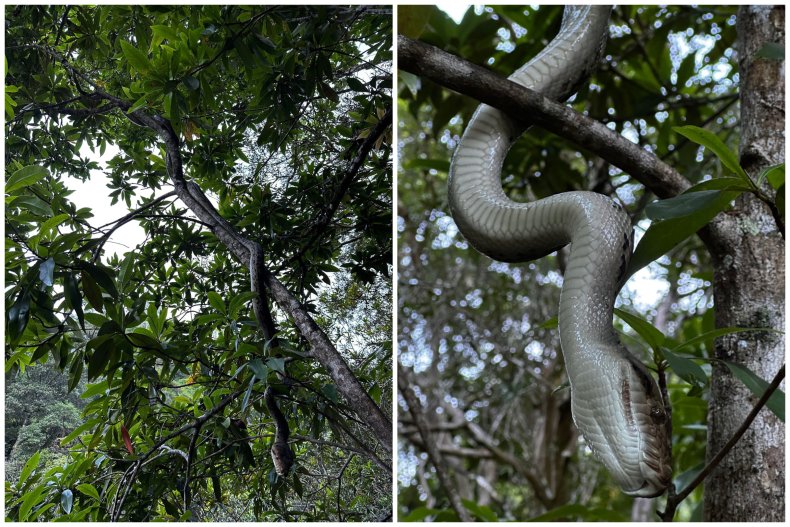 Zayne took out his camera and began to photograph the dangling reptile. "I took a few nice pictures and video from a safe distance, [but] my friend told me that every time I put my camera down to check the footage it got a little bit closer, so I decided to leave it alone," he said.
As the two were about to leave, Zayne realized he could not find the keys to his motorbike. "I searched my bag and then some rubbish fell down the rocks," he said. "I walked down to retrieve it."
On his way back up, Zayne forgot to keep watch on the herpetological hazard hanging from the tree. "[The snake] must have dropped much lower because it bit me across the face," he said.
"It was incredibly fast, just a split-second contact.... It seriously felt like someone had slapped me across the face."
Zayne fell down the rocks but managed to catch himself on a tree. "I was just shocked," he said. "There was absolutely no indication it would do that, it just seemed curious."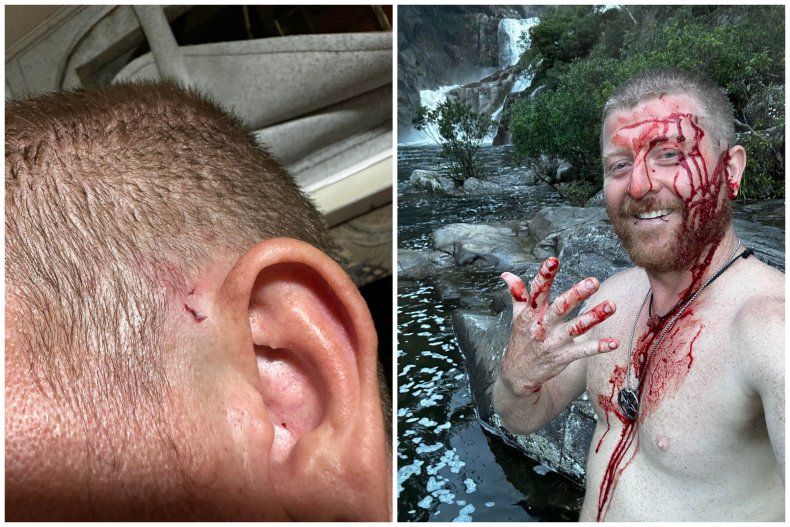 Zayne's friend ran to see if he was safe, and they went down to the water to wash out the wound.
"I realized that it was bleeding much more than I expected," Zayne said. "It was spraying out of my head, maybe cut a vein or small artery by the looks of it."
In Australia, scrub pythons are found in the humid woodlands of northern Queensland, according to Oakvale Wildlife Park. They are not venomous, but their bites can still cause a lot of harm.
To get home, Zayne had to wrap his T-shirt around his head in his helmet to stop the bleeding.
Zayne is no stranger to dangerous wildlife and has had numerous close encounters in the past. "[Usually] you just calmly walk away and give them space," he said. "This one decided to come closer. I think it was picking up on my heat because it was hanging from the trees looking for bats."
It is very unusual for snakes to attack people like this without some sort of provocation. But after Zayne posted about the incident in a local hiking group on Facebook, it soon became clear that he was not the only one to have been picked on by the python.
"My friend also got bitten in the head two weeks ago in the same spot," said one Facebook user.
The user went on to say that the friend only received a shallow bite mark with "not much blood."