Hiker Spies Critically Endangered California Condor Overlooking National Park
The grueling hike on the Angels Landing trail at Zion National Park in Utah was worth it for a couple when they spotted the critically endangered California condor.
"It's not every day you get to see a critically endangered species up close in the wild," a tweet from the Utah Department of Resources read. "That's exactly what happened for Shane Wayment when he hiked Angel's Landing in @ZionNPS recently and spotted this California condor. This is California condor #1111, born just last spring."
Jonathan Shafer, an official with the National Park Service, told Newsweek that two young condors took their first flight at the park recently, including #1111.
He said that scientists observed the condors and saw many of their milestones.
Each condor is fitted with a radio transmitter and, or wing tags. However, #1111 is known for its lack of tags.
In the photo, the endangered condor is perched atop a snowy rock with a formation in the background, surveying the national park.
According to the Zion National Park website, the California condor population shrunk to just 22 individuals by 1982. They were captured and took part in a captive breeding program that brought them back from near-extinction.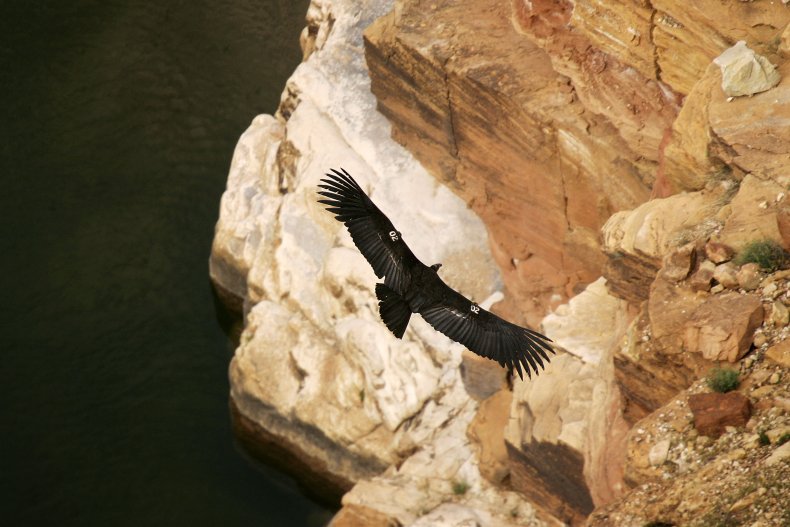 Over the years, the captive-bred condors were released and they are now breeding in the wild.
"Roughly 70 condors live wild in Arizona and Utah, and Zion rests in the middle of this realm," the park's webpage stated.
Officials noted that pairs of birds mate for life and they produce one egg every other year. About half of the 400 condors live in the wild.
This particular condor, #1111, took its first flight at the end of August 2021.
Wayment told Newsweek that he was hiking with his girlfriend, Jess Gariepy, who first spotted the endangered bird and pointed it out to him.
"It was in an area that isn't very wide, so we had to walk right by the condor," Wayment recalled.
The two were just a few feet away from it, and Wayment said the bird did not seem stressed out or worried as they walked by.
"He was watching us as we walked up, but he was relaxed for the most part," he said.
While on their way back, the couple noticed that the condor was not in the same spot, but moved to a lower ledge.
This was not the first time the couple came across a California condor.
Just a few years ago, they were hiking the same trail when a condor flew next to the formation.
Gariepy said it was "massive" and said it was a similar effect to that of a plane flying over, casting a large shadow.
The two are grateful for the experience to have been so close to the endangered bird.
"I feel very lucky to have been there that day," Gariepy said.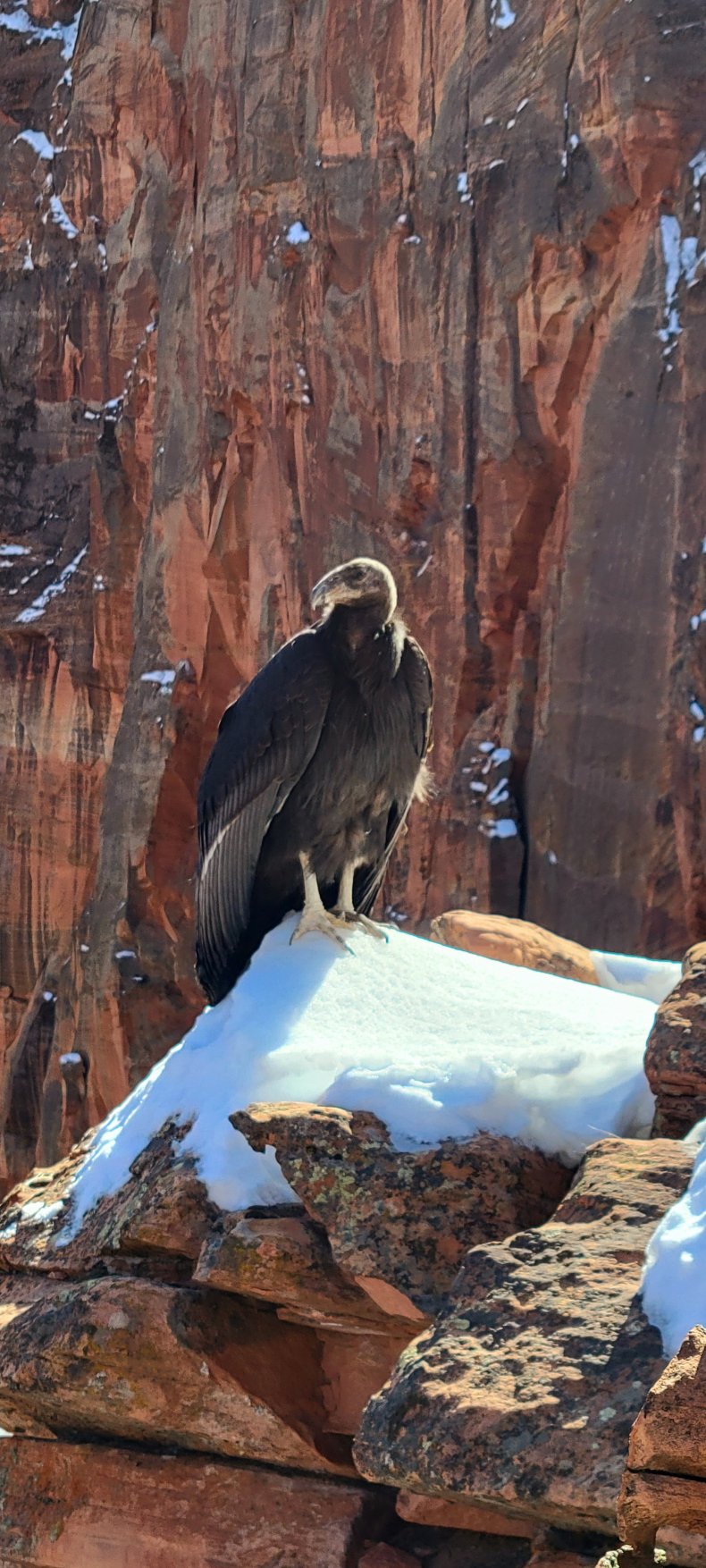 Hikers may see a California condor, but they are urged not to approach it or offer food. And, if the condor is within reach, people are encouraged to report the situation and the bird's tag number to park staff.
As the population of the condor continues its recovery, the major threat to it is lead poisoning. Condors tend to eat larger mammals, such as deer and elk. There are instances that the animal the condor eats was shot with a lead bullet.
"Hunters can help by switching to non-lead ammunition," park officials said.
It was not an easy trek for the couple—Zion National Park describes Angels Landing as one of the most popular destinations, but it is also known for being "strenuous," and potentially "mentally challenging."
"Several of these trails include walking along steep cliffs and holding onto chains for safety," park officials said about the more strenuous trails, noting that the hiker's safety is their responsibility.
Newsweek recently reported that due to the increased popularity of Angels Landing, which makes the difficult trail even more complicated, interested hikers will need to enroll in a lottery to receive a permit to hike the narrowest section of the trail, known as the "chain section."
It is a 5.4-mile round-trip hike, and hikers will go as high as 1,488 feet in elevation.
"Most hikers take around [four] hours to complete the hike, but some take longer," park officials said.
This was not the first time someone came across the endangered California condor.
Newsweek reported a California homeowner went outside and was met with more than a dozen California condors on her property.
Updated 01/24/2022, 6:28 p.m. ET: This story has been updated with comments from Jonathan Shafer, an official with the National Park Service, Shane Wayment and Jess Gariepy.