Hiker Stumbles Across Decapitated Head in Los Angeles Park, Rest of Victim's Body Discovered Nearby
A homicide investigation was launched after a hiker stumbled across a decapitated head in a Los Angeles park.
The hiker was walking with their dog when they found the remains at the bottom of a steep hill in a densely wooded area of Griffith Park on Monday morning and alerted authorities, CBS Los Angeles reported.
The Los Angeles Police Department said the grim discovery was made in the 4800 block of Griffith Park Drive at around 9.a.m, according to the station.
Detectives arrived at the scene, near the intersection of Griffith Park Drive and Camp Road, shortly after the hiker found the head. Officers then located other parts of the victim's body in the surrounding wooded area, KABC reported.
Newsweek subscription offers >
The victim has not been formally identified, but is a man in his 40s or 50s, police told the station. He is thought to have been dead for at least two or three days when his remains were discovered.
Police told KABC that foul play is not suspected in the death. However, a homicide investigation was launched as it is protocol.
Newsweek subscription offers >
LAPD Lt. Ryan Rabbet told the station that police do not believe the victim was killed. Rather, they believe the victim may have been a homeless person who was living in the area and who was dismembered by an animal after he died there.
Authorities found an encampment where a homeless person might have been living near the place where the remains were found, the station reported. No further details were revealed about the circumstances of the victim's death.
According to CBS Los Angeles, officials with the Los Angeles County Coroner's office were at the scene aiding the investigation.
Newsweek has contacted the Los Angeles Police Department and the Los Angeles County Coroner's Office for comment.
Griffith Park is one of the largest municipal parks in North America, spanning more than 4,500 acres, according to the Los Angeles Department of Recreation and Parks.
Located in the Santa Monica Mountains, the park's canyons are criss-crossed with more than 70 miles of trails for hikers. One of the most popular is the trail from the Griffith Observatory parking lot to the summit of Mount Hollywood, the park's highest peak that boasts spectacular views over the Los Angeles Basin.
However, park officials warn hikers to be cautious and remain on designated trails as they explore the park as it's a wilderness area that is home to animals including mountain lions, coyotes and foxes.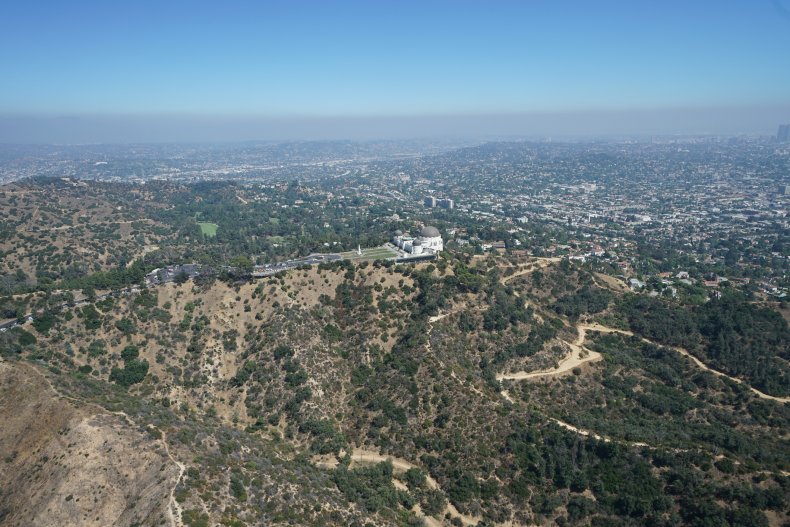 Hiker Stumbles Across Decapitated Head in Los Angeles Park, Rest of Victim's Body Discovered Nearby | U.S.