Hiker Trapped Between Boulders While Taking A Selfie Seriously Injured
A hiker who became trapped between two large rocks while he was trying to take a photo escaped with serious injuries over the weekend.
Clayford Cabilas climbed onto some large rocks to take a photo when he fell around 2:45 p.m. on Saturday in The Forks in Maine.
The 30-year-old reportedly lost his balance, causing one of the rocks to shift and pin his arm and leg between the boulders, the Maine Department of Inland Fisheries and Wildlife said in a statement, as reported by the Associated Press.
Cabilas and his hiking partner Precious Magallanes, 27, had just finished the Mosquito Mountain Trail when they decided to take a snap before getting in their car to leave.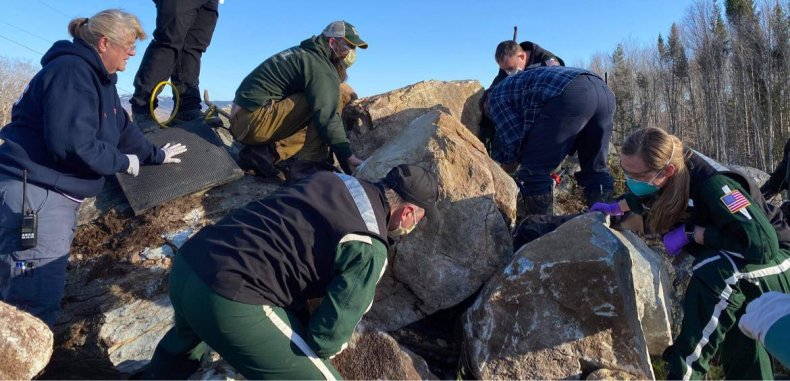 However, the rocks they climbed to take the picture had only recently been moved next to the trail by heavy equipment and shifted when the pair climbed on top.
Magallanes was unable to free her friend and could not reach 911 due to a lack of cell phone reception.
After repeatedly calling emergency services, she was finally able to get through to 911 dispatch and crews arrived about an hour later by 4:15 p.m.
Rescue teams needed to use heavy-duty equipment and airbags to move and secure the large rock in order to eventually free the hiker.
By the time he was rescued, he suffered a fractured arm and leg, head injury, and had become increasingly hypothermic, the Maine Warden Service said.
Cabilas was taken by LifeFlight helicopter to North Lights Hospital in Bangor.
According to a statement from the West Forks Fire and Rescue Department, Cabilas sustained serious injuries from the fall.
Newsweek has contacted the Maine Department of Inland Fisheries and Wildlife for comment.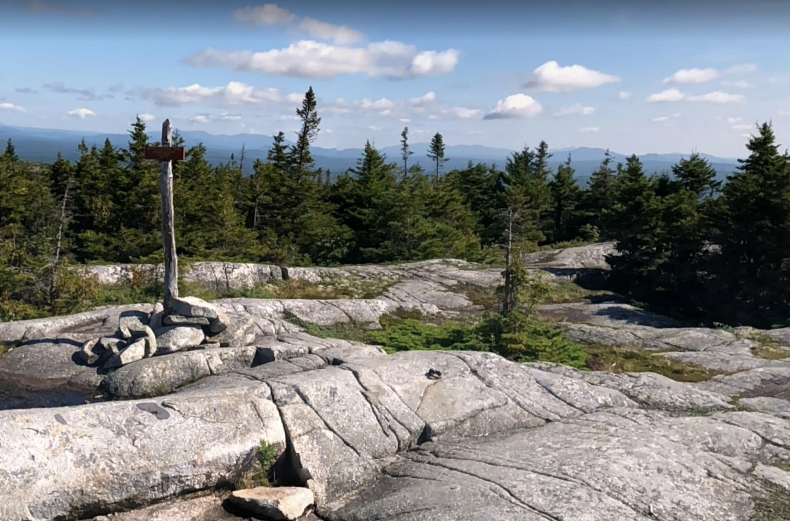 Accidents caused by selfies gone awry are on the rise and account for more fatalities than shark attacks, according to a new study.
According to a report in the Journal of Family Medicine and Primary Care in India, 259 people died in 137 selfie-related accidents between 2011 and 2017, compared to just 50 people killed by sharks.
Though 259 deaths over seven years doesn't sound like a lot, selfie-related fatalities are on the rise: in 2011, there were only three, but by 2017, the number of selfie-related deaths approached 100.
The situation has even generated its own label: Selfiecide.
According to the study, conducted by researchers at the Indian teaching hospitals group AIIMS, the typical victim of "selfiecide" is a male and in his early 20s.
In 2019, Gigi Wu, the Instagrammer known as "Bikini Hiker," died of hypothermia after falling into a ravine while hiking up Yushan Mountain in Taiwan. Wu was known for posing on mountain summits in a swimsuit.
Indian couple Vishnu and Minaxi Moorthy fell to their deaths trying to take a selfie at Taft Overlook at Yosemite National Park later that same year. The couple's Instagram account, "Holidays and Happily Ever Afters," which had more than 25,000 followers, often showed them in dangerous situations.
Just a month earlier, Israeli teen Tomer Frankfurter fell from another Yosemite peak, Nevada Fall.