Hilarious Moment Random Dog Joins Students' Track Race: 'Dopamine Boost'
A running dog has left the internet in stitches after a video of it crashing a school track race went viral on social media this week.
The video, shared on TikTok by a South African high school teacher under the username Moesleemah, shows the random dog joining the competition, running alongside the high school students.
The hilarious post, which quickly went viral all over the platform, comes with a caption that says: "A random dog joined the race during interschools."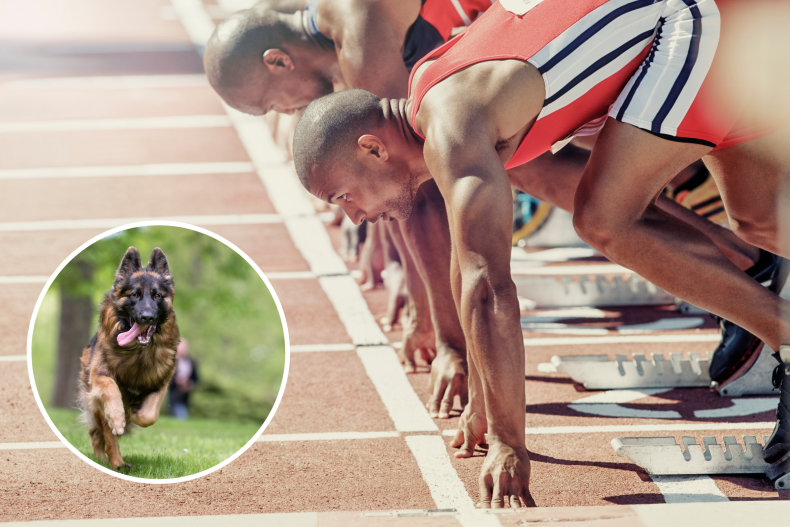 While many dogs are able to run very fast, not all dogs are great runners. The extent of their ability mostly depends on their breed and body makeup. For example, a dachshund is much slower than a dog with long legs like a greyhound.
According to pet care website Rover, some qualities that make dogs good runners include having feet that can grip and feel the ground, plus nails for traction, giving dogs great turning ability and complex gaits; having a double-suspension gallop that maximizes speed and distance when running at top speed; as well as having lots of power and forward drive thanks to their flexible spine, long loins, and strong abdominal muscles.
"Some fast breeds have a double-suspension gallop in which their body is propelled through the air with four legs leaving the ground at the same time."
Generally, according to Rover, dogs can run at about 15–20 miles per hour but only for short distances, although some breeds are able to run less or more, based on their breed, physical composition, and health.
According to Wag Walking, the 10 fastest dog breeds in the world include greyhounds, salukis, Afghan hounds, vizslas, whippets, Jack Russell terriers, dalmatians, borzois, Doberman pinschers, and border collies.
The fastest on the list, greyhounds, can reach over 45 miles per hour while running, while salukis are able to reach 42 mph and the third, Afghan hounds, as well as vizslas and whippets, can reach around 40 mph.
The video quickly attracted animal lovers from across the platform, receiving over 325,800 views and 24,500 likes so far. One user that commented on the post, _mylifeasleila, wrote: "This is so cute. dopamine boost."
Newsweek reached out to Moesleemah for comment. We could not verify the details of the case.
Do you have funny and adorable videos or pictures of your pet you want to share? Send them to life@newsweek.com with some details about your best friend and they could appear in our Pet of the Week lineup.