A cat wandered onto the field Monday night at Yankee Stadium during a Major League Baseball game in New York, outsmarting the on-field crew members who tried to capture it. Fans began cheering the shifty feline as it dodged the officials and eventually darted through a gate.
The hometown Yankees lost that night. The hometown cat, however, was more than just a hit—it was a grand slam.
The cat came onto the field during a game between the Baltimore Orioles and the New York Yankees. The game continued as the cat stalked near the Orioles' dugout and then ran towards the outfield.
There, it swerved away from an outfielder and ran towards the back wall, next to the pitcher's bullpen. It then took a moment to examine the high plexiglass divider, perhaps thinking about its escape.
"Now, we usually don't show when somebody gets loose on the field," a TV announcer joked while the camera focused on the cat, "but this time, we're making an exception."
The crowd cheered as the cat jumped onto a wall and began walking along it.
"Good hops," one announcer said of the cat's jump. "They're athletic, huh?" another replied. The announcers then sympathetically commented about how frightened the cat seemed as it ducked low while walking cautiously backwards along the wall.
Four stadium crew members then ran towards the outfield to capture the cat. After they surrounded the feline, it bolted away, leaving the men to chase as the crowd cheered.
During the chase, the TV announcers said that in a previous game, a kitten had run onfield and bit a field crew member who picked it up.
The cat in Yankees Stadium then began repeatedly jumping down onto the field and back up onto the fence as the crowd started chanting, "Let's go, cat! Let's go, cat!"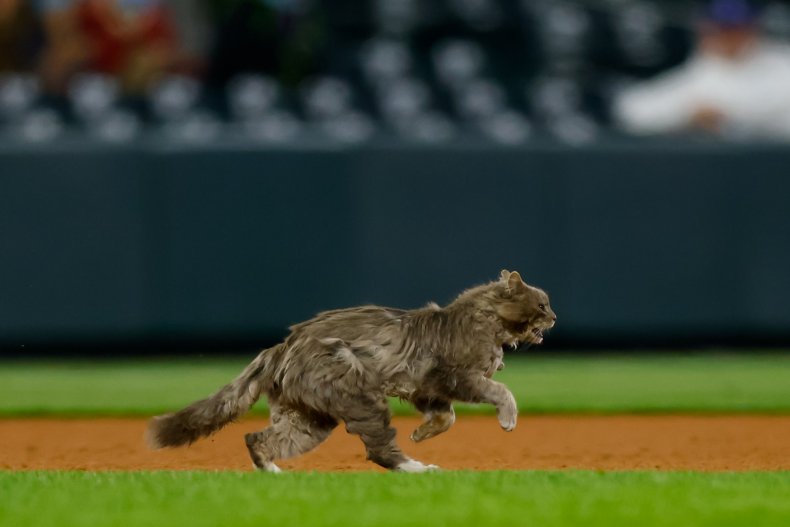 Five on-field managers unsuccessfully tried to wrangle the cat as it tried to jump through the clear, plastic barrier on the stadium's back wall.
"What are they doing?" one announcer asked as the cat ran through several of the men's legs.
At this point, the camera captured several Yankees players in the dugout, laughing, smiling and shaking their heads in disbelief as the cat ran towards another part of the field. At least seven field crew members approached as the cat stayed crouched and still near the wall.
The cat then ran through a crew member's legs yet again and towards a side gate where an eighth member let the cat out into the stands.
Numerous Twitter commenters said that the Yankee field staff apparently need additional training learning how to handle cats.
The Orioles beat the Yankees, 7-1, that night in the Bronx.