Hilarious Video Shows Cat Scaring Goat at Ohio Farm
Footage from an Ohio farm has captured the moment a cat scared a goat so much it ran away in fear.
The footage, which was shot on a surveillance camera, shows the caprine creature getting so scared by the moggy that it runs around a house and jumps onto a stool. The goat can then be heard snorting in distress.
Tammy Tunison, owner of the farm, told Newsweek that at the time she didn't know what had scared the goat, who is called Junior.
"Goats can see very well, and can see from almost any angle, so it does not surprise me that he saw a cat under their playground toys," she said.
In the footage, Junior is wandering around on a porch before he appears to spot something in the distance.
Junior pauses for a while, and appears to be squaring up whatever it is he can see.
He turns away slightly, and in the corner of the screen, a cat can be seen running across the porch. The goat then suddenly runs into the house in fear.
When he runs inside, Tunison, who is sitting on a chair, can be heard saying: "What's wrong?"
Cutting to another room, the goat then jumps onto a stool in fear. Junior then begins to snort in anger.
Tunison can then be heard saying: "What's wrong? I don't see anything."
She can then be seen checking outside, flummoxed as to what has scared her goat.
She then walks into the room where Junior is still stood high in fear, refusing to get down.
Tunison laughs and asks him what is the matter before trying to pet him. However in its fearful state, the goat ducks away from her. Tunison, still confused, says: "What did you see?"
"Goats are prey and their natural instinct is to run," Tunison told Newsweek. "Because they are prey they are always on alert. It is not necessarily the cat they are afraid of, it is the unknown. The cat was a threat in Junior's mind, because he did not know that cat."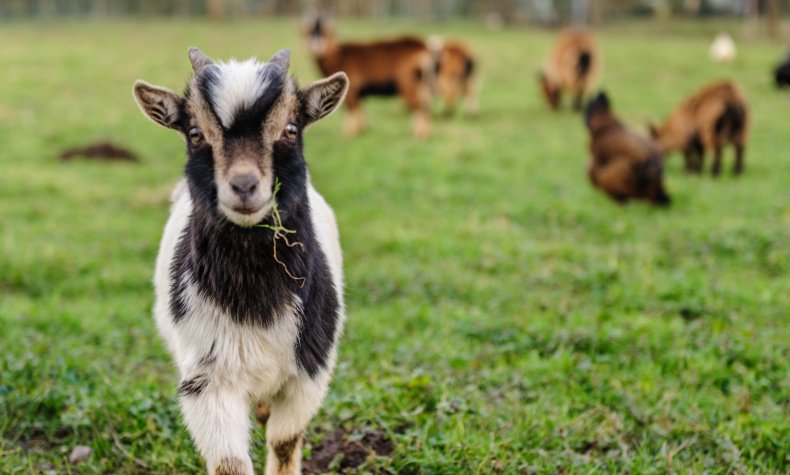 Goats usually snort when they want to communicate with others, or when they are breeding. However, it can also happen when they become angry or frustrated.
Goats have also been known to faint and scream when they get scared.
Goats are highly expressive creatures, and can be highly protective of personal space at times.
Tunison regularly posts videos of her goats, Alex and Junior, on her Facebook page.
Using surveillance footage, Tunison captures numerous funny moments of the goats playing and fighting with each other.
Footage of her pet dog breaking up a fight between the two goats has previously been circulated widely, and featured on television programs such as Good Morning America.
This article has been updated to include quotes from Tammy Tunison.