Hilariously Demanding Cat With 'Resting Grumpy Face' Delights Internet
A cat's hilarious way of getting his owner's attention has delighted the internet. In a viral video, the fluffy kitty hints that he would like his treats via a hilarious expression and a series of paw taps.
The video was first shared in May 2020 by the cat's owner Paige, and has since seen widespread attention online. On Monday, it was reposted on Reddit's popular r/Eyebleach subreddit, where it has over 29,000 upvotes.
Blake is a 10-year-old doll-face Persian cat who lives with Paige in Long Island, New York.
He was recently placed 6th in his group in America's Favorite Pet where his fans can learn about his favorite treats and most-loved toy—an eggplant filled with catnip.
Paige told Newsweek: "I never thought his video would go viral the way it did when I posted it on TikTok. It literally just took off. It's really weird to see so many people obsessed with my cat as much as I am."
With over 10,000 followers on Instagram under the handle blackandsibs, Blake is a big hit online, and the resurfacing of one of his most popular videos has delighted Reddit users.
"Resting grumpy face, I like," wrote one Redditor. Another said: "That cat has amazing faith in your intelligence. Most cats just assume you are too stupid to understand anything they communicate so they don't even try."
When the video caught viral attention in August 2021, many internet users pointed out the kitty's likeness to comedian Jim Gaffigan—even prompting a response from the stand-up star on Twitter where he wrote: "I've only been told I look like this cat by 4 people. Come on Twitter."
"The internet is wild," said Paige. "A lot of people would compare him to Jim Gaffigan, Ron Perlman and 'diabeetus' guy [previous online meme favorite Anthony Brimley]. I get it but I don't really see it."
Blake the cat's hint that he would like some treats has left people in stitches. "Hint, hint, hint," wrote one commenter. While another said: "That is one handsome beast. C'mon, give him the cookies!"
VCA Animal Hospitals report that cat owners in the U.S. spend over $3 million a year on treats for their feline friends. But while it may not be popular with your cat, they make it clear that treats should never provide more than 10 percent of your cat's daily calorie intake. The expert advice reports that: "Too many treats will interfere with your cat's appetite for her regular food. This can contribute to a nutritional imbalance in the long term, and can turn her into a 'fussy eater,' making it particularly challenging to use special diets should the need arise later in life to manage a disease nutritionally."
Doing the rounds online, the delightful video of the demanding kitty doesn't seem to be fading in popularity either. One Redditor wrote: "I see this posted on various subs at least once a month and I always upvote and watch it several times. I've probably saved this post like 8 times and it always brings a smile to my face."
On Instagram, fans of the cat begged for more content, with one comment that said: "Please please please more videos of Blake. It's addictive. We need more content!" The kitty's owner has obliged, sharing a whole host of videos and photos of Blake and his feline siblings Logan and Harley.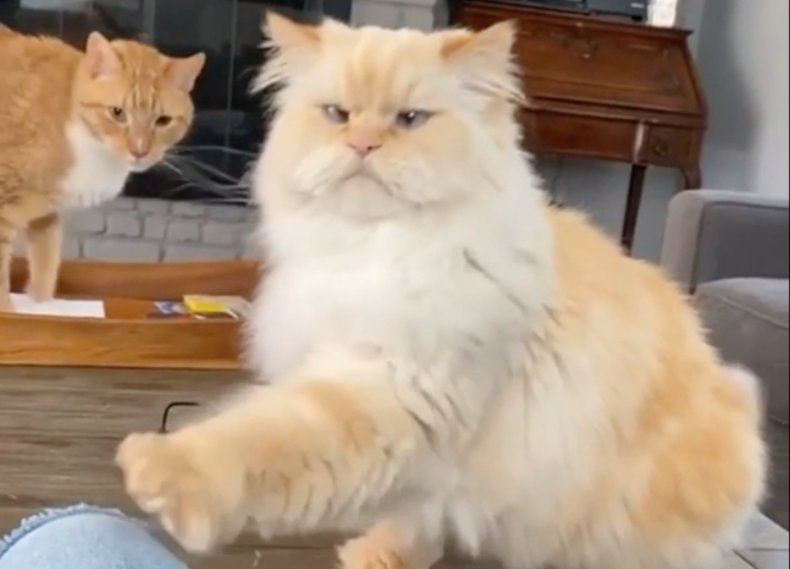 UPDATE 03/25/22, 11:20 a.m. ET: This article was updated to include a picture and video of Blake the cat and comment from Blake's owner Paige.