Donald Trump Autographed Hillary Clinton 'Prison Dollar Bill' Goes Up For Auction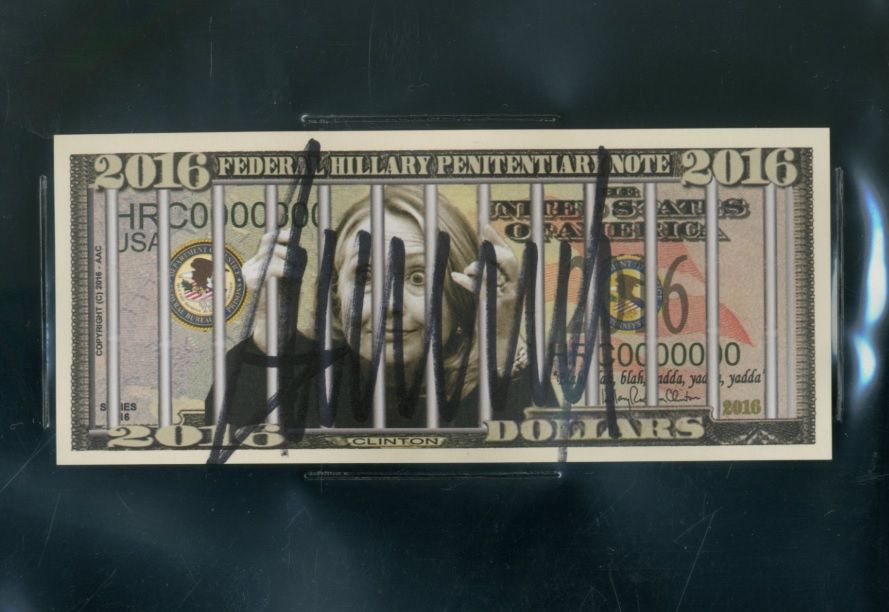 A novelty bill showing Hillary Clinton behind bars which was signed by Donald Trump during the 2016 election campaign has gone up for auction.
The bidding has already started for the "Hillary For Prison" bill at the Steiner Auctions website. At the time of publication, the bidding on the item has reached more than $1000 with 23 days of auction time left.
The bill shows a doctored image of the former democrat presidential candidate holding onto prison bars. On the side which is signed by Trump, there is a forged signature from Clinton with the quote "Blah, blah, blah, yadda, yadda, yadda."
The note also has "2016" in each of its four corners in place of its dollar value.
According to TMZ, the fake bill was signed by Trump during a 2016 rally he held in Florida. It is unclear why whoever owned the bill is only now deciding to put it up for auction.
The New York-based Steiner Auctions authenticated Trump's signature.
"This interesting piece from the 2016 US Presidential campaign was hand-signed by Trump at a 2016 Rally prior to the election," the item's description reads.
"This is the first Trump signed 'Hillary for Prison' bill we have ever seen. The signature is large, in bold black marker, a fine example of a modern Donald Trump autograph.
"The scarcity of this inflammatory signed campaign relic coupled with Trump's turbulent Presidency makes this a must have item for supporters or Presidential collectors.
"This is sure to be a conversation (or argument) starter in any collection. Authentication by Beckett."
The bill is a direct reference to the "lock her up" chants aimed at Clinton which have been shouted out by Trump supporters at almost every one of his rallies for the past three years.
The chants started as Trump supporters demanded Clinton serve jail time for using a personal email server for government business while she was secretary of state. Clinton has never been charged in connection to the email case.
Ironically, Trump supporters have continued to chant "lock her up" even though several associates of the president, including his former lawyer Michael Cohen and former campaign chairman Paul Manafort, are facing jail time for their own offenses.
Steiner Auctions set the minimum bid for the bill at $200 has so far has attracted 14 bidders. The auction will end on March 24.