Hilary Duff Slams Putin Over Ukraine War: 'Money Doesn't Make People Happy'
Actress and pop star Hilary Duff had harsh words for Russian President Vladimir Putin over the war in Ukraine.
Putin's invasion of Ukraine has been going on since February 24. While Russia and Ukraine report different numbers of casualties, according to the United Nations, there have been 2,149 civilian casualties from between February 24 to March 17—816 killed, and 1,333 injured.
"GREED. F***ing Putin. I hope his existence is so LONELY and TORTURED and EMPTY. Money doesn't make people happy. It can make your life easier but my only hope is by the grace of god his life is a miserable one," Duff wrote on Instagram Friday.
"Watching the news is excruciating. I can't imagine day after day of this reality ...Fear. Loss. Losing everything you love and have worked hard for. separating from your family or watching them die. Not being able to lay them to rest. No safety. No food," she continued.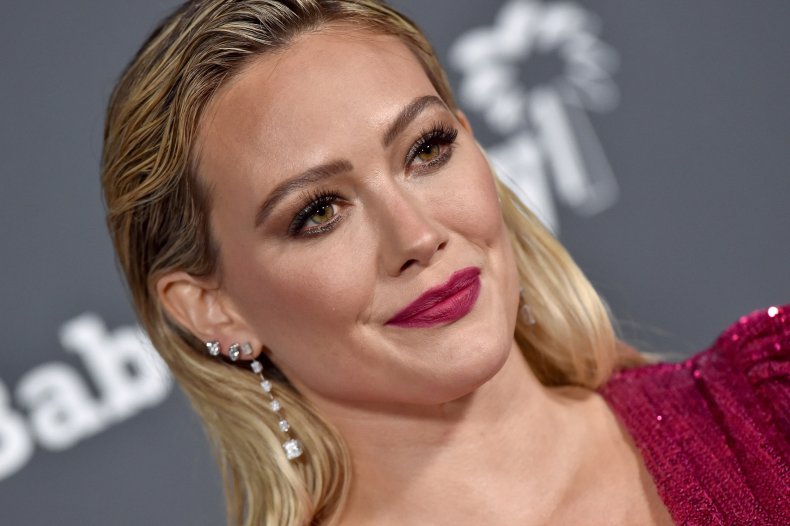 "These Ukrainian people have some pride and strength I don't think I could muster. I'm now hearing human trafficking is an issue for women and children escaping the country. I'm just sobbing thinking about this. Escaping one hell to another. Why and how can the world be this way? How can humans do these things to one another ? Feeling helpless and gutted and angry and really just wanted to share," Duff concluded. "I'm seriously sad for the people of Russia too. I can't imagine they want to be involved in this."
While, of course, it's infinitely worse for those who are actually under attack, people far away from the conflict can still be stressed out by the news—as Duff's post shows.
For those feeling anxiety or depression based on the war news, it can help to limit your consumption of it, according to WebMD. It's important to be informed, but up-to-the-minute updates can be stressful. If that's the case, it can help to decide only to intentionally look at the news, rather than "doomscrolling."
It's also important to make sure you're only getting reliable news—not just because the truth is important, but disinformation can often make things seem more hopeless than they are. Stick to reliable outlets—like Newsweek—and if you see a claim on social media you're not sure about, look to trustworthy news outlets to see if the claim is true or if it's been debunked by those who know.
And, as with anything, it's always important to take care of yourself, WebMD reminds us—don't use the war as an excuse to stress-eat or let your worries cause insomnia. Feel free to take breaks from war coverage and do fun activities or talk with friends and family.
Finally, if worries about the war start to affect your quality of life, WebMD recommends talking to a therapist or counselor to help.