Hilary Swank and 'Away' Cast Talk Flying to Mars in Netflix's New Space Series
All too often, sci-fi shows and films based in space focus on the mission of traveling across the starry skies, as opposed to the emotional toll the job must take on astronauts who have to leave not only friends and family behind, but the whole entire planet. Netflix sets out to change that with the release of its newest space drama series, Away.
Created by Andrew Hinderaker, the show follows the lives of five international astronauts as they attempt to perform a task no human being has done before—step foot on Mars. The three-year mission will take them into the depths of the universe while millions of miles away, the lives of their family and friends continue without them. It's a prestige sci-fi series, with a focus on the emotional lives of the people hurtling through space and those that they've left behind.
"We have a lot of dynamics from all different races, older dynamics, dream dynamics," the show's star, award-winning actor Hilary Swank, said during a set visit attended by Newsweek earlier this year, up in Vancouver. "There's so much here that we can relate to."
But the loneliness and separation anxiety each crew member feels is only half the battle. There are also the many life-threatening risk factors attached to the mission, not to mention the 50 percent chance that the space travelers won't even make it back to Earth.
Learn more about the astronauts of Away below. All 10 episodes of the new series debut on Netflix on Friday.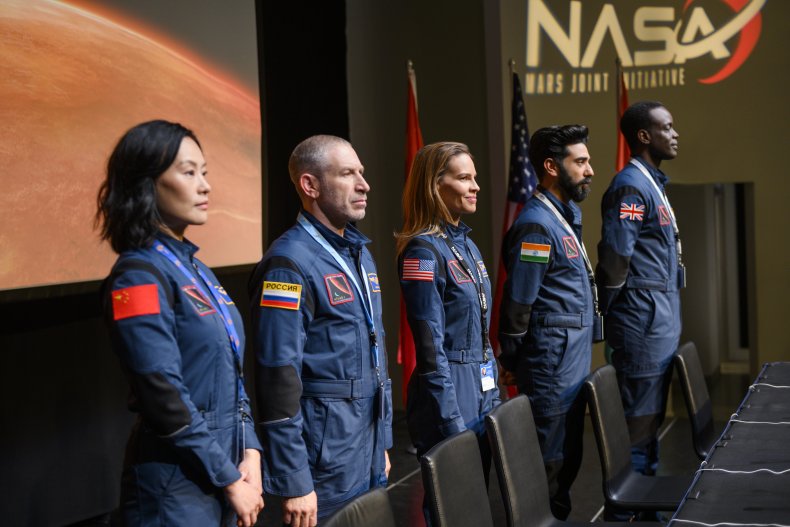 Emma Green
The commander of the operation, Emma is played by Swank. One of NASA's top astronauts, she's also a devoted mother and a wife. Her love for her family, of course, only makes completing the mission to Mars all the more challenging, especially when unforeseen events arise.
"There is that dynamic of that maternal bond and the pull—the pull of family and the pull of work, which we can all relate to, whether we're going to Mars or not," Swank said.
There are also the problems Emma faces on the spaceship, primarily regarding crew relations.
"As our show starts, we learn in press conferences that [the crew has] been working together for two years now. So, there's a type of respect that's there, but there's so much respect that has to be gained [from] astronauts who have more experience in space," Swank explained.
"The kind of beauty in that, though, is in a way there are relatable moments for women who see the challenges of that. But it almost transcends gender and becomes about a human being gaining trust. Anyone who has to put their life in someone else's hands wants to know that they can trust that person. So there's great moments throughout, where each one of us is learning how to trust each other."
Lu Wang
Vivian Wu, who has starred in films such as The Last Emperor, The Joy Luck Club and The Soong Sisters, plays the spaceship's chemist and the astronaut selected to make the first step on the moon. Lu is representing all of China, which makes her journey an emotionally complicated one when matters of the heart lead her to choose between her country and love.
"She's such an accomplished and layered character," Wang said. "It's just such a great role, and I think [Away's] writers and creators did a fabulous job portraying Lu with such a strong sense of success and strength. But she also carries a strong sense of duty that she's ingrained with, growing up and training in China, and also from potentially being the first human to step on Mars. But the sense of duty and dignity engraved in her brain for her country outweighs her personal desires. So it's a very emotional journey for her."
Ram Arya
EastEnders star Ray Panthaki plays the designated loner of the ship, Ram. While it seems that he's lived much of his life on Earth as a playboy space-cowboy in India, the true reasons behind his bachelor lifestyle rise to the surface the deeper in space the crew gets.
"We'll learn throughout the series whether that decision to remain lonely was his own choice or not," Panthaki said. "It was a real eye-opener for me. I remember on the plane over [from London] reading the newspaper, there was an article on loneliness and how much of an epidemic it is now. And for some reason, I just tore it out because it really moved me, and I brought it with me. I had this whole parallel thing where I was lonely when I first arrived. I never felt that in my life before, but I guess it was just some divine kind of thing for me to draw from."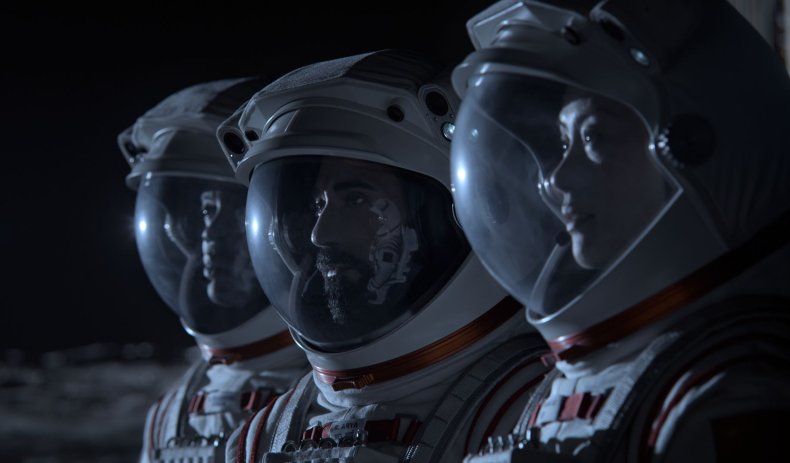 Misha Popov
While there is no bad guy of the series per se, there are some members of the Mars crew that make the journey a bit more difficult. Chief among them is character of Misha, played by Mark Ivanir of films like Schindler's List and The Good Shepard, among others. The Russian astronaut has conducted more space missions than everyone on board, including the commander, and his unwillingness to trust his crew members leads to conflict. But there's more to Misha than his inherent coldness, according to Ivanir.
"I took [my insipration] from my contractor. He's my guy. It has nothing to do with space and all, but he is one of these big dudes ... he cracks jokes all the time. That's his default. That's where he goes. But he has, like, big armor, emotionally, on him. And [my character] was written like this from the beginning, and then I was just like, 'Oh that's the guy,'" Ivanir said.
Dr. Kwesi Weisberg-Abban
Ato Essandoh, who has starred in films like Jason Bourne and Blood Diamond, plays a renowned Nigerian botanist, who will aim to plant produce and vegetation on Mars. Unlike the rest of the crew, Kwesi has no experience in space.
"My character, I feel, is the entry. The audience gets to understand the technical things through me, because I'm the one who's sort of the rookie in this," Essandoh said. "It's been an interesting thing than other work that I've done, because this is the character that's learning everything as he goes along."
Away debuts on Netflix on Friday, September 4.