Hillary Clinton's AIPAC Speech Challenges Trump, Israel Boycotts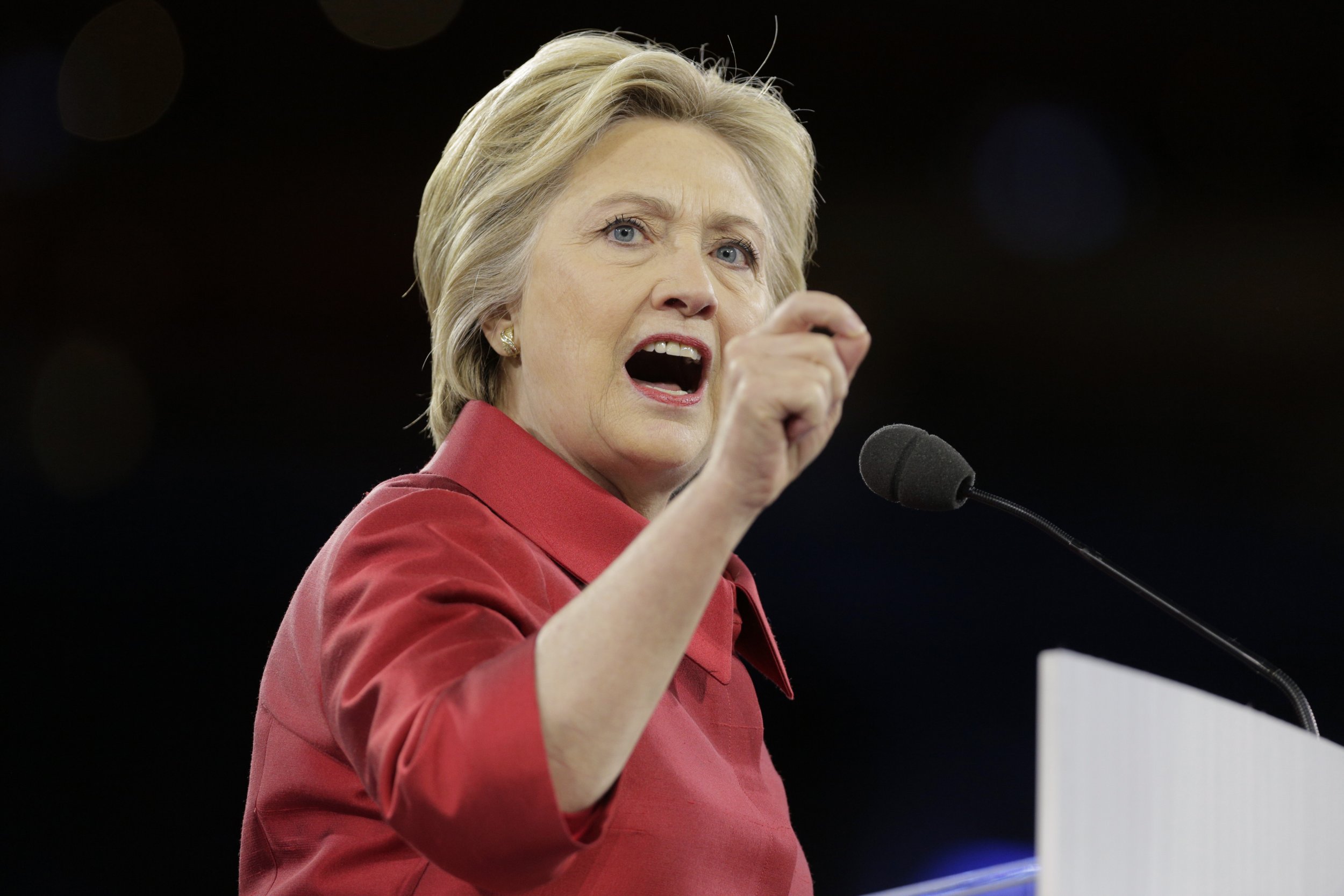 Updated | In an unusually energetic speech before the largest pro-Israel lobbying group in the U.S., Democratic presidential front-runner Hillary Clinton stressed the importance of the relationship between the U.S. and Israel and warned against less-than-ironclad support of the longtime U.S. ally—a declaration that took aim not only at enemies of the Jewish state but also Republican front-runner Donald Trump.
"If I'm fortunate enough to be elected president, the United States will reaffirm we have a strong and enduring national interest in Israel's security," Clinton said. "And we will never allow Israel's adversaries to think a wedge can be driven between us."
Clinton named several of those adversaries: an emergent Iran, Hamas, global extremism and a "growing effort to delegitimize Israel" on the global stage. The Democratic front-runner had harsh words for the Boycott, Divest, Sanction movement (BDS), which has targeted Israeli companies, academics and universities in a campaign to end the country's nearly 50-year occupation of the West Bank.
And, though she didn't name him specifically, Clinton also suggested that Trump would threaten the U.S.-Israel alliance if elected president. "We need steady hands, not a president who says he's neutral on Monday, pro-Israel on Tuesday and who knows what on Wednesday because everything's negotiable," Clinton said.
Unusually for a Republican, Trump told reporters in January that he would try to remain neutral in the dispute between Israel and the Palestinians, a remark that drew sharp and immediate criticism from those on the right and the left. Reportedly, Trump also suggested that his proposed wall on the U.S.-Mexico border, one of the cornerstones of his campaign, was negotiable, because, according to an off-the-record interview with The New York Times editorial board that was later leaked, "everything's negotiable."
In recent years, the BDS movement has grown increasingly popular among college students on the American left. "We have to be united in fighting back against BDS," Clinton said. "Many of its proponents have demonized Israeli scientists and intellectuals, even students. To all the college students who may have encountered this on campus, I hope you stay strong. Keep speaking out. Don't let anyone silence you, bully you or try to shut down debate, especially in places of learning like colleges and universities."
Clinton also included a few jabs at President Obama. "One of the first things I'll do in office is invite the Israeli prime minister to visit the White House," Clinton said to roaring applause. The relationship between President Obama and Israeli Prime Minister Benjamin Netanyahu is famously rocky. In 2015, then-House Speaker John Boehner invited Netanyahu to address a joint session of Congress without informing the White House, a move the Obama administration called a breach of protocol.
Correction: A previous version of this story misstated the goal of the BDS movement.