Hillary Clinton Backs First-Time Female Candidate's Request to Use Campaign Funds for Child Care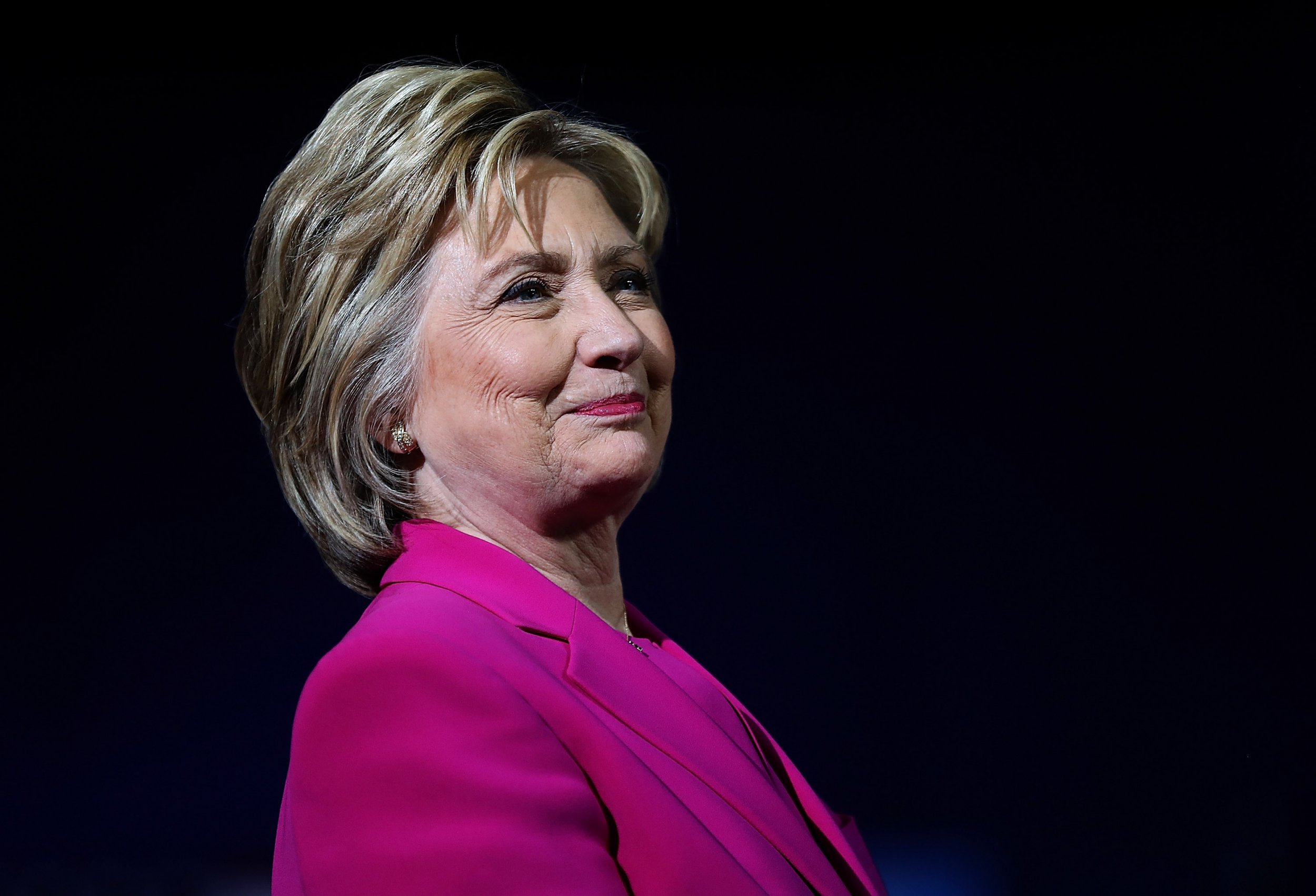 A first-time female candidate who wants to use campaign funds to pay for child care just got a boost from Hillary Clinton, who is calling on the Federal Election Commission to give her permission to do so.
On Thursday, Clinton wrote a letter to the FEC asking the commission to approve a request Liuba Grechen Shirley—the candidate challenging long-time incumbent Peter King in New York's 2nd District—filed earlier this month, arguing a case for paying her babysitter just as she would any other member of her campaign staff.
In her letter, Clinton points out that Grechen Shirley's case is "especially striking": Before she launched her bid for office in October 2017, Grechen Shirley was the primary caregiver of her two children, Mila, her three-year-old, and Nicholas, who will be two next week. It's only now that she's running a full-time campaign that Grechen Shirley requires some extra help, in the form of a babysitter who watches the children for a few hours every morning while she works from her home office.
"Denying Ms. Shirley's request would undermine the Commission's previous advisory opinions, discourage young mothers from seeking elective office, and deprive parents of ordinary means of the opportunity to serve," Clinton wrote in her letter to the commission. "Young women like Ms. Shirley are now running for office in record-breaking numbers ... Under a plain reading of the law, as applied to Ms. Shirley's facts, the answer to her question can only be 'yes.'"
When she first launched her campaign, Grechen Shirley said she would drop her three-year-old at nursery school, and then push her son around in a stroller for a few hours and make calls to fundraise for her campaign, or talk to prospective constituents. At the time, she didn't have a babysitter—she didn't even have a full staff. But she played the balancing act by herself for a little while, raising $126,114 in her first quarter.
At a certain point, though, the situation grew untenable: In January, Grechen Shirley's son had an accident and broke his femur, putting him in a full-body cast. Grechen Shirley said she had him on her lap or on her hip almost constantly, and at the time she feared her campaign would have to take a back-seat to caring for her son. When her son became well again, she realized she needed help, badly, if she were going to have a shot at defeating her primary opponent and, eventually, a Republican incumbent who's served in Congress for over two decades.
So she decided to do what no female candidate had ever done before, and simply asked the FEC for permission to put some of her campaign funds toward child care.
"My children were my biggest hesitation when I was considering whether or not to run for office," Grechen Shirley told Newsweek on Saturday. "In the end, they're the reason I decided to go through with it. I want to see more people in Congress who understand what it's like to have to worry about childcare and mortgages and students loans, because those are the people who are going to give us a voice."
Grechen Shirley is still waiting to hear from the FEC on her request. If they turn her down, she'll have to pay back the money she's spent so far on her babysitter. If they approve it, however—which she feels sure they will—Shirley says it will open the door for other women who want to run. They'll no longer have to worry, like she did so many months ago, that she would have to choose between running a competitive campaign and caring for her children.
"Our babysitter is just as important as my campaign manager, or my finance director," Grechen Shirley said. "She's just as integral, and she's paid as staff. I couldn't run my campaign without her."