New Hampshire Debate: Lagging in the Polls, Sanders Emphasizes Differences With Clinton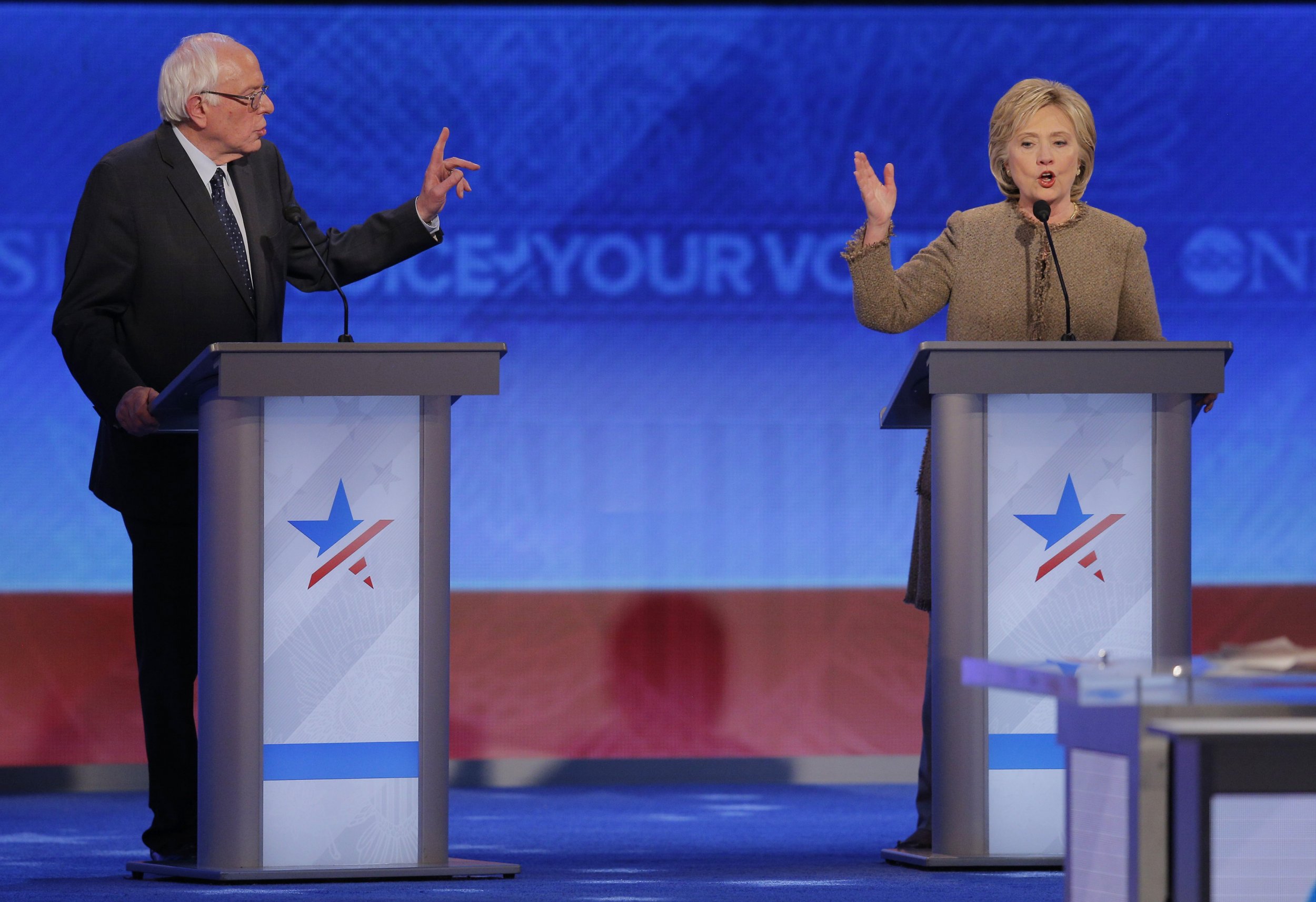 With fewer than 50 days until presidential voting begins, candidates for the Democratic presidential nomination held their final debate of 2015 on Saturday as Bernie Sanders tried to close Hillary Clinton's strong national lead by underscoring their differences.
Underscoring those differences are essential for him to succeed as an insurgent candidate. At one point after a discussion about their differences on health care policy, Sanders could barely contain his glee. "Now this is getting fun," he said as the crowd laughed.
But the differences between Clinton, 67, and Sanders, 73, were often tactical—such as whether the U.S. should battle ISIS and Syrian President Bashar al-Assad simultaneously or in sequence. They agreed on the much larger question that ISIS should be destroyed by an international coalition with American air power but not U.S. troops on the ground.
There was also disagreement over the Vermont senator's more politically implausible notions, such as his advocacy of a single-payer health care system or free college tuition, neither of which has a remote chance of passing in Congress.
Despite several dust-ups, their differences reflected a Democratic Party that's far less divided by issues than it was during the Vietnam Era, when hawks and doves battled for control, or even more than two decades ago years ago when Bill Clinton campaigned for president as a "New Democrat." As late as 2004, the Democratic candidates had profound differences on trade and the war in Iraq.
By 2008, the party became much more unified when Barack Obama and Clinton showed few differences during the presidential campaign. (Clinton favored an individual mandate that citizens buy health insurance while Obama opposed it, a position he later reversed.)
That trend toward ideological convergence has continued. During the debate, the candidates didn't fight over the mammoth Trans Pacific Partnership trade agreement or the Keystone XL pipeline because Clinton has adopted Sanders's liberal position. She also favors a constitutional amendment to overturn the Citizens United campaign decision from the Supreme Court.
By contrast, the cleavages in the Republican Party over immigration and interventionism have become much more pronounced—as they were at the GOP debate earlier this year when much of the discussion turned to banning Muslims from coming to the U.S., as Donald Trump proposed, and putting them at the back of the line for admission as refugees, as several GOP candidates have urged.
One fight that never erupted on Saturday: The candidates declined to spar over the recent data breach of voter files at the Democratic National Committee (DNC). Sanders has already fired one staffer for snooping around in Clinton's data that's kept under the DNC's control. After a standoff earlier this week during which the DNC cut off the Sanders campaign from the voter files—which are the lifeblood of any campaign—and the Sanders campaign threatened a lawsuit, there's at least a ceasefire at the moment. The truce may hold. After Sanders was asked if he would apologize for the violation, he did. Clinton replied: " It really is important we go forward on this."
Clinton and Sanders were joined at the debate at Saint Anselm College by former Maryland Governor Martin O'Malley, who has struggled to rise in the polls and raise funds. He repeatedly tried to position himself as younger and fresher. But his attempts often fell flat. Even as Clinton and Sanders quickly dispatched the data breach issue, O'Malley declared: "You want to know why things don't get done in Washington...we're listening to the bickering going back and forth?" At another point the 52-year-old added, "Can I offer a different generation's view on this?" to audible groans from the audience.
When it came to terrorism, Sanders and Clinton both stressed the importance of building an international coalition to fight ISIS. As Sanders put it: "The troops on the ground should be Muslim troops." Both, though, have allowed for the deployment of small numbers of special forces. Sanders tried to inflate their differences, saying Clinton was "too much into regime change," citing her past support of the Iraq war and adding that defeating ISIS should take priority over deposing Assad. Clinton replied that Sanders had, in fact, voted for regime change in Libya and said it was essential to fight ISIS and Assad simultaneously.
Middle-class, kitchen-table issues that had dominated the presidential race just a few months ago got only modest attention. Again, there was considerable agreement among the candidates on issues like the minimum wage and equal pay for equal work. The differences: Sanders supports free college tuition at all public universities, while Clinton supports free tuition for community college and more aid for four year colleges.
One difference, at least in tone, came when the moderators asked Clinton if the business community should love her. The frontrunner chirped: "Everyone should." Sanders pounced: "CEOs of large multinationals may love Hillary; they ain't going to like me and Wall Street is going to like me even less." Sanders emphasized his stance on breaking up the largest banks, while Clinton has focused more on regulating them.
The moderators declined to ask any questions about climate change, LGBT rights, abortion clinic violence, among other issues There were no questions about China policy, but there was one about China and first ladies. Responding to a question about their potential first ladies, Sanders said he applauded Clinton for "redefining" the responsibilities of the first lady. Clinton vowed to continue to select the flowers for state dinners.
The first votes of the presidential election will be cast at the Iowa Caucuses on February 1.