Hillary Clinton Says Bernie Sanders Alleged Comments About Women Not Being Able to Win the Presidency are 'Part of a Pattern'
Sen. Bernie Sanders' alleged comments that a woman can't win the presidency are "part of a pattern," former presidential candidate Hillary Clinton said in a new interview.
Speaking with The Hollywood Reporter, Clinton said that Sanders' alleged comments in 2018 to Massachusetts Senator Elizabeth Warren echoed statements Sanders made against her during the 2016 election.
"If it were a one-off, you might say, 'OK, fine.' But he said I was unqualified," she told THR. "I had a lot more experience than he did, and got a lot more done than he had, but that was his attack on me."
According to a CNN report, Sanders met with Warren ahead of both senators announcing their 2020 presidential campaigns and during the meeting, he told her "he did not believe a woman could win." Sanders has denied the accusations.
"I think [that sentiment] is untrue, which we should all say loudly," Clinton said of the idea that a woman cannot win the presidency in 2020. "I mean, I did get more votes both in the primary by about 4 million, and in the general election, by about 3 million."
However, Clinton told THR, the Sanders' campaign has a history of launching attacks against other candidates -- "particularly the women." The former first lady did not assign all of the blame for that to Sanders himself, but also the senator's 'Bernie Bros' -- online supporters who are very vocal about Sanders' campaign and his policies -- as well as those on his campaign team.
"[I]t's not only him, it's the culture around him," she told THR. "It's his leadership team. It's his prominent supporters.... And I really hope people are paying attention to that because it should be worrisome that he has permitted this culture—not only permitted, [he] seems to really be very much supporting it."
Clinton also drew comparisons between Sanders' campaign and President Donald Trump's administration, calling for voters to "pay attention." "Because we want, hopefully, to elect a president who's going to try to bring us together, and not either turn a blind eye, or actually reward the kind of insulting, attacking, demeaning, degrading behavior that we've seen from this current administration," she said.
In Clinton's upcoming Hulu documentary series, Hillary, she refers to Sanders as a "career politician," and that "nobody wants to work with him, he got nothing done" while serving on Congress. The comment sparked a trending topic, #ILikeBernie, on Twitter Tuesday morning, with users explaining why they support Sanders.
The Sanders campaign declined Newsweek's request for comment on Clinton's remarks.
When asked if she would endorse and campaign for Sanders should he earn the 2020 Democratic nomination, she said, "I'm not going to go there yet."
Sanders responded to Clinton's comments, when speaking to reporters before Trump's impeachment Trial. "I think a recent poll that came out had me as the most popular U.S. senator in the country," he said. "So, somebody up there must like me."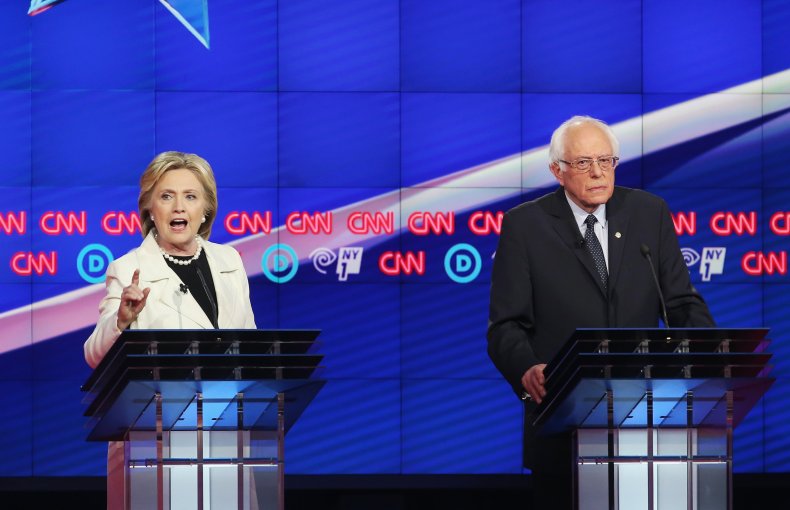 Updated: 1/21, 12:34 p.m. EST: This story has been updated to include Sanders' response given to reporters ahead of the impeachment trial.