Clinton, Sanders Spar Over Progressivism and Paid Speeches in New Hampshire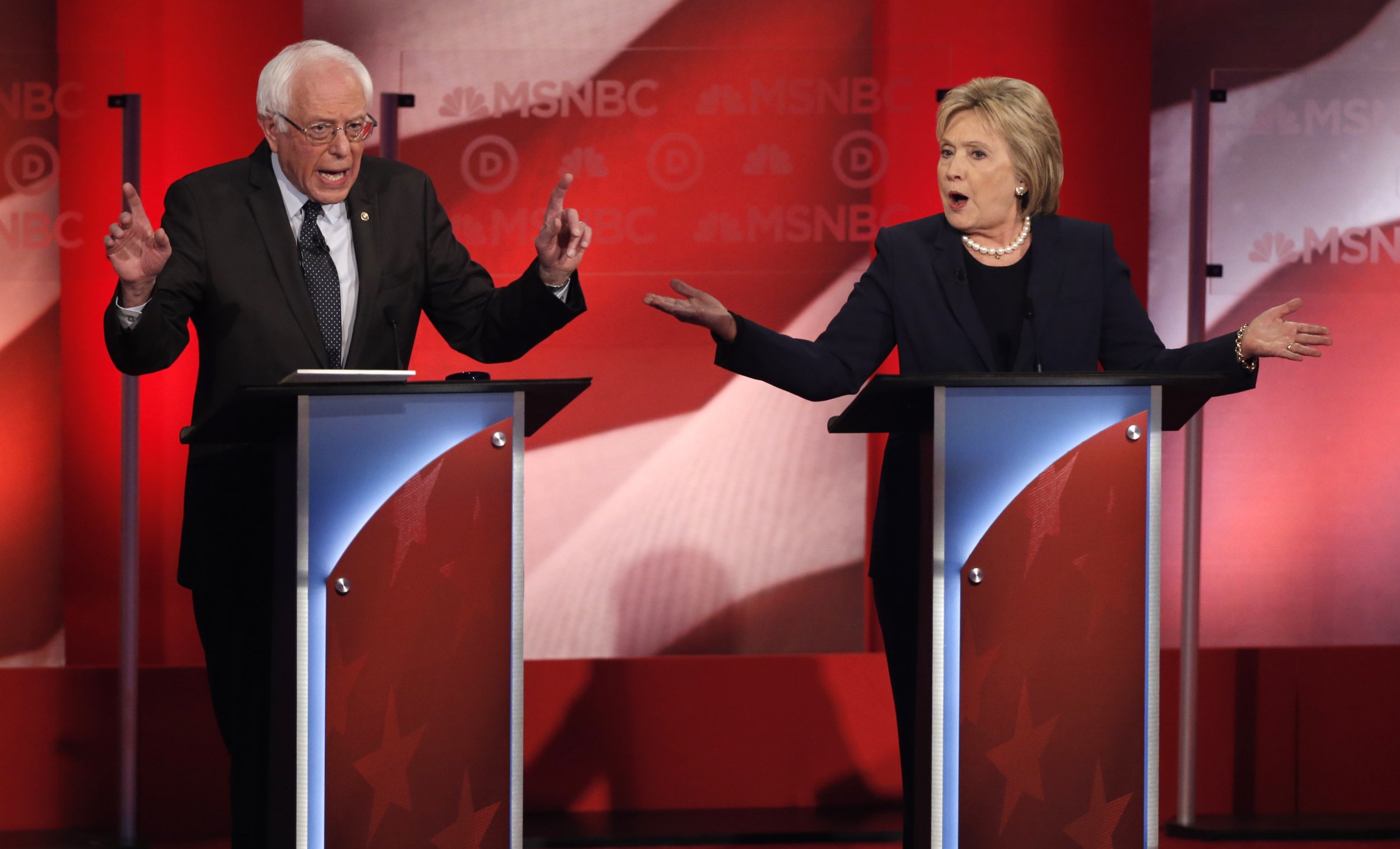 In their first debate going mano a wo-mano, Hillary Clinton and Bernie Sanders quickly delved into what this Democratic presidential primary contest is all about: Can you change the system from within, or do you have to tackle it from the outside?
Sanders's challenge to Clinton is based on the argument that, as a part of the political establishment, she is not capable of making the kinds of dramatic changes necessary to revive the American middle class. Sanders, a 25-year veteran of Congress, made that point again and again on Thursday night at the Democratic Party's debate, the first without former Maryland Governor Martin O'Malley. Asked about why Clinton has most of the party endorsements, Sanders replied, "Secretary Clinton does represent the establishment. I represent ordinary Americans."
Clinton responded with incredulity that Sanders would characterize "a woman running to be the first woman president as exemplifying the establishment." Her take on her widespread party support: "They know I can get things done. I am not going to make promises that I can't keep." The former secretary of state emphasized a similar argument all night: I want the same things as Senator Sanders, but because I know how the system works, I can actually achieve them.
That is the genuine choice New Hampshire Democrats face in their primary next Tuesday, in a tight race after the Iowa caucuses. The two candidates have sparred in recent days over who is "more progressive." MSNBC moderators Rachel Maddow and Chuck Todd tried to probe Sanders's criticism that Clinton lacks progressive credentials, given her paid speeches to Wall Street firms and muddy stance on free trade, among other things. President Barack Obama supports the Trans-Pacific Partnership, a pending free-trade pact with Asian and Latin American countries, the moderators pointed out—do you still think he's a progressive?
Sanders hemmed and hawed a bit, ultimately answering that he did. And he backed away from the suggestion he was "evaluating" Clinton's ideological purity. Sanders also had to defend himself from questions that he is not a loyal Democrat, given that he's run and served as an independent over the course of his three-decade-plus political career. But he did promise to push for "major changes" in the Democratic Party should he be elected president. "I hope to bring forth a major changes in national priorities," Sanders added.
The biggest change Sanders emphasized on Thursday was shifting the balance of power in government away from special interests and back to average people. "So many people have given up on the political process," he said. "What we need to do is stand up to the big money interests and the campaign contributors. When we do that we can in fact transform America." And who is enabling those special interests? The establishment, namely people like Clinton, he seemed to imply.
But the former secretary of state came prepared for Sanders's critiques of her Wall Street fundraising, employing her most direct counterattacks of the campaign. She first accused Sanders and his campaign of "artful smears," drawing a tsk-ing from Sanders and audible gasps and boos from the audience. "You will not find that I have ever changed a view or vote because of any donations that I received," Clinton continued.
Yet the former first lady continued to struggle to explain why she accepted six-figure fees to speak to firms like Goldman Sachs. Asked by MSNBC's Todd if she would release the transcripts for her speeches to bankers—and other audiences—she promised to look into it, then quickly changed the subject.
Another testy exchange between the candidates came on foreign policy, a weak point for Sanders. Todd questioned why the Vermont senator has spoken so little about international affairs as well as his lack of foreign policy campaign advisers. As he's made a habit of doing when the subject comes up, Sanders turned to the 2002 debate over the Iraq War. "What is important is that we learn the lesson in the war in Iraq and that lesson is intrinsic to my foreign policy," he said. Judgment, he added, is just as important as experience. And unlike Clinton, he voted against the war. Clinton had to know that was coming, and she didn't hide her exasperation. "A vote in 2002…is not a campaign to defeat ISIS," she sniffed.
Things settled down in the second hour of the debate, with more policy details and fewer contentious moments. The two Democrats largely agreed with each other, or minimized differences, on veterans issues and trade agreements. And Sanders echoed his commitment not to criticize Clinton over her private email server, a story line Clinton dismissed as yet another wave of Republican attacks. "Before it was emails, it was Benghazi, and Republicans were stirring up controversy about that," she said.
The two Democrats also agreed that either would be far superior to any Republican still running for president. As Clinton said at one point during the evening, "We have a vigorous agreement." But given the tenor of the two campaigns, that kind of concord is likely to become increasingly rare in the weeks ahead.