Clinton Says Biden Campaign Must Address Russian Interference
Former Democratic presidential candidate Hillary Clinton has said Russian interference and disinformation will impact the upcoming election, urging Joe Biden's campaign to address the issue.
Clinton spoke of factors in the run up to her defeat in 2016, including former FBI Director James Comey's investigation of her email server ahead of the election, before stating "Russia played a role."
The former first lady said that while she does not think something like Comey's investigations will happen again, she believes issues with Russia are ongoing, suggesting that it could impact Biden's run as Democratic presidential nominee in the build up to November's election.
"Russian interference, manipulation of social media, disinformation, that is all happening one more time," Clinton, who had been the favorite according to the polls ahead of the 2016 vote, told Sky News' Kay Burley.
"And it's going to have to be addressed by the Biden campaign, and I hope by the press, to make sure people aren't fooled again."
Russian interference in the U.S. elections has been a pressing topic in recent years, with ex-Special Counsel Robert Mueller having conducted an investigation into the issue and alleged links between the nation and the Trump campaign ahead of the 2016 election.
This concluded that the Russian government did want a Trump victory and worked towards this outcome, though did not find the president's campaign had conspired with Russia in its efforts to interfere with the election.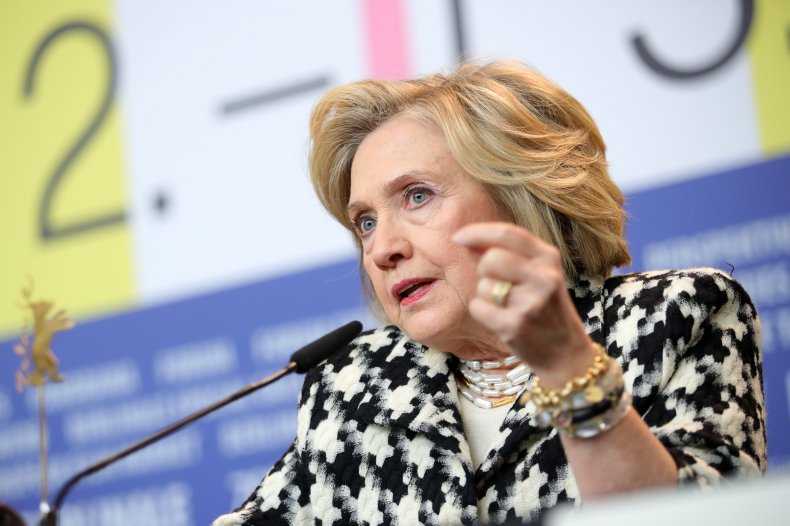 Last year, Russian President Vladimir Putin was asked about the potential of interfering in 2020 and joked that his nation would definitely do so.
"I'll tell you a secret: Yes, we'll definitely do it. Just don't tell anyone," he said when asked about the possibility by NBC News during a panel at Russian Energy Week in October.
Russia's influence has further been brought into question by comments of former national security adviser John Bolton, who said he thinks Putin believes he can play Trump "like a fiddle."
Newsweek has contacted the Biden campaign and the Kremlin for comment.
A spokesperson for the Trump campaign, commenting on Clinton's comments, told Newsweek: "Hillary Clinton is sad and bitter."
As well as commenting on the potential of interference, Clinton also shared advice for Biden on picking who to run alongside him, stating she was thrilled he has said it will be a woman.
On who to pick, she told Sky News: "Number one, this person has to be ready to be president because we don't know what's going to happen in this crazy world we're living in right now.
"Number two, you've got to wanna work with this person, day in and day out, and feel really good about the partnership.
"And then of course, number three, this person has to help you win or at least do no harm."
On the chance of Biden winning, she said she is sure he will win and said: "Our country is desperately, the world is desperately, in need of a change in the American presidency."
According to recent polls, Biden has a lead in the run up to November, with some putting him at a double figure advantage over Trump.
However, Clinton similarly had a lead over Trump in the run up to 2016, even defeating him in the popular vote, yet lost the election.
This page was updated June 18 with a comment from the Trump campaign.