Hillary's Email and the Clinton Knack for Self-Destruction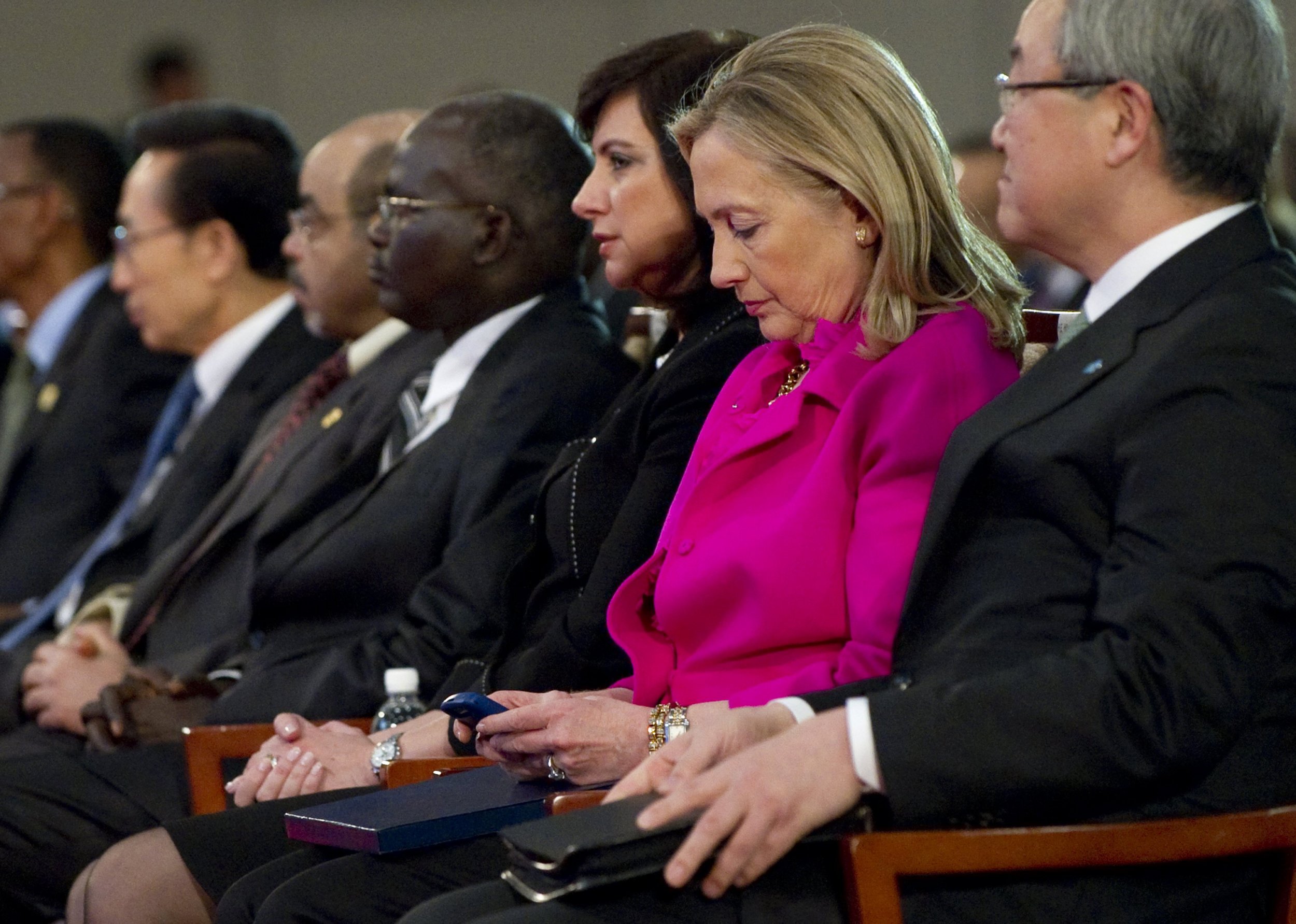 The revelation that Hillary Clinton used one or more personal email accounts—instead of her official, government email—while serving as Secretary of State is baffling. But it fits a long running pattern of both Clinton and her husband, who for years have engaged in behavior that's not illegal, but plays perfectly into their opponents' hands.
Here's what we know so far. Clinton used her personal email account for State Department business and seemed to have used her own email servers rather than relying on an Internet service provider like Yahoo or gmail. What's even weirder: The name used on the registry for her email, clintonemail.com, doesn't appear in any public registry. (According to the New York Times, one of Clinton's aides registered the domain name and linked the server to her home in Chappaqua, N.Y.)
Clinton's office has maintained that the secretary acted within the letter and spirit of the law. The former is probably right, but surely not the latter. The regulations in effect when Clinton became the nation's top diplomat allowed government employees to use their private emails for official business. But it required them to give their official correspondence to their department or agency. The rule is vague about whether this had to be contemporaneous: "Agencies that allow employees to send and receive official electronic mail messages using a system not operated by the agency must ensure that federal records sent or received on such systems are preserved in the appropriate agency recordkeeping system."
The rule doesn't specify when or how quickly those messages need to be "preserved." So Clinton would seem to be legally in the clear. There was no requirement that you should, say, immediately forward your official documents that were on your private account over to the archive police. She wasn't on any deadline. (After Clinton finished her tenure at State, employees were given 20 days to forward any official emails on their private account.) But to say the former first lady complied with the spirit of the law feels like a stretch. Self-policing and curating your own emails, choosing your own schedule for compliance—well, that hardly seems in tune with a law meant to create an official record that would be available to Congress and historians. Which is why Clinton's in this political mess.
As it stands, there's no sense of what State Department lawyers and IT professionals thought about her email arrangement. Were they confident of its legality and security? Did Hillary's State Department counsel, Harold Koh, the former dean of Yale Law School, know anything about this? And didn't anyone in the department or the White House wonder why the Secretary was using her own email address? Presumably foreign governments investigated the domain name to figure out what was behind it and perhaps even tried to hack it. If she was cleared to use her private email then she's in much better shape. Maybe it was as simple as her asking and her staff assured her that she could.
Either way, Clinton once again has a Benghazi problem. Republicans don't believe they've truly been given all the relevant documents related to the House's investigation into the attack on the American consulate. In fact, the Benghazi committee indicated on Wednesday that it would subpoena all of Clinton's personal emails. By using a Rube Goldberg email system, Clinton has given them a legal case. She will fight and may prevail, but it will be a huge distraction at a time when she's trying to launch her presidential campaign. And of course, no one would be talking about her emails had she simply used a State Department account.
If all of this echoes previous Clinton "scandals"—and scandals should be in quotes because most proved fleeting—it should. The Clintons have a knack for messes of their own making. Most seem to stem from a sense of carelessness that has tainted their sizable achievements. There's the poor handling of documents after the suicide of White House Counsel Vince Foster in 1993, the poor handling of FBI documents in 1994 when a White House aide trolled through bureau files, there's the Whitewater land deal with its poor record keeping, and of course, the Monica Lewinsky affair, which is about as self-immolating as any behavior can be. Bill Clinton's famous line "It depends on what the definition of 'is' is" was an attempt to parse whether he had sex with his infamous intern, what defined sexual relations and when it took place. Clinton avoided a conviction in the U.S. Senate but he came close. The imbroglio, like the current one, involved no lawbreaking but proved to be a massive headache.
A year from now, it seems unlikely that Hillary Clinton's emails will dog her a year when the Iowa Caucuses take place. On Wednesday, Clinton tried to put a damper on the controversy, saying she wants the State Department to release her emails as quickly as possible. But this is her biggest misstep since leaving the Obama administration—and it's obviated the frisson from her iconic photo on board a military transport plane looking at her BlackBerry. It all seems so preventable, so easily avoided. Republicans are salivating and will likely to overreach. That's something Clinton can hope for, but after all these years in politics, you'd think she wouldn't be in this sort of bind.
Hillary's Email and the Clinton Knack for Self-Destruction | U.S.