Hillary Clinton Sees White House Role for Bill Clinton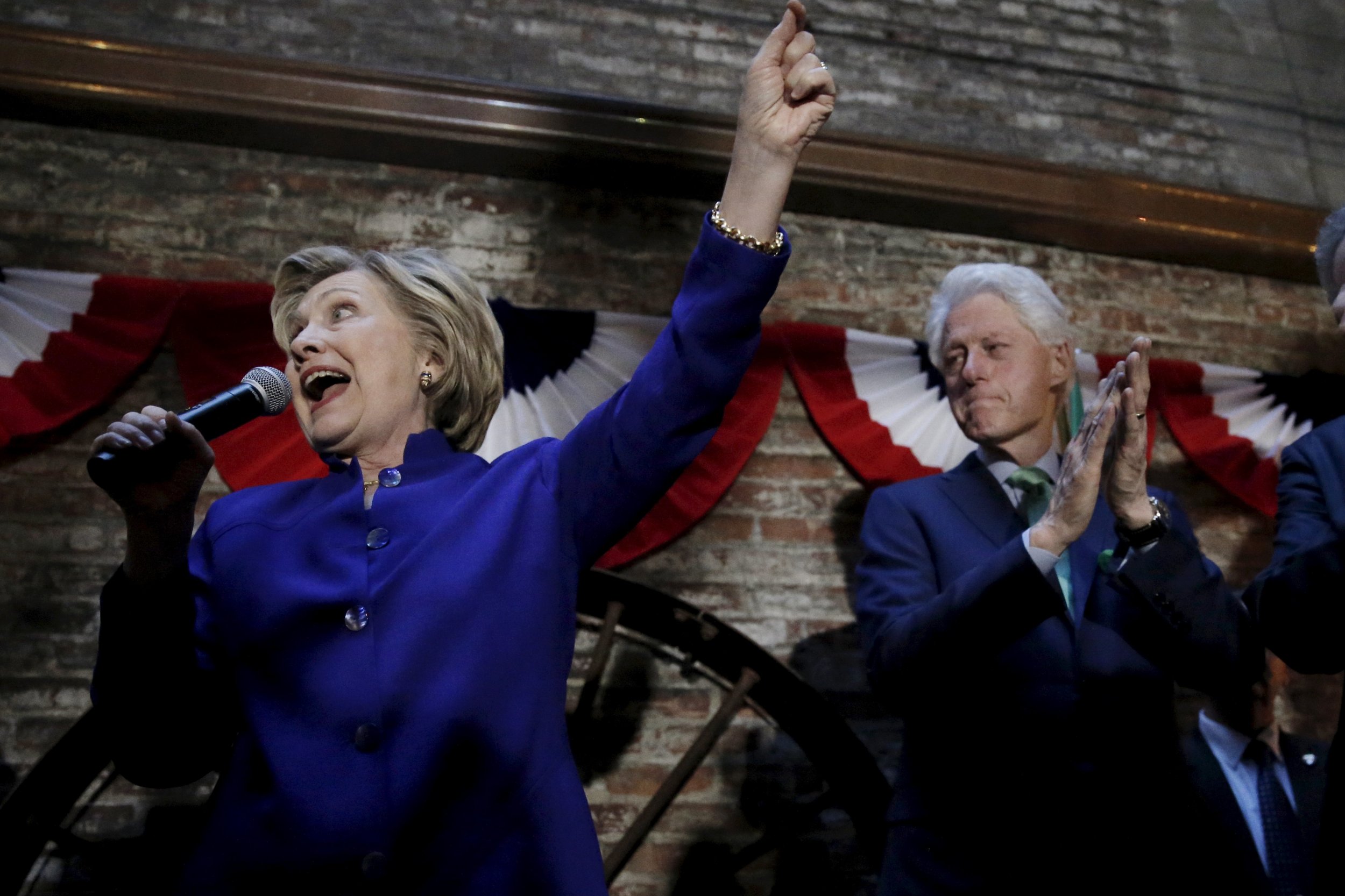 Should Hillary Clinton become the Democratic presidential nominee and win the November election, it remains to be seen whether Bill Clinton will stay in the background or advise his wife on policy. But over the weekend, she hinted that her husband, the 42nd president of the United States, would be pulled out of retirement to be put "in charge of revitalizing the economy."
During a Sunday campaign rally in Fort Mitchell, Kentucky, Clinton touted her husband's economic successes and revealed details about his planned role if she takes over the White House in January.
"The economy does better when we have a Democrat in the White House," she told hundreds of supporters at the event. "My husband, who I'm going to put in charge of revitalizing the economy, because, you know, he knows how to do it, and especially in places like coal country and inner cities and other parts of our country that have really been left out."
This isn't the first time Clinton has hinted that she would seek her husband's help in her hypothetical administration. Her comments Sunday expanded on remarks from a Democratic debate in December, when she said she would "turn to [her husband], as prior presidents have," for special missions and advice, especially on how to reinvigorate the economy, which boomed during his eight-year administration. She also previously said she probably would repeat some of the duties she held as first lady, including picking the flowers and china for state dinners.
During her speech, Clinton emphasized her commitment to supporting coal miners, changing tack after facing widespread criticism for a comment during a town hall in March, when she said: "We're going to put a lot of coal miners and coal companies out of business."
Also over the weekend, she criticized Donald Trump as being a "loose cannon," an oft-repeated phrase she has used to describe the presumptive Republican presidential nominee. She likely will face the real estate tycoon in the general election.
With less than a month remaining in the primary season, Clinton continues her battle with Bernie Sanders, while Trump is the only candidate in the GOP field. Clinton leads Sanders with almost 300 pledged delegates; the two are competing for delegates Tuesday in Kentucky and Oregon.
Clinton lost the Democrats' last primary election, on May 10 in West Virginia. But Sanders's victory didn't come as a total surprise, as he led in polls ahead of the primary. During his campaign events there, he had focused much of his attention on fighting both poverty and income equality.
Clinton is hoping for a repeat in Kentucky, where she beat then-Senator Barack Obama in the 2008 presidential election. This year, she has the support of former Kentucky Governor Steve Beshear, and her husband remains popular there.