Hillary Clinton, Bill de Blasio Parody an Old, Racist Joke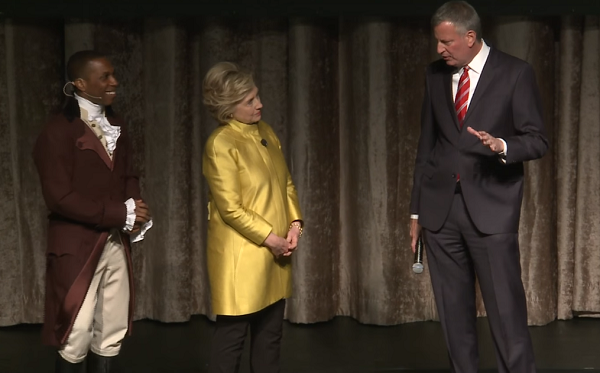 Democratic front-runner Hillary Clinton and New York City Mayor Bill de Blasio engaged in an awkward back-and-forth at a comedy show put on by journalists in New York City on Saturday.
Appearing onstage together, the two pols exchanged friendly jabs. "Thanks for the endorsement, Bill. Took you long enough," Clinton said.
"Sorry, Hillary. I was running on CP time," de Blasio responded. CP Time, or CPT, is short for "Colored People's Time "—the stereotype that black people are always running late. De Blasio may have been attempting to be self-effacing: New York's mayor is often criticized for being tardy to press conferences and other events.
"Cautious politician time," Clinton corrected. "I've been there."
The joke could be interpreted as risqué, given the racial content. But it was made with the friendly participation of African-American actor and Hamilton star Leslie Odom, Jr., and no African American leaders or groups have complained—not to mention the fact that de Blasio's wife, Chirlane McCray, and their children, are African American—make the joke seem more groan-inducing than controversial. But it seemed out of character for the normally guarded Clinton even to approach something that could be interpreted as racially insensitive with the New York primary looming.
A request for comment from the Clinton campaign was not immediately returned.
The Inner Circle Show is an annual charity event hosted by city journalists lampooning the mayor and other New York politicians.
The theme of Saturday's event was Shamilton, a parody of the award-winning Broadway musical Hamilton. Clinton's surprise appearance followed an awkward rap from de Blasio:
My left wing cred is epic, it's biblical/

You get one guess who's the most liberal/

I make Bernie Sanders look like Trump/

I'm down with Sandinistas and the Donald's a chump/

So I come out blazing with heavy artillery/

For the queen of the queen of the Democrats, my homegirl Hillary
On Thursday, Clinton's spouse and former President Bill Clinton argued with a Black Lives Matter protester in Philadelphia and appeared to defend his wife's comments about "Super Predators" from a 1996 drug policy speech.
In 1997, former New York City Mayor Rudolph Giuliani famously appeared in drag, wearing high heels, a pink gown and a blonde wig.
Watch the painful Clinton-de Blasio shtick here: