What Is Hillary Clinton Doing Now? Writing a New Book, Reading Mysteries and Resisting Donald Trump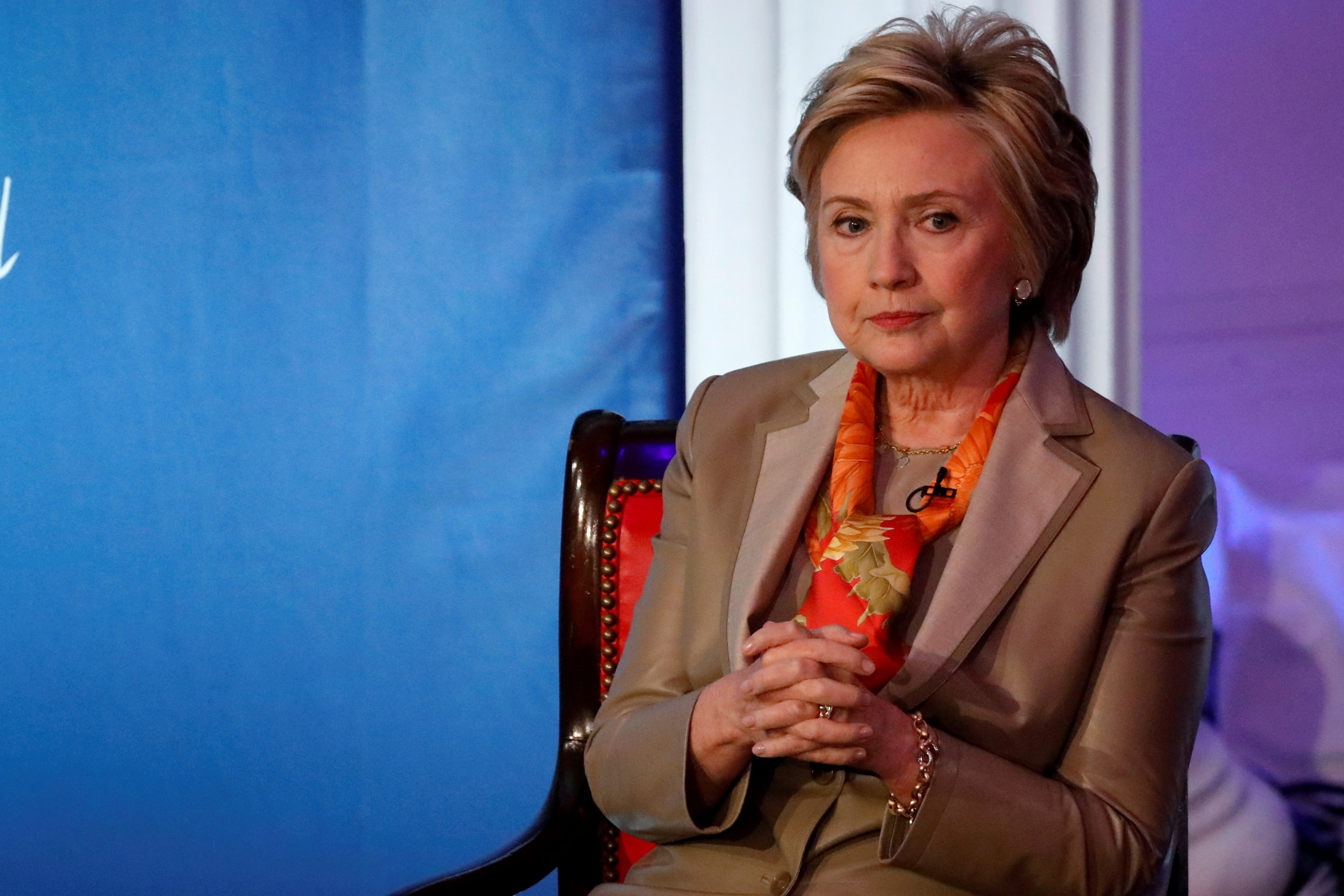 After Hillary Clinton lost the presidential election to Donald Trump last November, she found solace in an unusual place: murder mysteries. As Trump was celebrating his victory and selecting his Cabinet, she was diving into works by authors like Louise Penny, Jacqueline Winspear and Donna Leon.
The reason, she said, was simple: "It was very comforting because it"—solving the murder—"was somebody else's problem."
Related: Hillary Clinton throws covfefe at Trump after he calls her "Crooked Hillary" again
Touching on everything from those fictional crimes to chardonnay, Clinton spoke Thursday night to a packed house at Book Expo, a publishing industry event hosted by ReedPOP in New York City. The event took place in the Javits Center, the location for what was supposed to be her victory party on November 8.
If Clinton noticed the coincidence, she didn't show it. In a Q&A with Wild author Cheryl Strayed, Clinton mostly discussed her love of literature while taking not-so-veiled shots at Trump. In passing, she criticized his Thursday announcement that the U.S. would be withdrawing from the Paris climate change agreement, the proliferation of fake news and the "very serious interference" of Russia in the election.
Clinton focused mostly on book-related topics, talking at length about the book she's writing to be published this fall by Simon and Schuster and how it will shed light on her campaign experience.
"What happened to me happened in public in a very personal way, and what I'm trying to do in the book is explain what it is like to try to break through barriers knowing how hard it is, knowing that you're going to make mistakes, knowing that there are all kinds of challenges every step of the way, but to explain what I've relied on, what has given me hope and courage and resilience," she said. "I'm saying, 'Look, you may think you know what happened, and you may be right to a certain extent...but I'm going to tell you how I saw it and what I felt and what I thought.'"
Clinton said her writing process is painful, and she often has to take breaks to sleep or hike, but she feels it's necessary to tell people "how much more alert we need to be as a nation." She advocated for tolerance, at one point bringing up the two men who were fatally stabbed in Portland, Oregon, last week when they interrupted a man as he was harassing a Muslim teen and her friend.
"I'm deeply troubled by that, and that's not the only incident we've seen where all of a sudden it appears that there are attitudes and feelings that are bursting through the veneer of civilization," she said, adding that the campaign encouraged people who were angry to take it out on others. "That is unleashing a level of vitriol and defensiveness, hatred, that I don't think we should tolerate."
Clinton spoke for about an hour with Strayed, and her responses were frequently met with applause and whoops from the audience. The warm reception was no surprise in part because she's no stranger to the book world. She's penned a number of works, including Stronger Together, a 2016 campaign book she co-wrote with her running mate; Hard Choices, a 2014 release about her time as secretary of state; and Dear Socks, Dear Buddy: Kids' Letters to the First Pets, a 1998 children's book about presidential pets.
Throughout her talk Thursday, she mentioned that she supported independent bookstores for fostering debate, named U.S. Democratic Representative John Lewis of Georgia as an inspiration and never used Trump's name.
When asked what her next chapter (ha) is, Clinton said she didn't know—with a caveat.
"I am going to do everything I can to support the resistance," she added.
Clinton, who vanished for months after her November loss, has been on a tour of sorts recently. She first popped up in San Francisco at the end of March to give a speech to the Professional Businesswomen of California, urging people to "resist, insist, persist, enlist." Then, in April, she appeared at the Tribeca Film Festival in New York City to help promote a movie about the consequences of elephant poaching. Last week, she spoke at the commencement ceremony for her alma mater, Wellesley College.
Clinton made waves again on Wednesday at a Recode conference in California, where she talked about her defeat. Among the reasons she lost the election, she said, were the spread of fake news, social media, the state of the "bankrupt" Democratic Party and "the very broad assumption that I was going to win."
She also addressed the allegations about, and ongoing federal investigation into, whether the Trump campaign had ties to Russia. Clinton said her staffers tried to warn the public and the press about Moscow's interference, but nobody listened.
"I take responsibility for every decision I make—but that's not why I lost," Clinton said Wednesday.
Just hours after Wednesday's event, a tweet from Clinton's account went viral. When Trump tweeted that "Crooked Hillary Clinton now blames everybody but herself," the former first lady invoked a typo, "covfefe," he'd made the night before.
"People in covfefe houses shouldn't throw covfefe," she wrote.