When Hillary Clinton Came to Crown Heights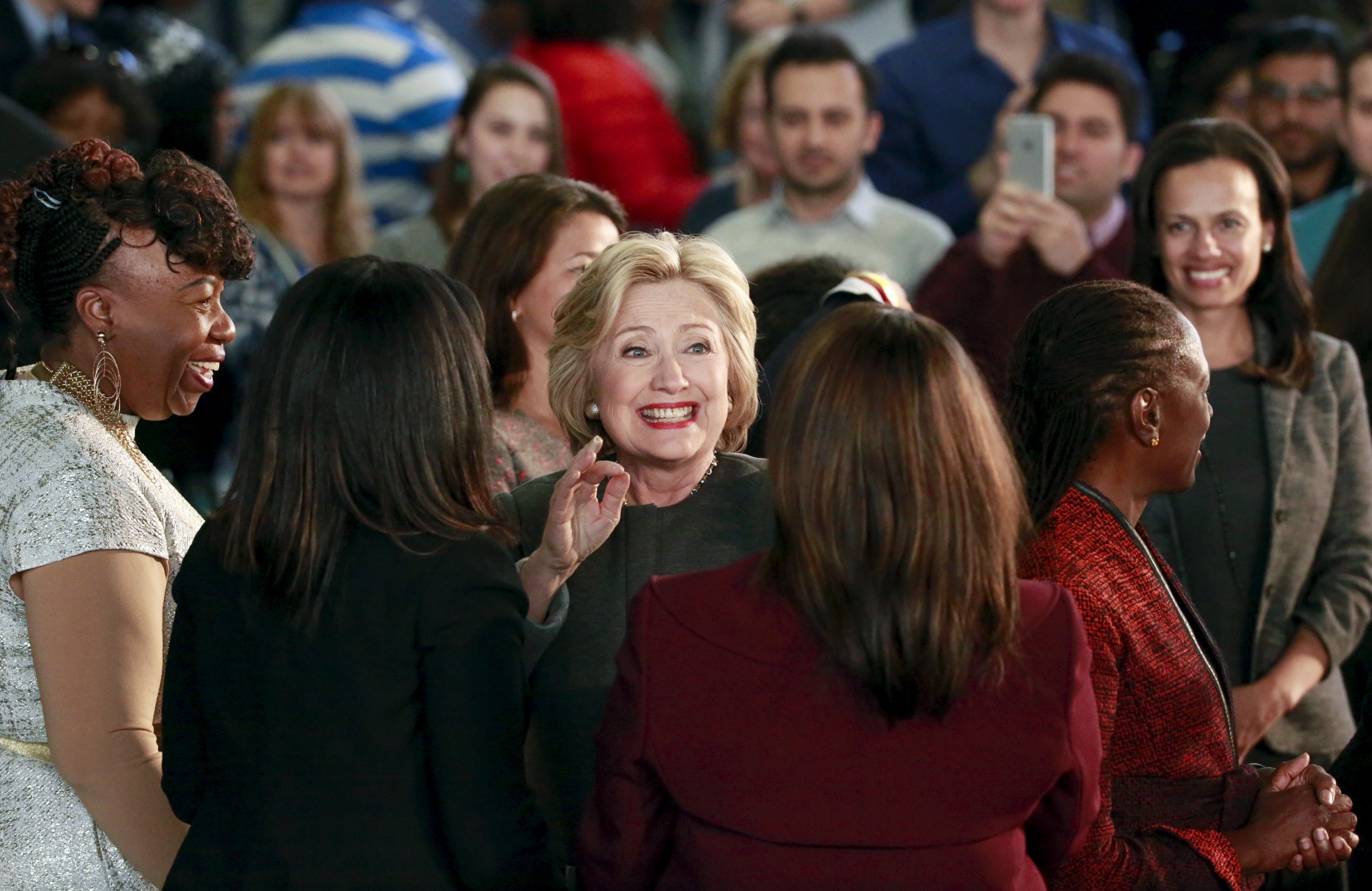 It was an unusually chilly April afternoon in Crown Heights, Brooklyn, when Hillary Clinton arrived on Tuesday. Women in Barbour coats, black flats and #ImWithHer pins tended a line that erupted from the gymnasium of Medgar Evers College past century-old brownstones and newly rising luxury condos. Inside, the crowd was a mix of black students from Medgar Evers, white kids down from NYU, women in dashikis and a surprising number of harried-looking Hillary aides in black turtlenecks and black jeans.
Medgar Evers was a good choice. But for the murdered civil rights icon's brother endorsing Donald Trump the other day, the college bearing his name—part of the public City University of New York system—was as close to a perfect venue as Clintonland could have dreamed up for a venue. In the 1960s, Evers fought for black students to be admitted to the University of Mississippi. Today, 85 percent of the students here are black.
To clear the board of Bernie Sanders, Clinton needs black voters to back her in force in the upcoming New York primary, as they have in South Carolina, Virginia and other states where blacks are a large slice of the Democratic electorate. She courted them here, noting that, while women make less than men, black women make less than white women. (She did not, contrary to some reports, say feminism is "fleek.")
But Tuesday's event was as much about women voters as African-Americans. As Lucas McFarlane, a 23-year-old volunteer in head-to-toe denim with a Macklemore cut, told me, "Hillary's a badass feminist."
Clinton flaunted her feminist credentials with shoutouts from Chirlane McCray, wife and adviser to New York City Mayor Bill de Blasio, and other women of color, including the mothers of Eric Garner, who was killed by New York City police in 2014, and Sean Bell, who was killed by NYPD officers on his wedding day in 2006. She also touted her work out of college in poor and underserved communities. And she promised that, under a President Clinton, communities of color and police would learn to get along, not live in fear of each other.
Shane Corey, a 42-year-old editor of children's books who was nursing her daughter Adelaide during the rally, said she supports Clinton because, unlike Bernie Sanders, she has "serious plans" to tackle the problems of the day. Corey said Sanders's interview with the New York Daily News's editorial board, in which he admitted he didn't really know how he would break up the big banks, left her cold.
Onstage, Corey's 11-year-old son, Jack Alberto, wearing a T-shirt emblazoned with Clinton's "H" logo, danced and sang along to Katy Perry's "Roar" and Taylor Swift's "Shake It Off."
And then came Hillary, who delivered the same speech she's given in a hundred cities before. The crowd didn't care. Chants of "Hil-la-ry!" and "I'm with her!" erupted from the Brooklyn crowd.
After about 40 minutes, Clinton wrapped it up. The crowd gave her a standing ovation, she posed for a few photos, and aides whisked her backstage. She is scheduled to appear in Pittsburgh on Wednesday. In a week's time, she will debate Sanders at the Brooklyn Navy Yard, and, a day after that, New York state's Democrats will decide whether she wins her adopted state or if her contest with Sanders must continue. The decidedly tired-looking cameramen, packed together like sardines in the press pen, seemed to be wishing for the former.