Hillary Clinton Calls for 'Even Greater Costs' for Putin Amid Ukraine War
Former Secretary of State Hillary Clinton said Sunday that "now is the time" for the United States to "double down on the pressure" on Russia, as the country's invasion of Ukraine continues.
In an interview on NBC's Meet the Press, Clinton said: "The only way that we're going to end the bloodshed and the terror that we're seeing unleashed in Ukraine and protect Europe and democracy is to do everything we can to impose even greater costs on Putin."
She also added that Russia shouldn't be allowed back into world organizations it has been a part of, including the G20, a group of the world's largest economies that regularly convenes for summits.
"I think there is an upcoming G20 event later in the year, I would not permit Russia to attend, and if they insisted on literally showing up, I would hope there would be a significant, if not total boycott," Clinton said, adding that there are additional Russian banks "that can be sanctioned and taken out of the so-called SWIFT relationship."
The SWIFT banking system connects major banks all over the world, and last month, in the wake of the Ukraine invasion, the U.S. and its allies moved to expel certain Russian banks from it.
Clinton added that there "is an increasing call for doing more on gas and oil."
"Now obviously some of our strongest allies in Europe are desperately trying to get out from under their dependence upon Russian energy—we need to expedite, and I know that the administration has been doing that, looking at more deliveries of liquified natural gas for instance," she said.
On Thursday, President Joe Biden announced a plan to combat rising gas prices, which have been caused in part due to the sanctions Western allies have imposed on the Russian economy, by releasing 180 million barrels of oil into the market in the coming months.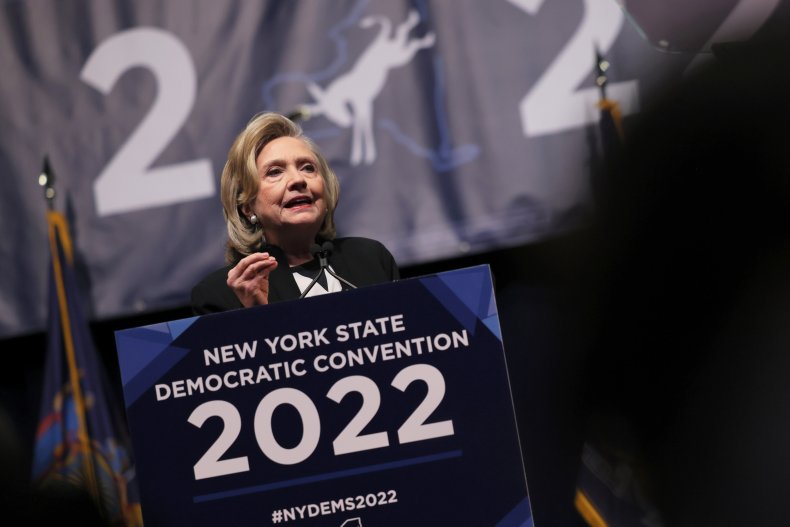 Also on Thursday, the U.S. Department of the Treasury announced it was imposing new sanctions on 21 Russian tech entities and 13 individuals that it accused of being "instrumental to the Russian Federation's war machine."
"Russia not only continues to violate the sovereignty of Ukraine with its unprovoked aggression, but also has escalated its attacks striking civilians and population centers," Secretary of the Treasury Janet Yellen said in a statement at the time. "We will continue to target Putin's war machine with sanctions from every angle, until this senseless war of choice is over."
Newsweek reached out to the White House for comment, but did not immediately receive a response before publication on Sunday afternoon.