Clinton: 'We Need to Lay the Foundation for a Second Sunni Awakening'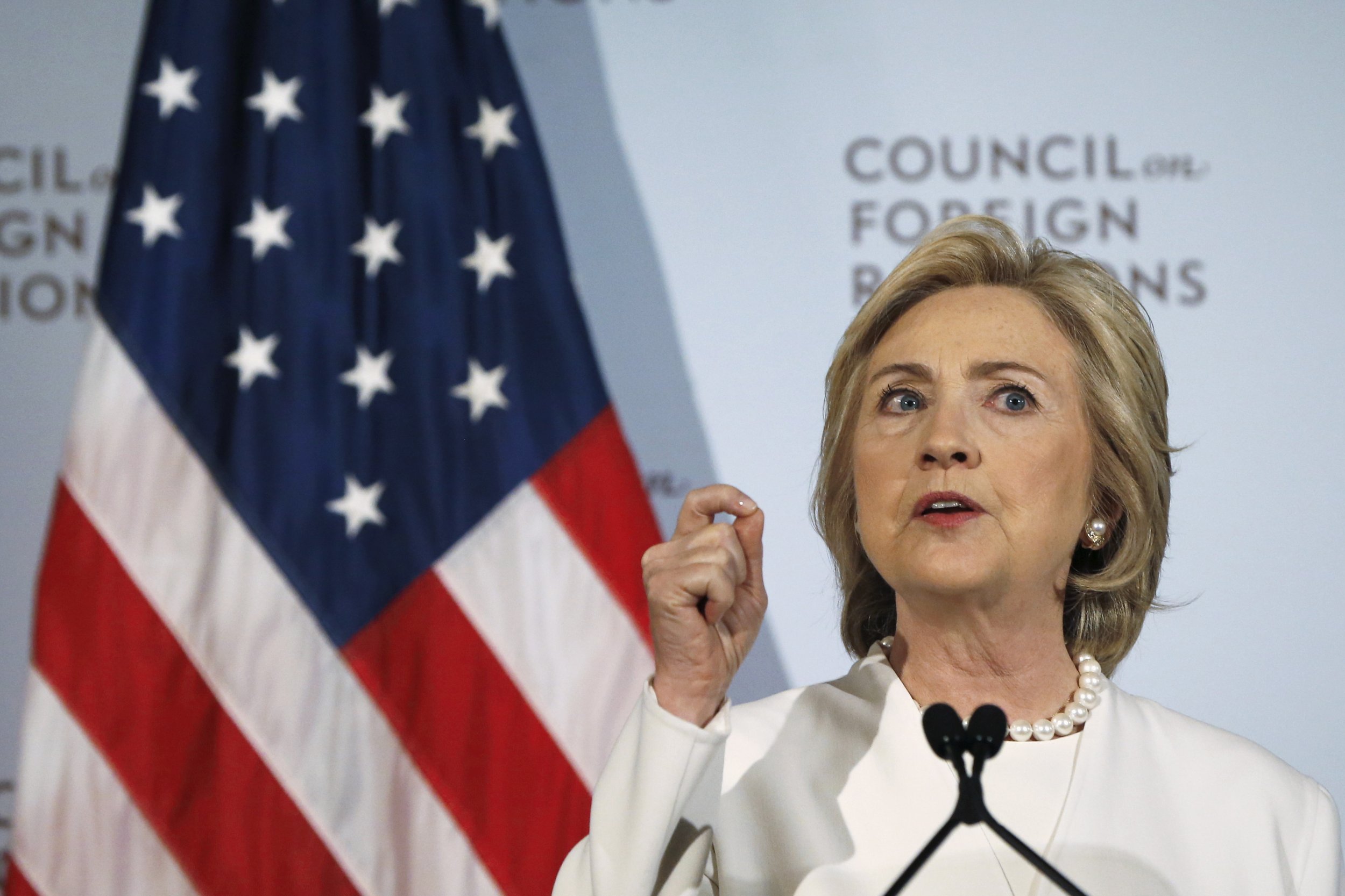 In her much-anticipated campaign address on defeating the Islamic State militant group (ISIS), Hillary Clinton on Thursday called for an "intensification" of President Barack Obama's approach in the territory that would rely on air strikes to establish safe zones that would protect civilians, slow the group and then break its back.
The former secretary of state acknowledged that in many ways her strategy is a reinforcement of what Obama has been pursuing for years, and that she wants to make it clear to Democratic voters that in the wake of the last week's shocking attacks on Paris, she has a plan for the Middle East to counter militant jihadists, while keeping the U.S. out of another land war. During a speech on Thursday at the headquarters of the Council on Foreign Relations, a nonpartisan think tank based in New York, she toed the line between embracing the administration's current approach and promising an escalation. At the center of her plan is a policy of ramping up arms support for Sunni and Kurdish local forces that are attempting to defend their homeland from ISIS's expanding reach.
"We need to lay the foundation for a second Sunni awakening," Clinton said.
The clear front-runner for the Democratic presidential nomination, Clinton claimed that Baghdad has been lax in providing support to the Sunni tribes and Kurds on the front lines, and that the U.S. should "make it clear we are going to be arming [them]" if the Iraqi government does not. As part of her strategy—which she characterized as an "intensification and acceleration" of the Obama approach—the U.S. should use air support to establish safe zones in Syria and Iraq where civilians can be protected from ISIS incursions. She called for a "more effective" air campaign to "break the group's momentum, and then its back."
Clinton's Republican rivals in the presidential race have attacked her performance during her tenure as secretary of state—which included involvement in spurring the so-called Arab Spring that led to a number of uprisings against regimes in the Middle East, including that of Bashar al-Assad, the controversial president of Syria.
The "second Sunni awakening" that Clinton referred to would focus on providing arms to fighters with interests that align with America's. After the Pentagon ended its controversial "train and equip" program, which failed to produce large numbers of troops to combat ISIS, representatives from the Department of Defense indicated that the U.S. would start seeking out, vetting and arming local militias, moderate leaders and other ground forces in the fight. Clinton's proposed strategy is very close, at least in philosophy, to this approach.
Even Republican candidates have been loathe to directly declare that they plan to invade Syria and Iraq (again) if elected president. Clinton stated that it would be a mistake to mount a large-scale effort on the ground, even if there were to be an attack on U.S. soil similar to Friday's massacre in Paris.
The campaign speech, which included a question and answer with CNN correspondent and former Newsweek columnist Fareed Zakaria, is Clinton's attempt to seize control of a shifting narrative in the presidential election. Polls have shown that an increasing number of voters are concerned with national security and counterterrorism, and the attacks in Paris have led to a number of responses from politicians. Republicans have emphasized border security, unanimously saying the U.S. should stop accepting refugees from Syria and Iraq. Front-runner Donald Trump has gone farther, suggesting that the U.S. should monitor Muslim mosques and even subject Muslim Americans to special surveillance. At the most recent Democratic presidential debate on November 14, Sanders, Clinton and Martin O'Malley reiterated their support for the refugee program and refusal to use the phrase "radical Islamic terrorists."
Clinton's speech was the first of two planned events by Democratic candidates on Thursday. Bernie Sanders, who expected and wanted the campaign narrative to focus on income inequality, planned to address national security Thursday afternoon during a speech that was supposed to be about his Democratic socialist economic philosophy. Clinton managed a subtle critique of Sanders during her address when she said that American-style capitalism is part of winning the ideological war against terrorists.
"The United States and its allies must demonstrate that free people and free markets are still the hope of humanity," she said.
The bulk of the political narrative coming out of Paris has concerned language politics and border security. Republicans have called for halting or strengthening U.S. refugee resettlement out of concerns that terrorists will sneak into the country disguised as displaced migrants. The current refugee vetting process takes up to 24 months and includes in-person interviews, but Republican lawmakers want the FBI to be involved. At the last Republican debate, GOP presidential candidates uniformly argued that the president and Democrats have weakened U.S. standing by avoiding the phrase "radical Islamic terrorism."
Clinton addressed both points during her speech, arguing that American inclusivity should be an ideological tactic against ISIS, and is precluded by the current political rhetoric.
"America's open, free tolerant society is described by some as a vulnerability in the struggle against terrorism, but I actually think it's one of our strengths. It reduces the appeal of radicalism," she said.
Clinton added that antagonizing the Muslim community would only help the narrative that ISIS projects, a clash between the modernized West and the pure ideology of extremism.
"In the end, it didn't matter what kind of terrorist we called Bin Laden, it mattered that we killed Bin Laden," she said, calling Republican criticisms of her refusal to say "radical Islamic terrorism" "an obsession." Clinton was part of the Obama administration's decision to pursue a risky operation to assassinate the al-Qaeda leader, something she is not loathe to bring up on the campaign trail.
It's clear that most Democrats favor pursuing U.S. interests in Syria by arming friendly groups—but even this strategy isn't without its disadvantages. Clinton emphasized the risk of other radical militant jihadists arising in the vacuum of a U.S.-led invasion, but the same thing can happen when Western countries pick winners and losers. During the Soviet invasion of Afghanistan, the U.S. armed groups that resisted the U.S.S.R. At the time, they were considered freedom fighters pushing out communism. Later, they came to be known as terrorists: the Taliban and al-Qaeda.