Hillary Clinton Talks Gender Equality, Not Politics, at Clinton Foundation Event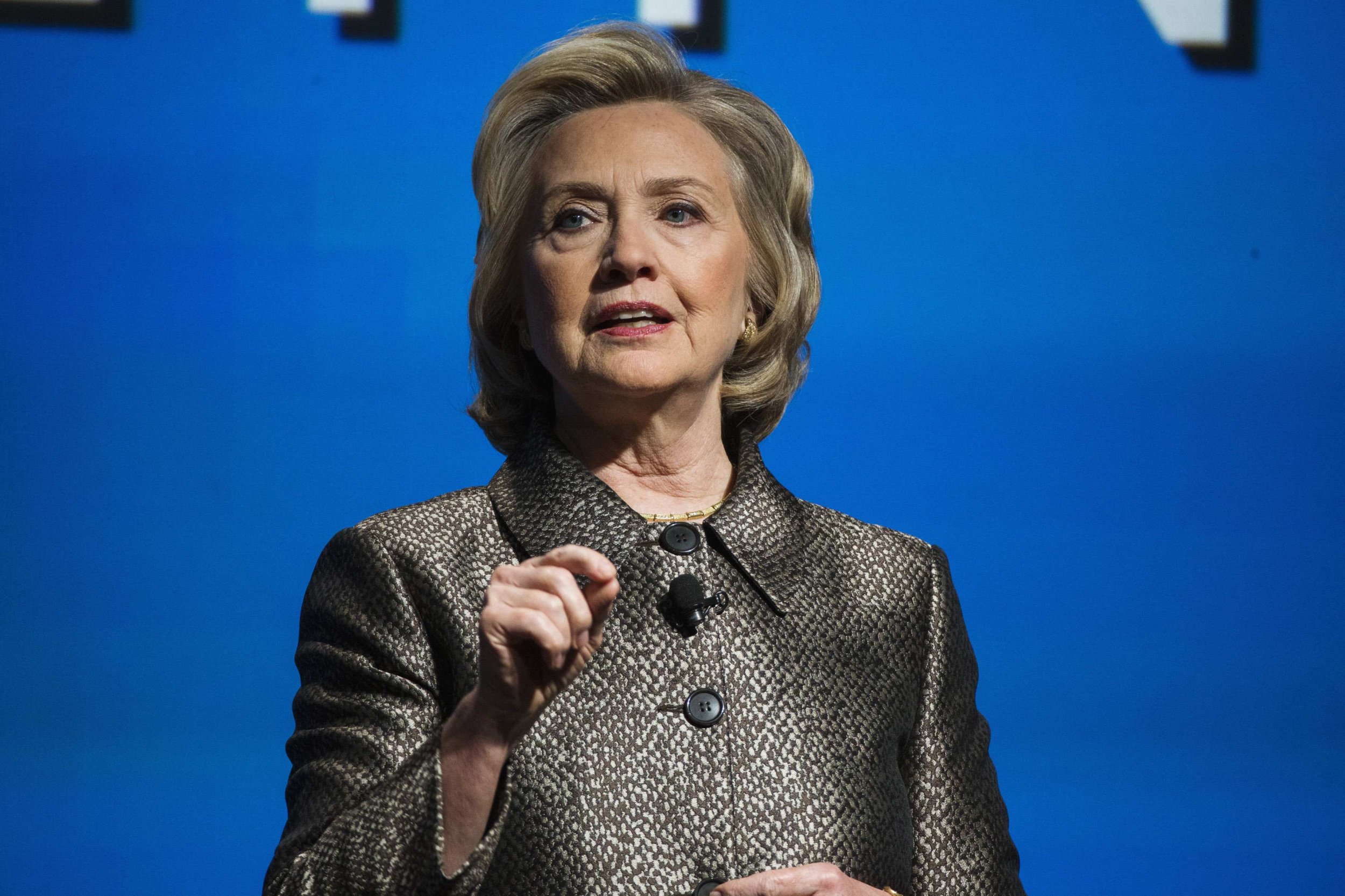 Hillary Clinton opened a gender equality event at the Clinton Global Foundation in New York on Monday by calling equal rights for women and girls the "great unfinished business of the 21st century."
Clinton, who served as Secretary of State in the Obama administration from 2009 to 2013, is widely seen to be a front runner for the 2016 Democratic presidential nomination, despite having not yet declared an intention to run.
While no strangers to public scrutiny, recent weeks have seen the Clintons and their foundation under fire, first, after it emerged that the Clinton Foundation had received funding from seven foreign governments while Hillary Clinton was Secretary of State. The donor countries included Saudi Arabia, one of only two territories in the world whose constitution does not have language supporting women's rights or prohibiting gender discrimination. Then last week Hillary Clinton was also hit with criticism after reports that she used her personal email address, on a private server, to conduct official business during her time as Secretary of State. Clinton has said she has asked the State Department to hand over her emails to the public, while Bill Clinton defended the Clinton Foundation's funding this weekend.
Clinton did not address either controversy during or after the event, which she used to launch a report on the status of women and girls in the world titled No Ceilings Full Participation Report.
Instead, Clinton stressed the importance of achieving gender parity in her speech, saying "when women and girls have the opportunity to participate, we can lift up not just ourselves, but our families, communities, even our countries."
The report is part of the Clinton Foundation's No Ceilings Initiative, which aims to gather and analyze data on the progress of women and girls in 190 countries over the past 20 years. Its release coincides with the first day of the U.N.'s Commission of the Status of Women conference, which this year marks two decades since 189 countries committed to advancing gender equality in Beijing, hoping to achieve it within a decade.
The report found a number of gaps in progress towards gender equality, including persistently high rates of child marriage across the world.
Despite the gaps, data from the report showing some gains such as increased legal protection and access to health care means "there has never been a better time in history to be born female," Hillary Clinton said.
Clinton was joined at the event by Melinda Gates, co-chair of the Gates Foundation, and Chelsea Clinton, vice chair of the Clinton Global Initiative, which forms part of the Clinton Foundation.
Kolinda Grabar-Kitarović, the first female president of Croatia, Liberian President Ellen Johnson Sirleaf, Nobel Prize laureate and education activist Malala Yousafzai and Debbie Sterling, founder of the girls construction toy company GoldieBlox all spoke at the launch.
The report shows that improved access to health care means global life expectancy for girls born today is four years longer than it was 1995, bring the average global lifespan for women to 72.9 years old.
As a number of reports released this week have shown, work toward achieving gender parity has been painfully slow over the last 20 years, despite commitments to improve prospects for women worldwide. Instead, women still face high rates of violence, low pay and barriers to economic independence.
Worldwide, progress on women's rights has been markedly uneven, particularly among rural, poor and marginalized women. Across the world, 800 women still die every day from complications related to pregnancy and childbirth and 220 million women don't use methods of family planning, Chelsea Clinton said. Women in Sub-Saharan Africa also face a shorter lifespan of 57 years due to high rates of HIV/AIDS, compared to women in other regions.
During the report's launch, Hillary Clinton led a discussion on girls' access to education and the relationship between women and the environment. "The impacts of climate change and other environmental damages are already shaping the lives of women and girls around the world," said Hillary Clinton.
Despite nearly eliminating the global gender gap in primary education, girls are still less likely to be educated, particularly those living in conflict zones or rural, poor or minority areas.
"While more girls than ever are making the transition from primary to secondary [school], in some regions the gender gap remains stubbornly wide," said Hillary. In sub-Saharan Africa, less than a third of girls are enrolled in secondary school and less than half are enrolled in South Asia.
Violence against women continues to be an "epidemic" and women in conflict zones are at particular risk of trafficking and sexual violence, according to the report. Violence against women increases by a third in unstable countries, the report finds.
Due to sex-selective abortions and a preference for sons rather than daughters, particularly in China and India, more than 1 million girls are prevented from being born and missing at birth every year. The number of girls among trafficking victims has doubled, from 10 percent to 21 percent from 2004 to 2011.