Hillary Clinton Channels 'Mean Girls' Again: Donald Trump Is Obsessed With Me
Former presidential hopeful Hillary Clinton appears to have channeled cult movie Mean Girls once again, suggesting President Donald Trump is "obsessed" with her.
Speaking on CBS Sunday Morning, where she and daughter Chelsea discussed the release of their co-authored tome The Book of Gutsy Women, Clinton said the president continued to invoke her name during rallies because he knew his presidency was not legitimate, once again quoting Tina Fey flick Mean Girls, whose main character Regina George asks: "Why are you so obsessed with me?"
"I believe that he knows he's an illegitimate president," Clinton said. "He knows there were a bunch of different reasons for why the election turned out the way it did and I take responsibility for those parts of it I should. But it's like applying for a job and getting 66 million of letters of recommendation and losing to a corrupt human tornado. So I know that he knows that this wasn't on the level."
"I don't know we'll ever know everything that happened but clearly we know a lot and are learning more every day and history will probably sort it all out, so of course he's obsessed with me. I believe it's a guilty conscience in so much as he has a conscience," Clinton added.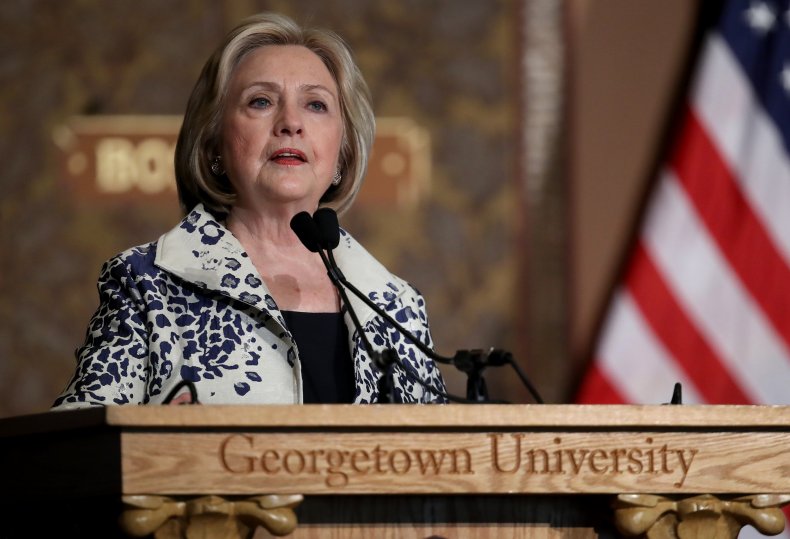 It's not the first time the former secretary of state appears to have dropped a Mean Girls line in reference to President Trump. She posted a meme of Regina George's infamous line on Twitter earlier this year after Trump once again mentioned her in a tweet.
"(Crooked) Hillary Clinton confirms she will not run in 2020, rules out a third bid for White House." Aw-shucks, does that mean I won't get to run against her again? She will be sorely missed!" Trump tweeted back in March this year.
Although Clinton didn't respond to the president directly, she appeared to have him in mind when she shortly afterward posted a meme of Regina George—much to the delight of her followers.
And her assertion that Trump is obsessed with her is a line she has also repeated more than once, questioning back in 2017 why the president continued to talk about her more than a year after the election.
"Apparently, you know, my former opponent is obsessed with my speaking out," Clinton said at an event marking the 25th anniversary of her husband Bill Clinton's election in November 2017 after Trump tweeted about her earlier in the day.
"Honestly, between tweeting and golfing, how does he get anything done? I don't understand it. Maybe that's the whole point," she added.