Hillary Clinton, Colin Powell and Madeleine Albright Set to Play Themselves in New Season of 'Madam Secretary'
Hillary Clinton, Madeleine Albright and Colin Powell will feature in series 5 of the political drama series Madam Secretary.
On Tuesday, CBS announced that the former secretaries of state will play themselves in the upcoming season premiere of the American political drama series starring Téa Leoni and Tim Daly, set to air in October.
"In the episode, Secretary of State Elizabeth McCord, played by Téa Leoni, turns to the former secretaries of state to ask their advice on how to respond to a delicate situation," they revealed.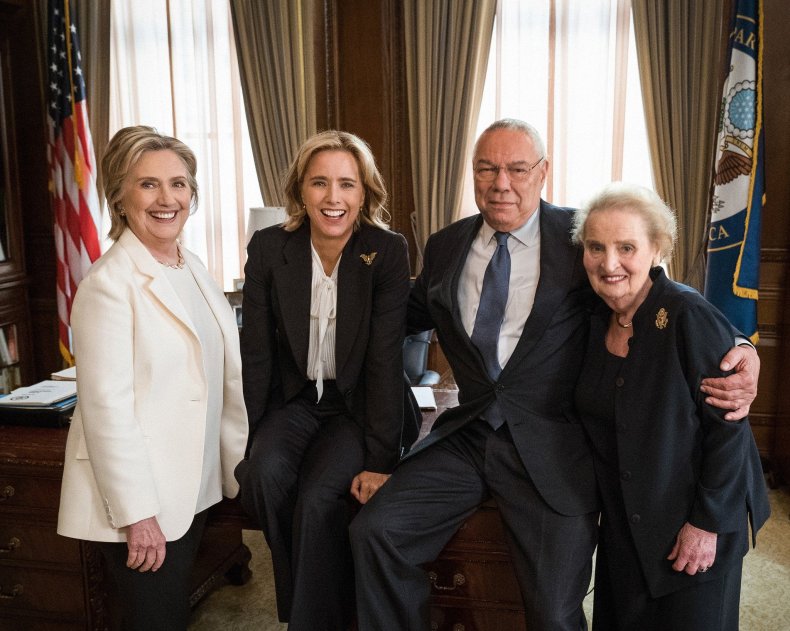 "I was incredibly honored to have @HillaryClinton, @Madeleine Albright, and Colin Powell on the set of #MadamSecretary," Leoni tweeted on Tuesday.
After the announcement was made, Albright—who had already appeared on season two of the show in 2015—took to Twitter to share her delight in being invited back.
"It was great to be back on the set of @MadamSecretary with @tealeoni," she shared. "It is always nice to consult with my successors. The episode will air on #CBS on October 7."
Clinton also shared the exciting news with her fans on Twitter. "It was wonderful to spend some time with the team from @MadamSecretary on set in Brooklyn with a few former colleagues," she wrote. "Mark your calendars for October 7th!" she wrote.
In a statement, Lori McCreary, an executive producer on the show, praised the three former secretaries of state and expressed her delight at having been able to book them all in for the show. "Having three powerhouses of diplomacy agree to come on our show is awe-inspiring and humbling. And that we were able to find a time in their busy schedules when they were all available is a miracle," she said. "We welcome Secretary Albright, Secretary Clinton and General Powell to the Madam Secretary family!"
Leoni plays Secretary of State Elizabeth McCord in the political drama thriller which first aired on September 21, 2014.
Madam Secretary stars Leoni, Daly, Patina Miller, Geoffrey Arend, Erich Bergen and Bebe Neuwirth. It is produced by Barbara Hall, Morgan Freeman, Leoni, Lori McCreary, Tracy Mercer and David Grae.