Why Bernie Sanders's Gun Record Could Hurt Him in New York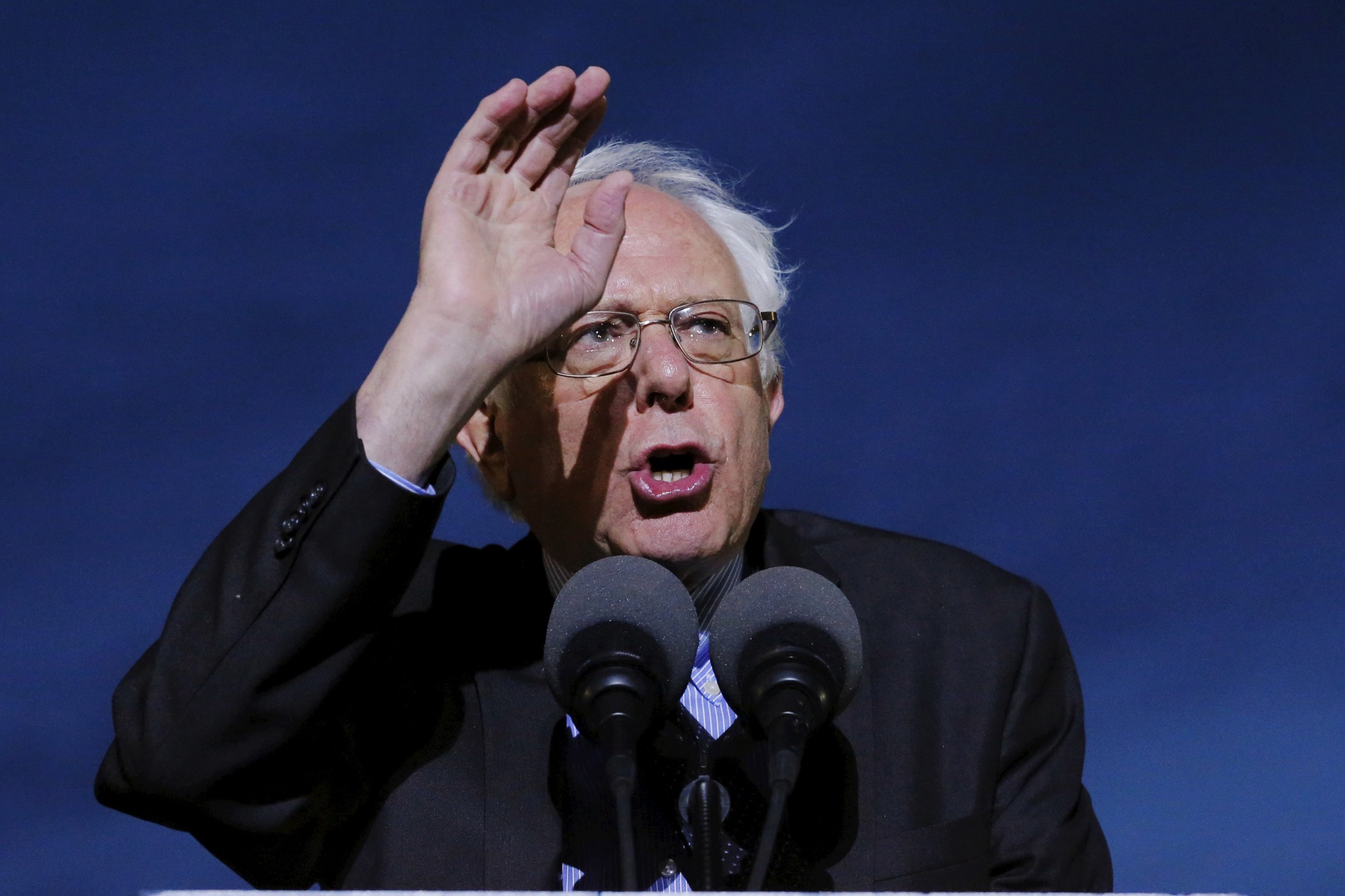 As the April 15 New York primary looms, Hillary Clinton is ramping up her criticisms of Bernie Sanders's weak gun-voting record in a state with strict firearms laws. Standing next to the front-runner and advocating for her to be the Democratic nominee this fall are some of the country's most outspoken gun-control advocates, who call the Empire State their home.
New York ranked sixth for enacting effective guns laws, and thus received an "A-minus" grade, in the Law Center to Prevent Gun Violence's 2015 annual scorecard. Perhaps more notably, New York Governor Andrew Cuomo signed significant gun reform in January 2013, just a month after 26 people were fatally shot at Sandy Hook Elementary School in Newtown, Connecticut. The legislation included universal background checks for all gun transfers between private parties.
Earlier this week, Clinton reminded the audience gathered at Harlem's Apollo Theater that her opponent, who was born in the borough of Brooklyn, has sided with the National Rifle Association (NRA) on important votes in the past 20 years, including support for the Protection of Lawful Commerce in Arms Act (PLCAA). The 2005 federal shield law—praised by the NRA—prevents gun-violence victims from taking legal action against distributors whose weapons are used in crimes and fatal shootings.
PLCAA continuously has been a point of contention in the Democratic race. When it passed 11 years ago, Clinton was a senator from New York who opposed the measure, and Sanders was a member of Congress who favored it.
On Friday, the parents of a victim killed in the 2012 movie theater shooting in Aurora, Colorado, joined a Clinton campaign press call and criticized Sanders for his support of PLCAA. Lonnie and Sandy Phillips explained how they sued dealers who sold ammunition to the man who killed their daughter in the massacre. But their lawsuit was dropped because of the industry's protections under PLCAA.
On the defensive, Sanders in February vowed to co-sponsor a bill that seeks to negate PLCAA. The Phillips family said they think his decision to support the new measure only came to reality because Clinton continues to highlight his weak record and reintroduce gun control to the spotlight as New Yorkers prepare for their upcoming primary.
Sanders has defended his record by touting his rural Vermont ties and by expressing his wish to help protect mom-and-pop gun shops from facing legal action. He simultaneously points to his weak D-minus rating from the NRA, which he argues makes him the group's enemy. But Sanders again initiated debate with his gun comments in March when he said he doesn't think businesses should be punished if they legally sell a gun to a customer.
"If they are selling a product to a person who buys it legally, what you're really talking about is ending gun manufacturing in America. I don't agree with that," he said. The senator acknowledged that he agrees manufacturers should be held liable if they realize they're selling firearms to criminals.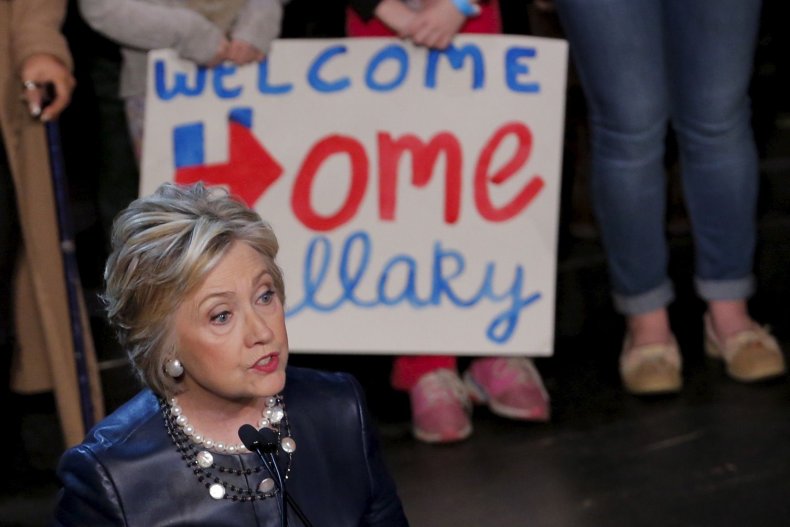 But voters took note, and so did the NRA, which praised Sanders for his comments about gun manufacturer liability. The parents of a first-grader killed at Sandy Hook Elementary School recently penned an op-ed in The Washington Post to call out Sanders for his comments. Mark and Jackie Barden, whose son was one of the 20 first-graders killed at the school, are among the 10 families currently suing the manufacturer, distributor and seller of the Bushmaster AR-15 rifle the gunman used to carry out the massacre. A judge currently is deciding whether the lawsuit will move forward, or if PLCAA negates the plaintiffs' argument. In their letter, the Bardens argue the legal case specifically concerns the AR-15, not every kind of firearm, and how the companies entrusted a military weapon to civilians.
Sanders also voted against the Brady Bill, which requires background checks on firearms purchases and is the flagship piece of legislation to the Brady Campaign to Prevent Gun Violence, which works to expand federal background checks to all firearms sales. The organization has recognized Clinton for her work in promoting gun-control measures and dedication to the bill. Last November in New York City, she headlined the group's annual awards gala, where she called gun violence a "national emergency" and urged Americans not to give up fighting the gun lobby. Clinton's other previous gun-control efforts include proposing a national gun registry and calling for the repeal of PLCAA.
In Harlem this week, Senator Chuck Schumer of New York commended Clinton for supporting the Brady Bill, which he sponsored as a representative. He told the crowd about an earlier meeting at the White House when Clinton, who was first lady at the time, was one of two in the room who stood up in support of the bill. "We have to do this, it's the right thing," Schumer recalled her saying.
"She listened, she spoke up and she changed the lives of millions…so we know Hillary delivers," he added.
A glance at her list of supporters indicates that Clinton is viewed as the stronger candidate in the anti-gun movement. She is supported by prominent New Yorkers, including Schumer, Cuomo and Mayor Bill de Blasio, who are strong advocates for gun-control prevention. The former secretary of state also has earned endorsements from other national gun-control activists, including the Brady campaign and former U.S. Representative Gabrielle Giffords, who was shot in the head in a 2011 incident outside of a supermarket in Tucson, Arizona. Other Clinton supporters from the movement include the mothers of the late Trayvon Martin and Jordan Davis. Both victims were killed four years ago in Florida.
In a March 27 op-ed published by the New York Daily News, Clinton highlighted what she called the "genuine difference" in the Democratic presidential primary: Sanders's vote for PLCCA. She again called for the repeal of PLCAA and demanded the end to gun violence, "not just in some neighborhoods or some cities—but in every corner of this country where guns continue to destroy innocent lives."