Hillary Clinton Says She's 'Inspired' By Women As She Endorses Andrew Cuomo Over Cynthia Nixon
Hillary Clinton has officially weighed in on the New York gubernatorial race, but she won't be supporting the first-time female candidate in the race.
Clinton gave her formal endorsement to Governor Andrew Cuomo during a keynote address at the New York State Democratic Convention on Wednesday, snubbing Cynthia Nixon in the process.
"I'm really inspired by the women who are making their voices heard like never before," Clinton told the crowd. Those women apparently don't include Nixon, who announced her challenge to Cuomo in March and has since aligned herself with the record number of women running for office in 2018.
Clinton's endorsement, though perhaps disappointing to those who'd rather see her support a woman candidate, is far from a surprise: Cuomo was a member of former President Bill Clinton's administration for three years, and a vocal supporter of Clinton's own bid for president. Of course, so was Nixon.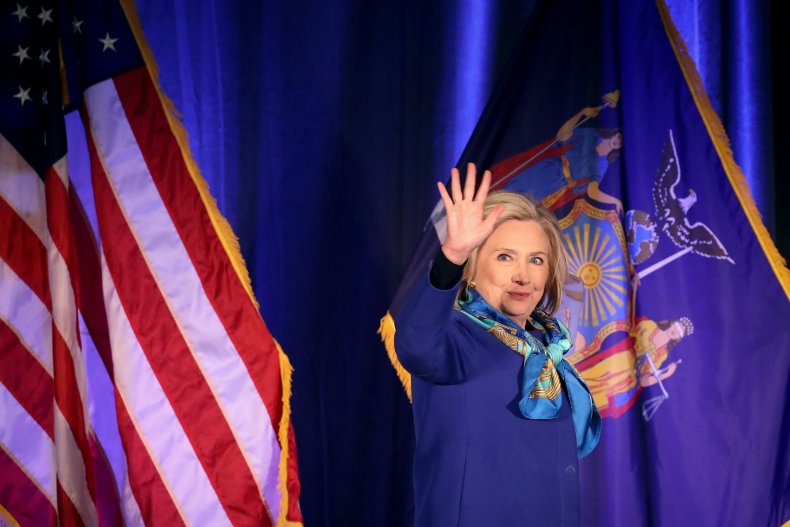 In her speech, Clinton painted Cuomo as a seasoned politician with a strong track record for delivering on progressive causes, like marriage equality, a $15 minimum wage and staving off the influence of the Trump administration.
"Our state is a shining example of the progress that's possible when we have tough experienced Democratic leaders defending our values, standing up to the onslaught of attacks from this president and Republicans in Congress, and that's exactly what Cuomo has done," Clinton said. "We need leaders who believe in producing results and getting things done—leaders like Andrew Cuomo and Kathy Hochul."
Nixon's campaign finds a different story in Cuomo's leadership.
"Cuomo can cloak himself in all the endorsements he wants, but it won't hide that fact that he's effectively governed as a Republican for eight years," Lauren Hitt, Nixon's chief spokeswoman, told Newsweek by email. "Because he helped the Republicans maintain control of the Senate, we lost the chance to pass the DREAM Act and to protect women's reproductive rights, among other progressive policies."
Nixon is running a progressive campaign, nailing Cuomo on the city's sluggish subway system, as well as advocating for marijuana legalization and rent justice. She still has a lot of ground to make up for if she wants a shot at beating Cuomo—as of earlier this month, she was behind by 22 points—but the incumbent governor's lead is narrowing, and progressives see Cuomo leaning farther left since being challenged, suggesting he may consider Nixon a true rival.
Clinton has personally endorsed several candidates so far this cycle, including three who have already won their primaries: J.B Pritzker, who's running for Illinois governor, Stacey Abrams, who's vying to become the country's first black female governor, and Lucy McBath, a gun control activist who made it to Georgia's runoff in the 6th congressional district. Earlier this month, Clinton also penned a letter to the Federal Election Commission, asking that commissioners approve first-time candidate Liuba Grechen Shirley's request to use campaign funds for child care. They did.
But not everyone's so sure that Clinton's backing is a good thing. Some progressives view the failed presidential candidate as the epitome of the Democratic establishment they're trying to upend in 2018.
"I see the Clintons as a liability," Paul Spencer, a high school teacher running in Arkansas, the birthplace of the Clintons's political legacy, told The New York Times on Monday. "They simply represent the old mindset of a Democratic Party that is going to continue to lose elections."
Still, Clinton rallied the New York Democratic Convention crowd on Wednesday, eliciting cheers from attendees with reminders of what Democrats have accomplished, and what they can do for the country if they regain congressional control in November.
"So much of the progress we've seen in the United States has happened because we pushed doors of opportunity open for people who have been shut out," Clinton said. "And we, my friends, are not going back."