Hillary Clinton Declines Commenting on Biden's Withdrawal From Afghanistan: 'Wicked Problem'
Former Secretary of State Hillary Clinton declined to share her views on President Joe Biden's decision to withdraw U.S. troops from Afghanistan, describing the situation as a "wicked problem."
Clinton served as secretary of state under former President Barack Obama from 2009 to 2013, when Biden was vice president. In a Friday interview with MSNBC, Clinton—who unsuccessfully ran for president in 2016—was asked about Biden's April announcement that all U.S. troops would be withdrawn from Afghanistan by September 11. The former top U.S. diplomat raised concerns about the potential fallout from the withdrawal, but did not say whether or not she viewed it as a good call by the president.
During the interview, Clinton was asked if she was "comfortable" with Biden's decision to withdraw the troops from Afghanistan and bring an end to America's longest war. Instead of responding directly, Clinton simply said that she believed that Biden "made the decision that he thought was the right decision," describing the situation as a "wicked problem"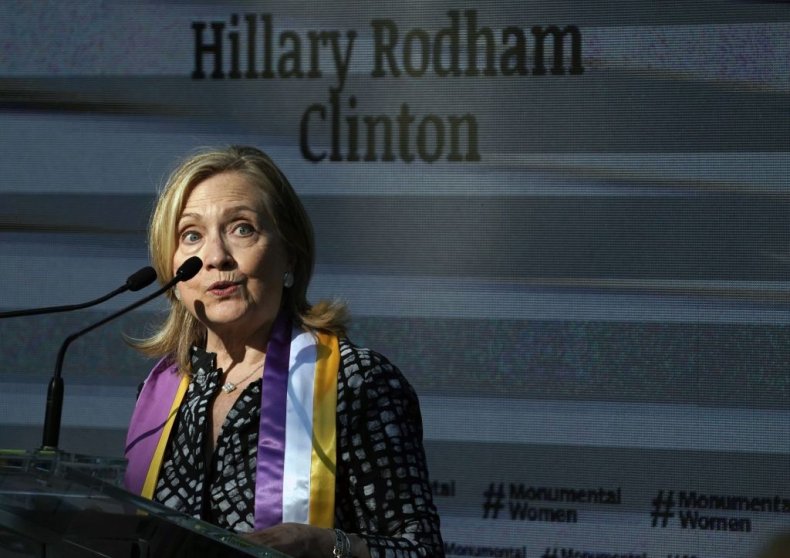 The former secretary of state went on to warn about the potential fallout for the Afghan people. Clinton said that her concerns would be focused "on what happens to the people, particularly the women in Afghanistan, if the Taliban come back into power, if the government collapses." She cautioned that the U.S. and its allies could face "what I expect to be a very large refugee flow" if the Taliban retook control of the Central and South Asian nation.
Biden announced his decision regarding Afghanistan on April 14.
"After consulting closely with our allies and partners, with our military leaders and intelligence personnel, with our diplomats and our development experts, with the Congress and the vice president, as well as with [Afghan President Ashraf Ghani] and many others around the world, I concluded that it's time to end America's longest war. It's time for American troops to come home," the president said at the time.
Former President Donald Trump's administration signed a peace deal with the Taliban last year, which said troops would be withdrawn from Afghanistan by the beginning of May. Biden extended the timeline by several months, as military and national security officials warned of the need for more time to ensure an orderly withdrawal.
While many progressive Democrats and some Republicans cheered Biden's decision, Republican leaders have strongly criticized the move. They have argued that it will harm America's national security, saying that extremist groups could again use the country as a base to launch attacks against the U.S. Many have also pointed to the vulnerability of the U.S.-backed Afghan government and the plight of women, who faced severe repression under Taliban rule.
Supporters of the president's decision point out that Afghanistan has become the nation's longest war, arguing that proponents of keeping troops in the country will never believe there's a suitable time for a full withdrawal.
Clinton and Biden both served in the Senate in 2001 when the legislative body approved a resolution granting Republican President George W. Bush the approval to invade Afghanistan. Both Democrats also voted in favor of authorizing Bush to use military force to invade Iraq—where U.S. troops also remain today.
The U.S. officially acknowledges that it has about 2,500 troops remaining in Afghanistan, while there are also several hundred other special forces troops in the country. All these forces are expected to be withdrawn from the country by September.
Newsweek reached out to the White House for comment.