Hillary Clinton Showed 'Disregard for Truth' Against Obama in 2008, Long Before Trump Ran Against Her, Book Claims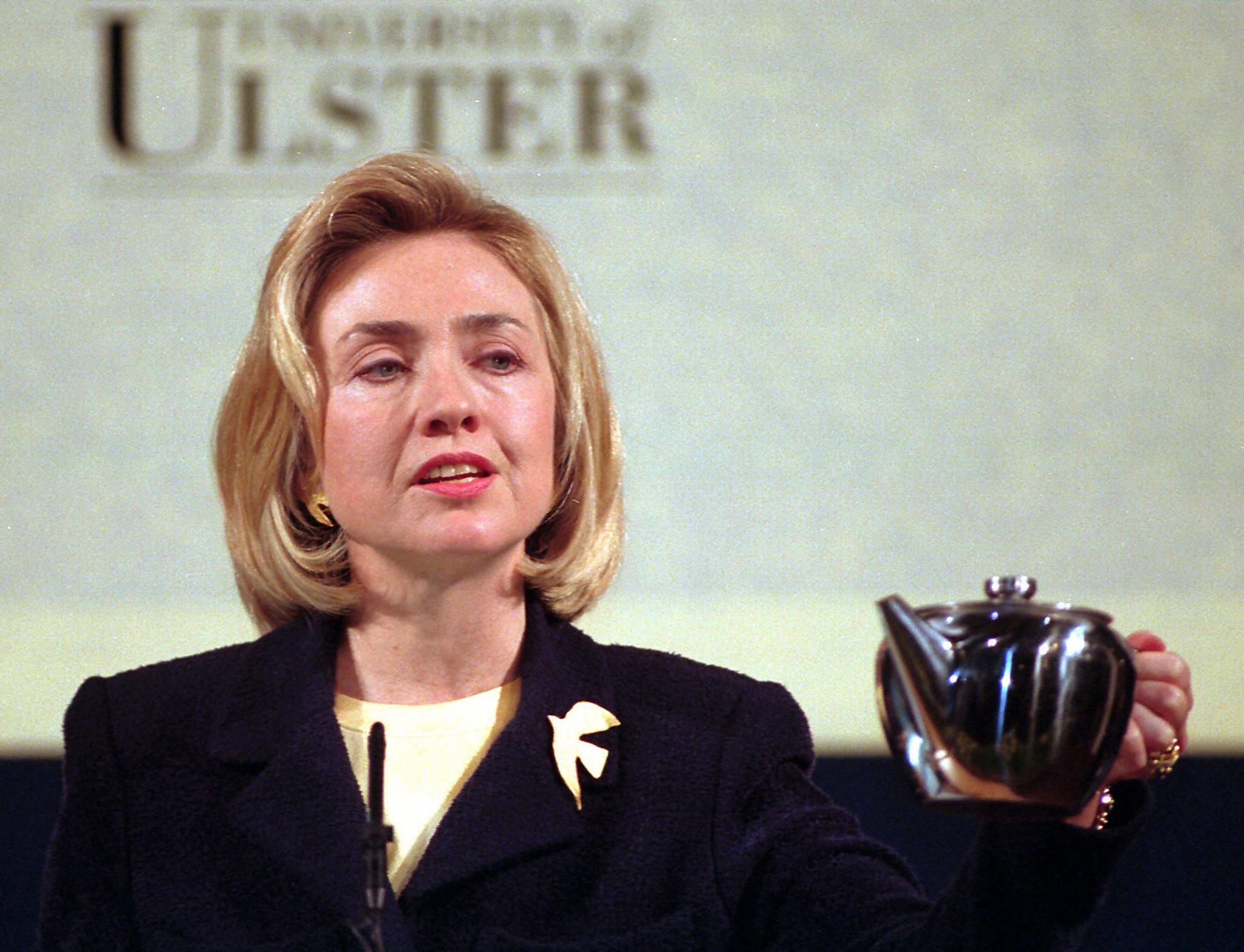 Hillary Clinton exaggerated her role in the Northern Ireland peace process for political gain during her 2008 bid for the Democratic presidential candidacy, a new book has claimed.
In a report published Tuesday, The Guardian has detailed the book Shenanigans: the US-Ireland Relationship in Uncertain Times, written by Trina Vargo, Senator George Mitchell's foreign policy adviser who worked directly with former President Bill Clinton and first lady Hillary Clinton in an effort to establish peace between the U.K.-controlled Northern Ireland government and Irish Republican rebels. Vargo, who went on to found the U.S.-Ireland Alliance, painted a deeply critical picture of the husband-and-wife duo who claimed the 1998 Good Friday Agreement as a diplomatic milestone.
She first alleged that the Clintons attempted to use their political position to secure a George Mitchell scholarship for a boyfriend of their daughter, Chelsea, in 1999. Mitchell, whom the scholarship was named after due to his own frontline role in fostering dialogue between the opposing sides, later told Vargo that Bill Clinton contacted him, saying he was "very unhappy" that the young man was not shortlisted for the scholarship awarded to only a dozen students a year.
Vargo wrote how she felt the events positioned her for the Clintons' "enemies list" and that the feud was only exacerbated when she opted to support then-Senator Barack Obama, whom she advised on Ireland policy, in the 2008 election. Hillary Clinton targeted Obama's political inexperience while touting her own achievements. Vargo wrote, "The tall tales just kept growing … disregard for the truth was not invented, merely taken to new heights, by Donald Trump in the 2016 campaign."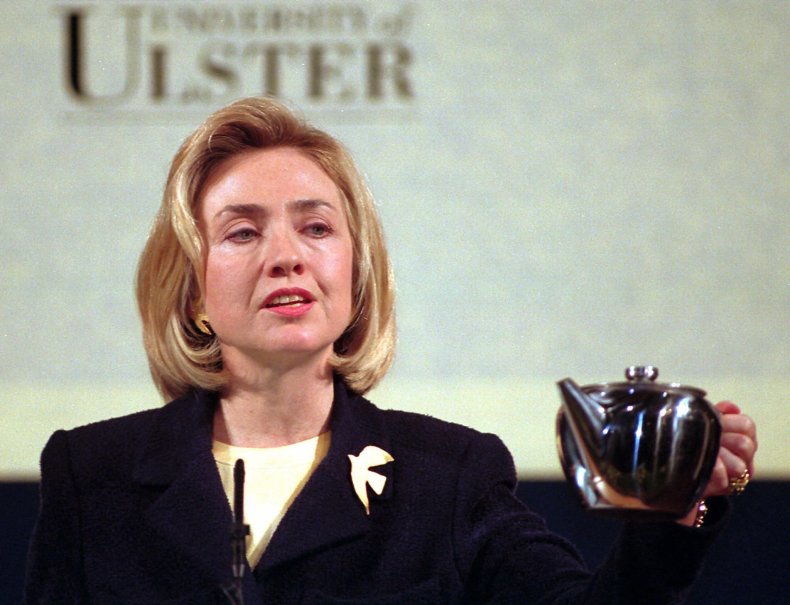 Vargo contended that Hillary Clinton's involvement as the first lady was not nearly as crucial as the New York senator presented. Vargo also claimed that the unsuccessful Democratic candidate held it against her as Vargo said she helped Obama to belie the version of events presented by Hillary Clinton, whose husband canceled his appearance at a 10-year Good Friday Agreement event hosted by the U.S.-Ireland Alliance. An aide, however, told Vargo that the absence came down to a scheduling conflict.
Hillary Clinton herself would then allegedly go on to bring her retribution to the State Department, which she led during Obama's first term. In 2012, the department cut its annual half-million-dollar contribution to the Mitchell scholarship and, though the official reasoning was budgetary limits, Vargo argued in her book that it "was not about the money," as The Guardian reported.
The newspaper cited a spokesperson for Hillary Clinton defending her foreign policy record during her time as the first lady and pointed out that John Kerry—who replaced her for Obama's second term—also withheld the $500,000 contribution to the U.S.-Ireland Alliance. The representative called other allegations about the Clintons' alleged exaggeration and nepotism "baseless and patently false."
Vargo is not the first to accuse Hillary Clinton of stretching the truth when it came to her disputed part in the Northern Ireland peace process. During the 2008 election, she conceded amid criticism that she "wasn't sitting at the negotiating table," but called her role "instrumental" in settling decades of unrest between Protestant-majority unionists loyal to U.K. rule and Catholic-majority republicans seeking a united Ireland.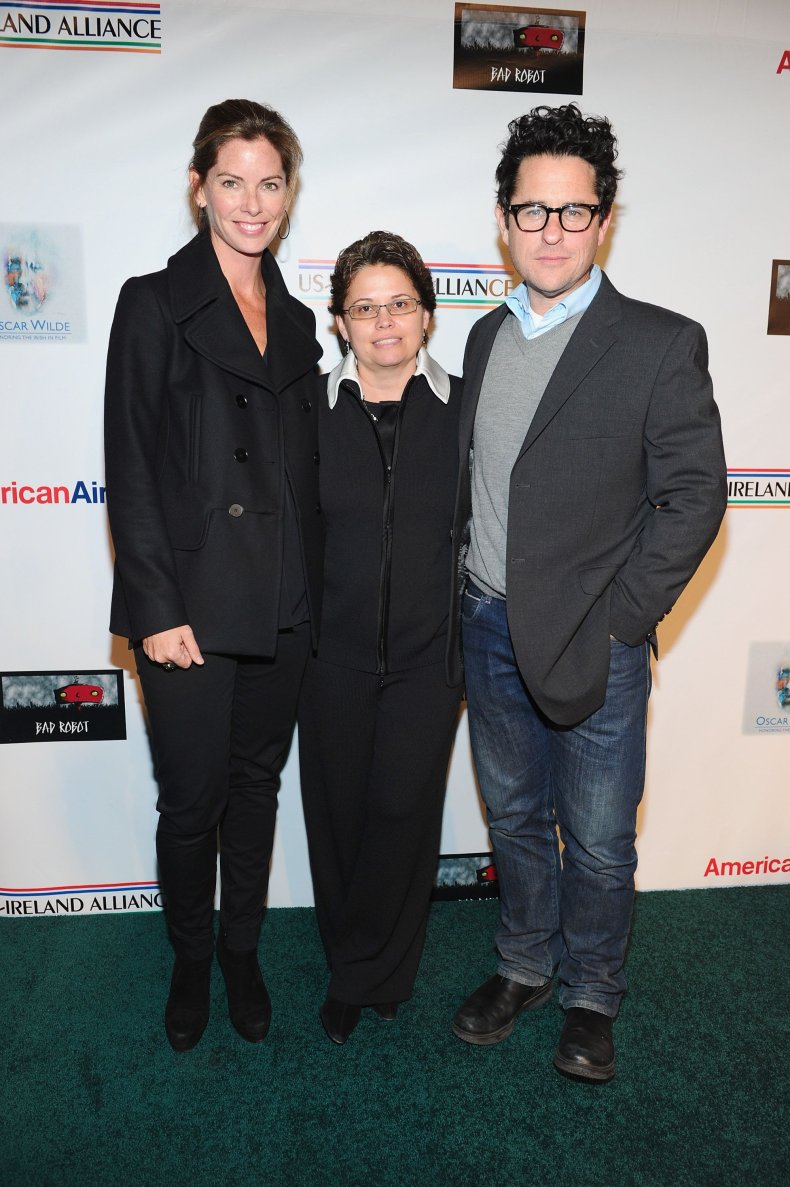 In response, Ulster Unionist Party negotiator Peter King, told The Telegraph in March of that year that "Hillary Clinton was totally invisible at the actual negotiations," claiming she "was as relevant to peace in Northern Ireland as Tony Blair's wife or the ex-wife of Bertie Ahern," the Irish prime minister between 1997 and 2008. Ulster Unionist Party leader David Trimble, who—alongside Irish nationalist Social Democratic and Labor Party leader John Hume—won the 1998 Nobel Peace Prize for his efforts, told the publication a week earlier that Hillary Clinton's claims were a "wee bit silly."
Also in March 2008, Politifact interviewed several figures associated with the Northern Ireland peace process in an attempt to ascertain the extent of Hillary Clinton's involvement. Mitchell himself said she did not take part in the actual negotiations but was "quite helpful in the process" and "was quite active in encouraging women in Northern Ireland to get involved and stay involved in the peace process." He told Newsweek a month later that neither of the Clintons was actually at the table, but that the first lady had a "helpful and supportive role."
Northern Irish trade union leader Inez McCormack lauded Hillary Clinton's role, especially because "she understood that you had to tackle inequality if you were going to make the peace," according to Politifact. Stephen Farry, a member of the Alliance Party of Northern Ireland in the Northern Ireland Assembly, said she "did not, to my knowledge, have any direct role with the key players in the negotiations," though she "did play a positive role in engaging with civil society in Northern Ireland, and building on work that was already in progress."
Seven years later, less than a month before she would launch her second presidential bid, Irish America magazine awarded Hillary Clinton its lifetime achievement award for her role in the Northern Ireland peace process. On its Hall of Fame website, the magazine says she played "a major role in setting the groundwork for the formation of cross-community parties such as the Women's Coalition in the vital years when the peace process was being bedded down prior to the 1998 Good Friday Agreement."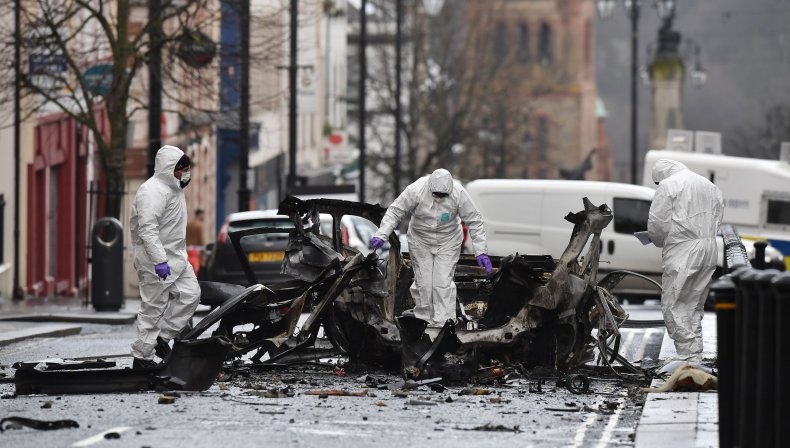 The award was largely overshadowed by the controversy garnered by her use of a private email server during her time as Obama's top diplomat. The charges would become a pivotal talking point for Trump, who launched his own presidential bid two months after Hillary Clinton in June 2015. The two would go on to secure their respective primaries the following year, unleashing a vicious bout in which Trump ultimately came out on top in November.
Clinton, who has officially announced that she would not seek a third presidential campaign, has continued to weigh in Northern Ireland's precarious stability in the wake of Brexit and renewed signs of violence. During a visit to Belfast in October, she admitted she was "against Brexit from the start" and described what could be "one of the greatest and most unnecessary self-inflicted wounds in modern history," though similar words have been used to describe her own campaign.
A report published last month by Irish Senator Mark Daly, alongside United Nations Educational, Scientific and Cultural Organization (UNESCO) chairs Pat Dolan and Mark Brennan warned that, though peace has prevailed in the region, both Unionist and Republican paramilitary forces remain active and there "will be a return to violence in Northern Ireland in the event of the installation of infrastructure, custom checks and security on the Irish border as a result of a no deal Brexit."