Hillary Clinton Finally Beats Donald Trump And Bernie Sanders (Albeit Only In New York City Mayoral Write-Ins)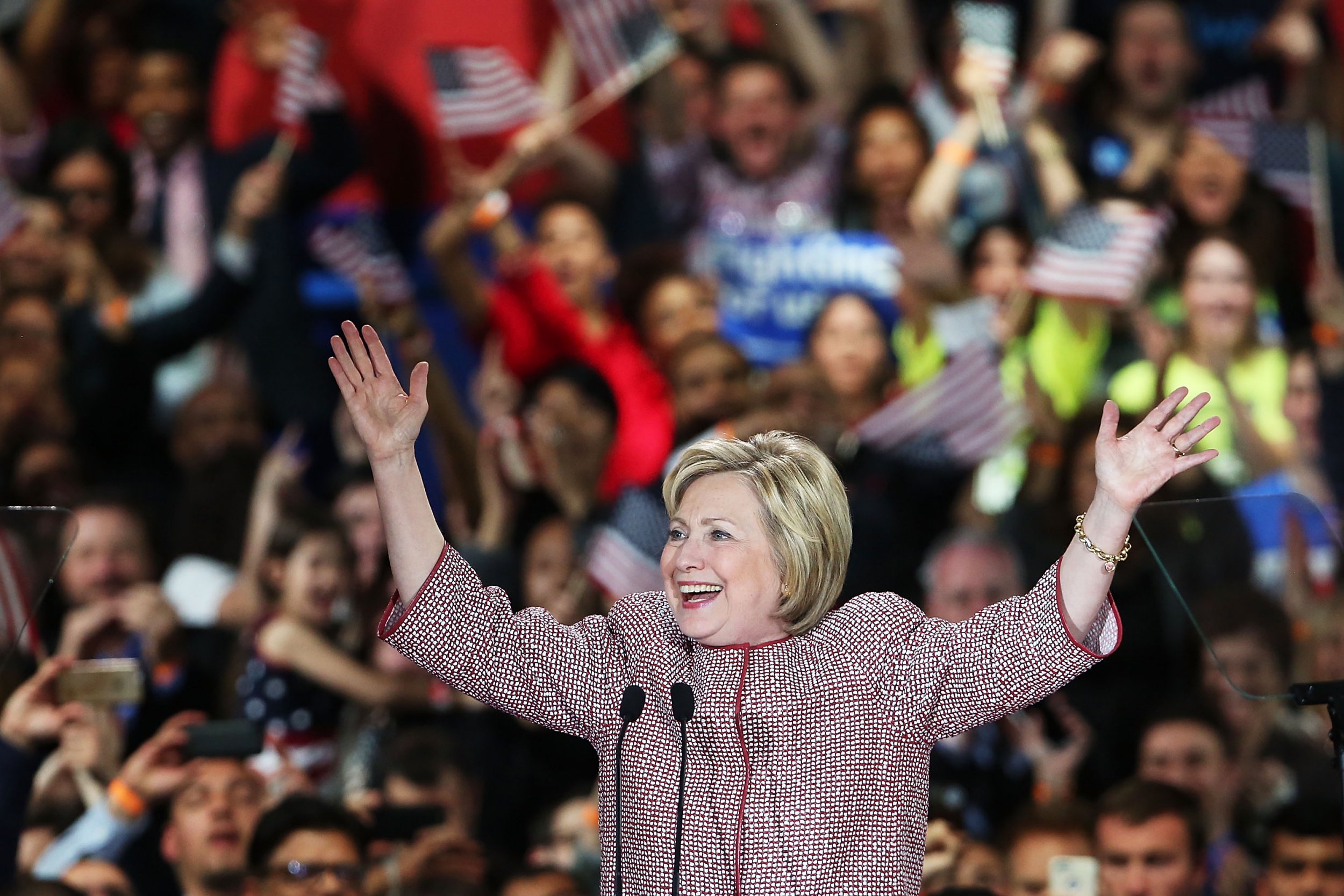 Hillary Clinton has finally defeated her two rivals from last year, President Donald Trump and Vermont Senator Bernie Sanders, though only with write-in votes in New York City's mayoral election.
The former secretary of state and New York senator received 240 votes, compared with Sanders's 29 and Trump's 22, according to Board of Elections data released Wednesday, three weeks after the November 7 balloting that handed incumbent Bill de Blasio a second term.
Former President Barack Obama also defeated Trump, getting 45 write-in votes from some 22,000 voters who chose to write in a name beside de Blasio or his far-lesser-known challengers.
Disgraced politician and serial sexting offender Anthony Weiner, who was sentenced to 21 months in federal prison in September for sending obscene material to a 15-year-old girl, received eight votes.
In the main event, of course, de Blasio easily defeated Republican Nicole Malliotakis by 66 percent to 28 percent, with about 1.1 million voters casting ballots.
But the undercard revealed some interesting matchups and results: Chirlane McCray, de Blasio's wife, tied Jesus Christ, with three votes.
Former New York City mayors also made a showing in the race, with three-termer Michael Bloomberg dominating two-term mayor Rudy Giuliani, 979-12.
With four votes, Alec Baldwin defeated actors Bill Murray, Denzel Washington, Nicolas Cage and the late Adam West, who each received one vote.
Fictional characters Jon Snow, from HBO's Game of Thrones's Bob Newby, from Netflix's Stranger Things; the Simpsons's Bart Simpson; Iron Man's Tony Stark and Nickelodeon's SpongeBob SquarePants all tied, with one vote apiece.
Queen Bey dominated the musicians in the mix; Beyoncé tallied five votes. Rick James, David Bowie, Bruce Springsteen and Dave Grohl got only one vote each.
In the battle among New York sports figures, Knicks star center Kristaps Porzingis narrowly edged out Yankees centerfielder and American League rookie of the year Aaron Judge, 11-10. Derek Jeter also appeared in the write-in slot, with two votes. And Pete Rose, who may never earn enough votes to enter the Baseball Hall of Fame due to his gambling scandal, did earn one vote to enter City Hall.
NFL quarterback and "take a knee" police brutality protester Colin Kaepernick also got one vote for mayor.
Stephen Colbert won the television campaign with seven votes. Rachel Maddow was the runner-up with four votes, followed by John Oliver (3). Seth Meyers, Jon Stewart and CNN's Chris Cuomo also received one vote each.
Radio host Brian Lehrer defeated Howard Stern, 12-5.
Former U.S. attorney-turned podcast host Preet Bharara had a strong showing with 38 votes.
Chelsea Manning, who was convicted of leaking 750,000 documents and videos to WikiLeaks, had two votes, one more than WikiLeaks founder Julian Assange.
Astrophysicist Neil deGrasse Tyson made it onto the ballot with one vote, as did political activist Angela Davis, famed presidential election debate questioner Ken Bone and David Duke, the white supremacist and former grand wizard in the Ku Klux Klan.