Hillary Clinton Blames Loss on Not Sharing White Anger, but Still Hates 'Creep' Trump
"Get Back You Creep!"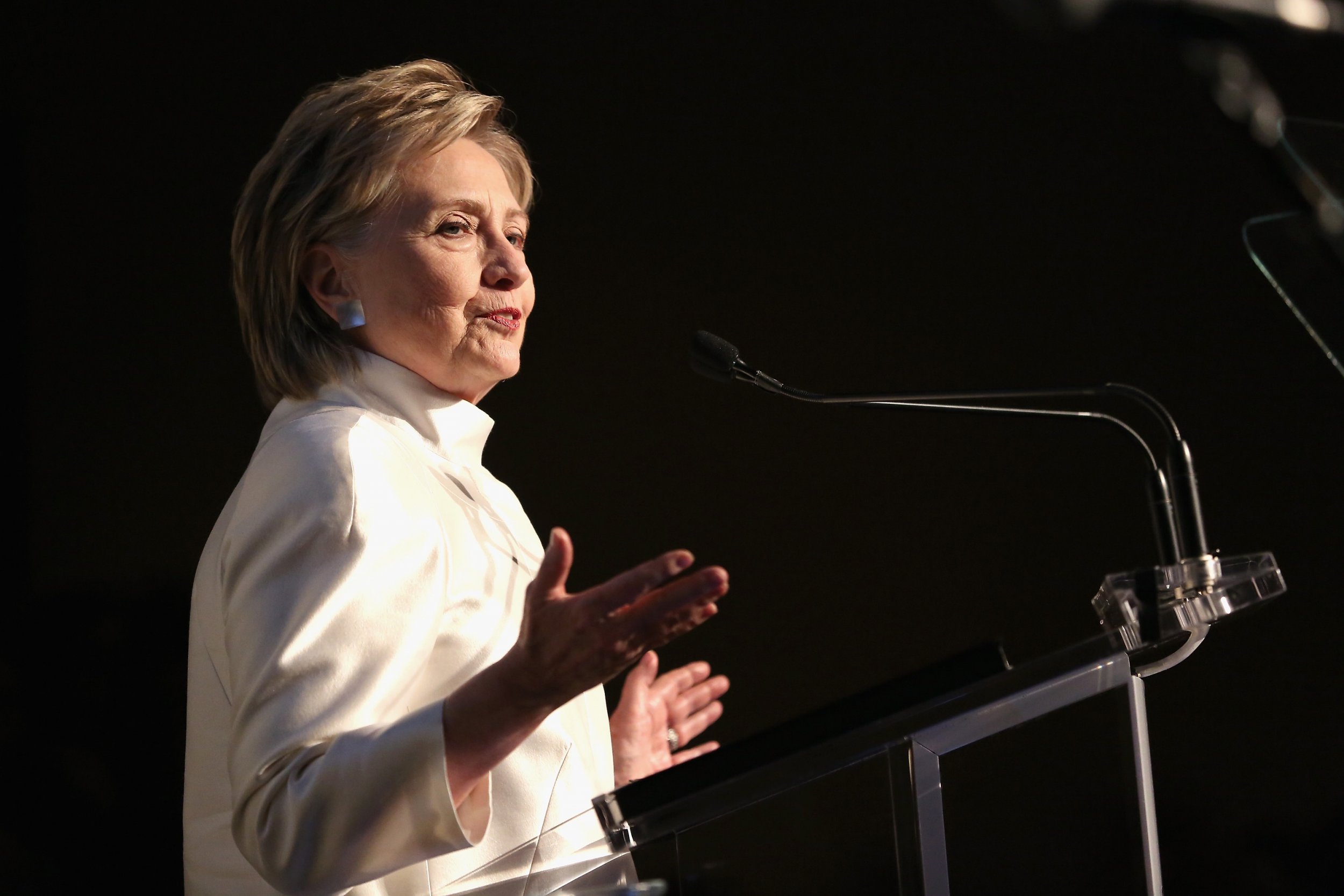 "Get back, you creep!"
Hillary Clinton has finally revealed what she was thinking during her second presidential debate with Donald Trump, when the Republican candidate loomed and leered behind her on a stage in Las Vegas.
In a feisty but relaxed taped interview today with Jane Pauley on CBS Sunday Morning, Clinton also promised that she won't run for office again, but will remain "in politics."
Leaks of her book, What Happened, to be published Tuesday, indicate that she takes swipes at Joe Biden for his weak support of her campaign, knocks primary rival Bernie Sanders for his attacks on her, and even gripes about former President Barack Obama for failing to publicize the interference in the election by Russia. But she stayed away from those topics Sunday.
She told Pauley she was "gobsmacked" by her loss to Trump in November, and talked about what she did afterward to recover: "I went into a frenzy of closet-cleaning, long walks in the woods, playing with my dog, yoga, had my share of Chardonnay."
She said attending Trump's inauguration was "an out of body experience," but she felt compelled to attend because of presidential protocol, since her husband, Bill, is a former resident of the White House. She also claimed that an aide during debate prep had "stalked" her to prepare her for Trump doing that on camera, but once she got on that Las Vegas stage, in front of tens of millions with Trump "scowling and leering" behind her, she said she was confronted with a choice between being "presidential" about it, or "Do I wheel around and say, Get out of my space! Back up, you creep! I didn't do the latter."
Clinton also said one of biggest regrets from the campaign was not speaking to the "resentment" of white voters. "I understood that there were many Americans who, because of the financial crash, there was anger and there was resentment. But I believed that it was my responsibility too try to offer answers, not to try to fan it. It was a mistake. People didn't want to hear my plans, they wanted me to share their anger."
The interview — and based on leaked bits of it, her new book— seem to be a self-justifying, wound-licking "It's not about you" purge of what she endured during the campaign, from that on-stage stalking, to relentless sexism, to being labeled a "criminal" by a candidate whose business empire was built by skirting financial and legal norms... and while the FBI was investigating his campaign's connections to Russian hackers and other Putin surrogates trying to disrupt the election.
Clinton told Pauley her political career "as a candidate" is over, but that she plans to remain in politics: "I am not done with politics, because I literally believe that our country is at stake." She didn't go into detail about what that involvement might entail. Early leaks of the book suggest that the book doesn't either.
The last presidential candidate who lost an election despite winning the popular vote was Al Gore, and the similarities between them as candidates were always clear: intellectual introverts unable to connect emotionally with voters. After his loss, Gore became a global leader of the movement to tackle climate change.
Hillary leaves behind a party with a shattered women's movement, and one that is not yet up to the challenge of the conservative billionaires' decades-long effort to dilute or suppress poor and brown votes by gerrymandering and using the courts. It's not clear that whatever she does next in politics will address those problems.
She is probably not be up to the task of leading Democrats out of the party's ideological brawl between those who would ignore racial and gender politics and "unite" as Americans (spokesman Mark Lilla) and the politics of racial identity, furiously argued for by Ta Nehisi Coates.
The CBS Sunday Morning interview was the first of several appearances by Clinton to plug her new book, which will be out on Tuesday. She will appear on ABC's The View this Wednesday, and CBS' The Late Show with Stephen Colbert on September 19, followed by an interview with Trevor Noah on The Daily Show November 1.
Her post-election book tour (tickets for some events cost upwards of $1,000) could either further damage the Democratic Party she led to a devastating loss, depending on how much time she spends blaming Sanders, Biden and Obama for her failure — bits of which are in the book and have already been leaked — and how much she talks about a path forward.