Hillary Clinton on Donald Trump: We Haven't 'Seen the Bottom Yet'
Hillary Clinton addressed the ongoing #MeToo women's rights movement Tuesday night, saying that she believed it still would have happened if she were elected president in 2016. "I believe that it was a wave that was building and building," she said. "I think that my losing probably accelerated that wave, but the wave was coming."
The 2016 presidential candidate addressed a group of a few hundred well-coiffed young women, many costumed in bright pantsuits, who waited for hours in the rain in New York City for a chance to gain entry into the coveted powder-pink female-only clubhouse known as The Wing, pay $12 for a glass of champagne, and see Clinton speak.
Clinton, who arrived in a bright blue jacket with a cast on her right wrist from a fall in India, was in good spirits as she walked in to the sounds of Macy Gray's I Try.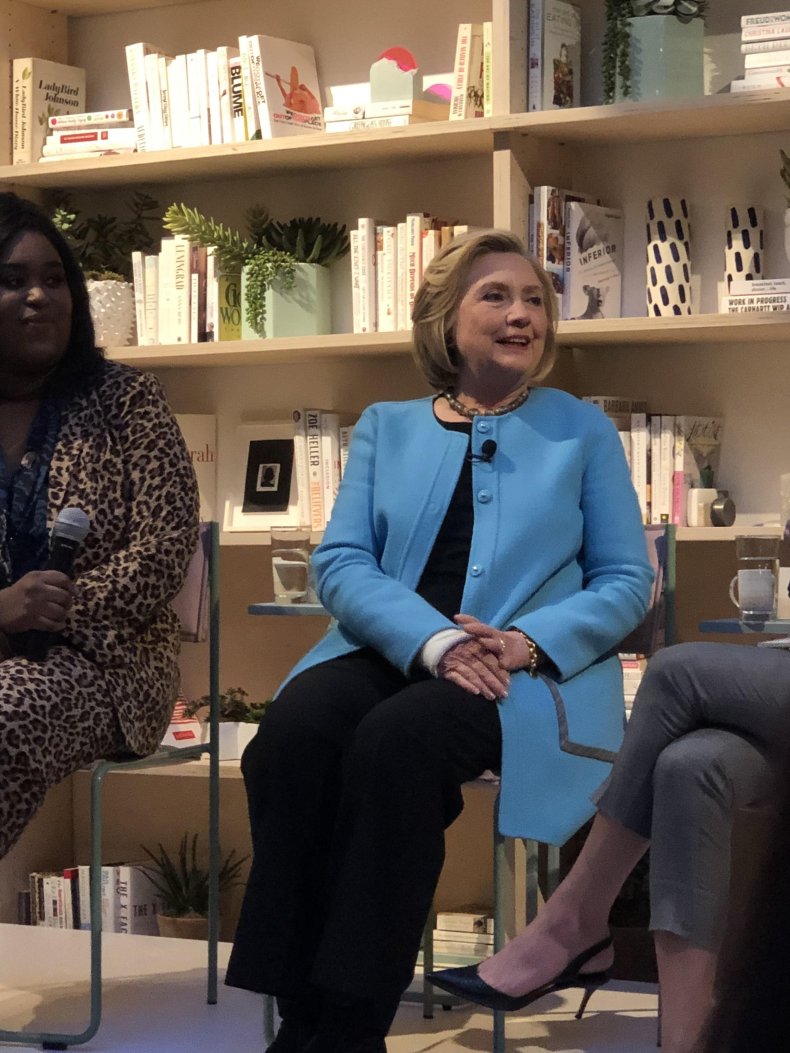 "I think we are in a really bad spot," she told the crowd about her outlook for the United States. "I don't understand how what is happening is going to better prepare us for the future. Everything is so unstable. There's a lot of confusion and concern around the world about what's happening in our country."
It's "really hard" to watch President Donald Trump run the country, she said. "And everyday that goes by there's more evidence and more proof of Russia and fake news and Cambridge Analytica and misogyny and sexism. I mean it's hard, it's very hard."
Clinton said she doesn't believe "we've seen the bottom yet," and that things will get worse, especially if midterm elections are bad for Democrats. "It's very scary to contemplate but more could happen that would put our rights at risk, our freedom at risk, our values, our fundamental views of what it means to be Americans," she said.
But, Clinton said, she's inspired by the persistence of "the Resistance" fighting Trump, particularly the students from Marjory Stoneman Douglas High School in Florida who are taking on the National Rifle Association and the government. "You know the NRA has spent more money on me than any other candidate," she joked. "We'll find out if any of that was Russian money."
On the State Department
"It's a tragedy, it's an absolute tragedy," Clinton remarked when asked about Trump's State Department. "The department has been decimated. [Former Secretary of State Rex] Tillerson basically didn't care about a lot of the expertise that members of the department had accumulated over decades and a lot of really good people left." This will lead to problems when it's time to negotiate with North Korea "and you have no experts left who speak the language, understand the history," she said. "When we know we're under assault by Russia...and we don't have anybody trying to stop them in this administration who speaks Russian, that's a problem."
These aren't partisan issues, they're national security threats, she said.
On "Lock Her Up" Chants and Misogyny
"I was really stunned by those chants," said Clinton. "It was disturbing to see that and never have any facts behind it." Clinton said that the fact that people believed some of the rumors and accusations about here was "really depressing" as well.
"They're still chanting it," she said. "When he can't think of anything to say, Trump starts chanting it. And you sit there and think 'does he think I was elected?'"
Some of it was misogyny, she said, with different standards for men and women. "Some of you probably remember when Kathy Griffin held up the head of Trump," she said. "What you may not remember is they were selling Trump holding up my head at the Republican convention and nobody said a word."
Now that Clinton is no longer running for office, she said she sees unfair media criticism of other female poltiicians and candidates like Senators Kamala Harris and Elizabeth Warren. "All of a sudden they're the ones being criticized for speaking out of turn, speaking up, being shrill, being aggressive," she said. "All the words meant to put down women."
On James Comey, Wikileaks and the Access Hollywood Tape
"I've never spoken to him, I've never met him and I've never kissed him," joked Clinton about former FBI Director James Comey.
She said she does, however, still believe that the letter he sent to Congress in October 2016 saying that he had reopened the investigation into Hillary Clinton's emails was the reason she lost the election. "But for the letter he wrote on October 28th I would have won," she said, citing polling data before and after it was released.
Clinton also believes that Wikileaks played a big part in her loss. "You had the Russians stealing the DNC emails and then stealing emails from my campaign," she said. "And on October 7th the CIA director said for the first time that the Russians were interfering in our election. Now that would have been a big story, except shortly after that the Access Hollywood tape was released and so that became the giant story." Shortly after the tapes, "Wikileaks began dropping emails from John Podesta's account," she said.
On Pizzagate
Clinton commented on the controversy that arose because of leaked emails where John Podesta, Clinton's campaign chairman, talked about having a potential fundraiser at Comet Pizza in Washington, D.C. The email was interpreted by conspiracy theorists to mean that there was a child trafficking ring run by D.C. politicians in the basement of the pizza place. The theory became so widespread that a man showed up to the restaurant with an AR-15 and fired three rounds of shots. No one was hurt.
"This is a little pizza place that a lot of people I know in Washington take their kids, it's got ping pong," she said. "The next thing you know this has morphed thanks to the right wing media machine into an email about a secret child sex-trafficking ring. It spread like wildfire and John and I were accused of running it."
"Now you look at that and you think, how ridiculous, but you have no idea how many people believe things presented as news," she added. The pizzeria doesn't even have a basement, she pointed out.
Accusing political opponents of pedophilia, Clinton said, comes "right out of the Russian playbook."
On Russia
Putin "is determined to destabilize the West," said Clinton. "And he'd like to sow discord and divisiveness in the United States." Clinton said Putin preferred Trump to her because she once said the 2011 Russian election was not free or fair. Demonstrations followed the elections, "and Putin blamed me for signaling these people to come out of their apartments and houses to demonstrate in the streets," she said.
"He's also a world class misogynist and said things about me and other women on the stage, some pretty contemptuous things," Clinton added.
Putin is someone who is trying to actively undermine democracy, Clinton said. "And you need a strong president and a strong Congress to combat that," she added. "Right now, for whatever reason, you've got Trump basically parroting whatever Putin says."
Clinton also commented on the recent chemical attack Russians likely carried out in England, using a nerve agent to poison a former Russian spy. "It's unbelievably dangerous," she said. "They did it in a way that left a trail so that it was clear that this was a Russian operation because they want to see how far they can push the limits."
Russia will go as far as it can until it is stopped, she said.