Hillary Clinton's Campaign Wasn't Honest About Paying for Trump Dossier, Watchdog Says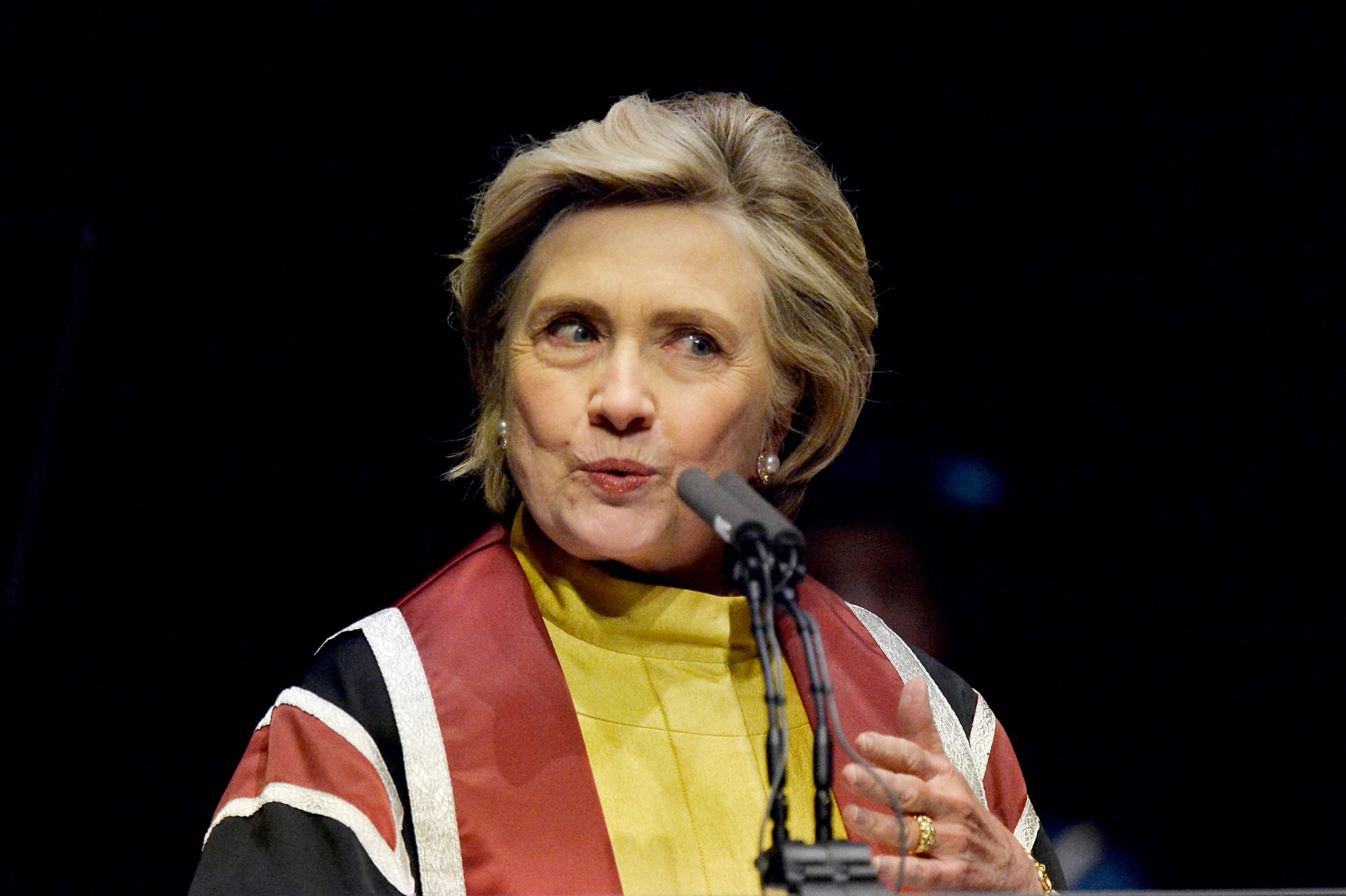 Update | Hillary Clinton's presidential campaign has been hit with a new complaint that alleges it tried to cover up the fact that it helped pay for the infamous "Trump Russia Dossier."
The Washington-based Campaign Legal Center (CLC) said in a Wednesday complaint to the Federal Election Commission (FEC) that Hillary for America and the Democratic National Committee (DNC) broke campaign finance law by trying to hide payments related to the dossier, which included graphic, unproven claims about the current president's sexual habits.
The CLC pointed to a Tuesday Washington Post report that said the Clinton team and the DNC paid Fusion GPS, an opposition research company, to investigate supposed connections between Trump and Russia.
The campaign and party "routed the money through the law firm Perkins Coie and described the purpose as 'legal services' on their FEC reports rather than research," the CLC said online in announcing the complaint. "By law, campaign and party committees must disclose the reason money is spent and its recipient."
The CLC asked federal elections officials to open an investigation.
"By filing misleading reports, the DNC and Clinton campaign undermined the vital public information role of campaign disclosures," said Adav Noti, CLC's senior director of trial litigation and strategy, in a statement.
"Voters need campaign disclosure laws to be enforced so they can hold candidates accountable for how they raise and spend money," said Noti, who previously worked as the FEC's associate general counsel for policy. "The FEC must investigate this apparent violation and take appropriate action."
A Clinton spokesman didn't immediately respond to Newsweek requests for comment on the complaint.
Wednesday night, the DNC supplied a response from Graham Wilson, a partner at Perkins Coie, which said both the campaign and party complied with the law.
"This research work was to support the provision of legal services, and payments made by vendors to sub-vendors are not required to be disclosed in circumstances like this," Wilson said. "This complaint fails to even note the Federal Election Commission's affirmation in 2013 of the relevant rule, notes no authority to the contrary, and is patently baseless."
Trump and his team have called the allegations in the research—including the lascivious claims involving urinating prostitutes that earned it the nickname of the "pee tape" dossier—"ridiculous," "silly" and "fake news."
Specifically, the Washington Post reported Fusion GPS was hired by attorney Marc E. Elias, who represented Clinton's campaign and the DNC.
After the Post story hit, Clinton's former press secretary, Brian Fallon, said he hadn't known about the hiring of Christopher Steele, the British ex-spy who dug up the dirt for Fusion GPS, but if Trump gets impeached, it was worth every dime.
Notably, the Fusion GPS research was initially funded by an as-yet-unnamed Republican during the 2016 GOP primary. One of the major themes of the entire dossier issue was whether Russia might have compromising information on Trump that could be used to blackmail or influence him.
CLC's director of federal and FEC reform, Brendan Fischer, noted Wednesday that spending money on opposition research isn't in itself the issue.
"Payments by a campaign or party committee to an opposition research firm are legal, as long as those payments are accurately disclosed," he said online. "But describing payments for opposition research as 'legal services' is entirely misleading and subverts the reporting requirements."
Trump has denied any sort of collusion with the Russian government during the course of his bitter campaign against Clinton. His campaign remains under investigation by special counsel Robert Mueller.
On Wednesday, Trump appeared on Fox Business Network's Lou Dobbs Tonight and railed against what he called a "disgraceful" Clinton-DNC attempt to discredit him. "It's almost $6 million that they paid and it's totally discredited, it's a total phony. I call it fake news," the president said.
Shortly before the interview aired, DNC spokeswoman Adrienne Watson also pushed back against Trump on the Russia issue from several entirely different angles.
Her emailed statement emphasized a Daily Beast report that the head of Cambridge Analytics, a data firm that worked for Team Trump during the campaign, once claimed to have contacted WikiLeaks founder Julian Assange about obtaining Clinton emails.
"Instead of helping the American people find answers or take steps to prevent our democracy from being attacked again, the Republican Party would rather cover for Trump's recklessness, excuse his campaign's ties to Russia, and push their party further into chaos," Watson said.
This article has been updated to include comment from Trump, the DNC and a partner at Perkins Coie.