What to Read Ahead of Hillary Clinton and Donald Trump's Second Presidential Debate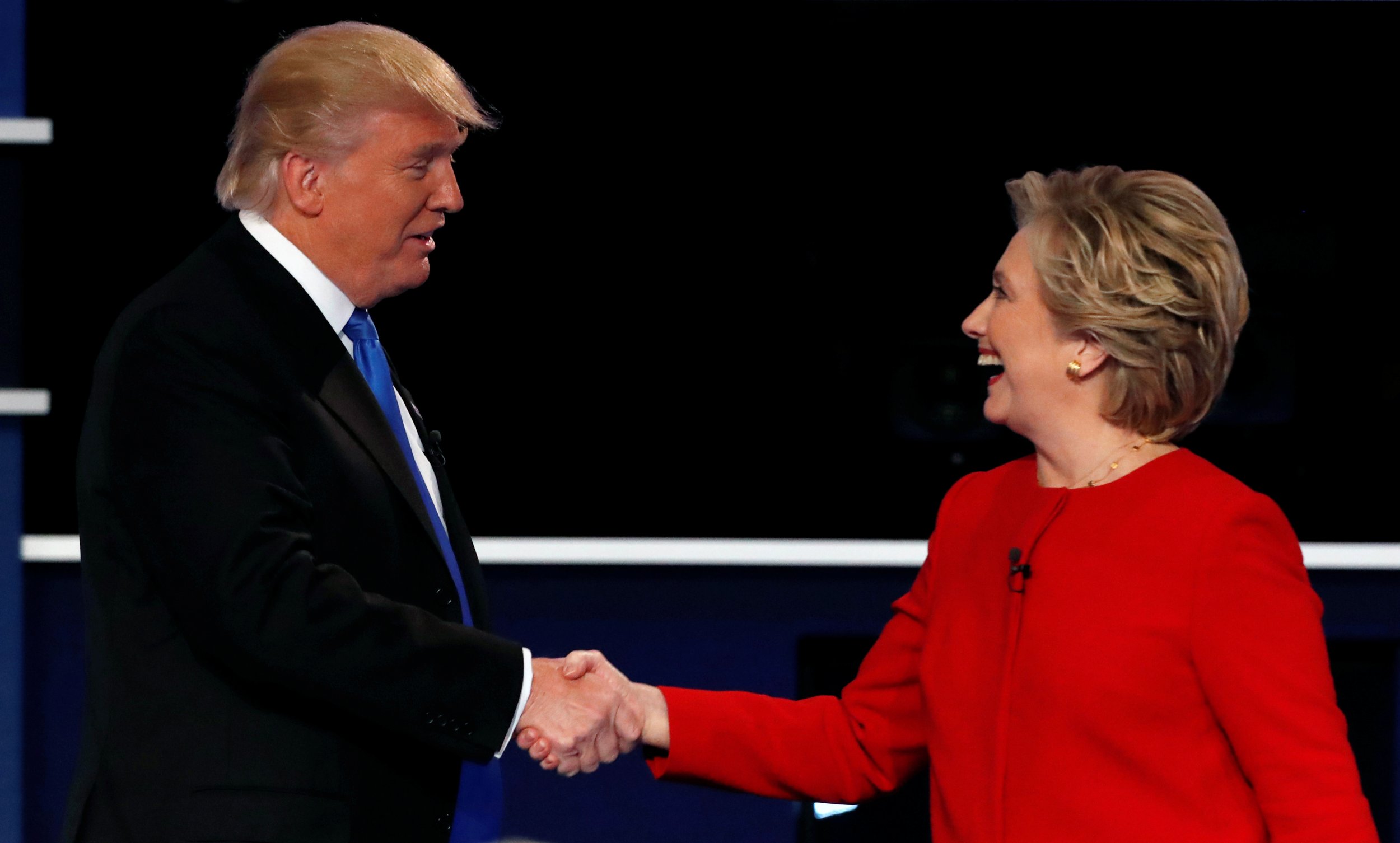 It's been an interesting couple of days. Just days before nominees Hillary Clinton and Donald Trump were scheduled to go head-to-head for Sunday's presidential debate, Trump scrambled to defend his status as presidential nominee amid calls for him to quit the race after tapes revealed him boasting about sexually harassing and assaulting women.
Trump told the Wall Street Journal on Saturday morning there's "zero chance I'll quit." He also spoke to the Washington Post, telling the paper, "I'd never withdraw. I've never withdrawn in my life. No, I'm not quitting this race. I have tremendous support."
The recent events should make for an interesting debate Sunday night; America will get to see the candidates interact with potential voters in a town-hall-style discussion.
The town-hall-style format will let audience members directly ask the candidates half the questions. The moderators will pose the other half, based on topics of public interest reflected in questions submitted online. Town Hall debates offer a chance for nominees to appear relatable and speak about topics that aren't always front-center in an election cycle. They can also be dangerous; since the format will have the candidates fielding questions from the crowd, they will not be able to invoke the power of the podium for support, leaving them more vulnerable to appearing awkward.
Will the town-hall format be beneficial or disastrous for Trump in light of recent events? How will each candidate respond to the devastating hurricane that has killed almost 900 in Haiti and lashed central Florida on Friday? We won't know for sure until then, but here's your chance to browse the Newsweek archives to review what's likely to come up.
Donald Trump
5 Ways Forward for the 2016 Race
The release of audio tapes in which Donald Trump boasts of sexually harassing women is sure to upend the remaining weeks of the presidential campaign.
'He grabbed me:' Woman alleges Trump groped her exactly as described on tape
at least two public accounts exist of Trump doing—not just talking about—precisely what he says he does in the tape. And lawyers say the activity he described amounts to sexual harassment or assault.
Donald Trump: 'I'm Not Quitting This Race'
Three Republican members of the Senate publicly announced they will not vote for Trump and former rival Carly Fiorina called on him to withdraw.
Trump chose China
A Newsweek investigation found that in at least two of Trump's last three construction projects, he opted to purchase his steel and aluminum from Chinese manufacturers rather than United States corporations based in states such as Pennsylvania, Ohio, Michigan and Wisconsin. With their industries besieged by imports, key swing states were deprived of untold millions of dollars as Trump chose China.
Donald Trump's tax records: A tale of business failures
Five years of tax information from the 1970s that Trump provided to the New Jersey Department of Law and Public Safety show mismanagement and losses that could have pushed him into personal bankruptcy—but for the largesse of his father.
How Donald Trump's company violated the U.S. embargo against Cuba
Through Trump Hotels, the presidential nominee secretly conducted business in Cuba, ignoring American laws. Later, he falsely told Cuban-American voters he would never spend money on the island so long as Fidel Castro remained in power.
The Trump Foundation was ordered to halt fundraising
And we spoke with New York Attorney General Eric Schneiderman shortly before he ordered the Foundation to cease and desist. Here's what he told us about Trump's decades of shady business practices and the challenge he has posed to the legal and regulatory systems.
Why Trump's refusal to release tax returns is bogus
There are tax documents not under audit that Trump can release, but won't.
Trump's foreign ties could upend U.S. national security
A close examination by Newsweek of the Trump Organization, including confidential interviews with business executives and some of its international partners, reveals an enterprise with deep ties to global financiers, foreign politicians and even criminals.
Hillary Clinton
Hillary Clinton's millennial problem
Many younger American voters, perhaps a sufficient number of them to seriously imperil Clinton's chances, have significant ideological differences with the candidate.
What millennials actually want from Hillary Clinton
They want to hear much more than just promises of cheaper higher education.
Hillary Clinton addressed the 'deeper fears' of black Americans in a church stop
"I wouldn't be able to stand it if my grandchildren had to be scared and worried the way too many children across our country feel right now," she said.
It's Hillary Clinton's election to lose
Here's why she technically should win, but why she might not.
The scandal over Hillary Clinton's emails still isn't a scandal
A close reading of the 79-page report issued by the inspector general of the State Department shows that, on the topics it analyzes, there is no Clinton email scandal.
Why the business community may favor Hillary Clinton over Trump
She can point to a record of political economic accomplishments dating back to the robust economy when her husband, Bill, spent eight years as president.
Former President George H.W. Bush is Voting for Clinton
A Facebook post by Kathleen Kennedy Townsend, daughter of the late Robert F. Kennedy and niece to John F. Kennedy, shows a picture of her smiling next to former Republican leader Bush with the caption: "The president told me he is voting for Hillary!!"
Trump and Clinton
The politics of Hurricane Matthew
Both candidates will need to address the storm during their debate, and will need to convey a sense that they could handle such a disaster. But doing so in a way that seems empathetic instead of pandering isn't necessarily easy.
Trump interrupted Clinton 51 times in their first debate
Trump called Clinton to task for her previous support of trade deals, and her foreign policy dealings, and he also used much of the 90-minute clash at Hofstra University to cut her off. She cut him off 17 times.