Hillary Clinton and Donald Trump Supporters Keep Their Friends Close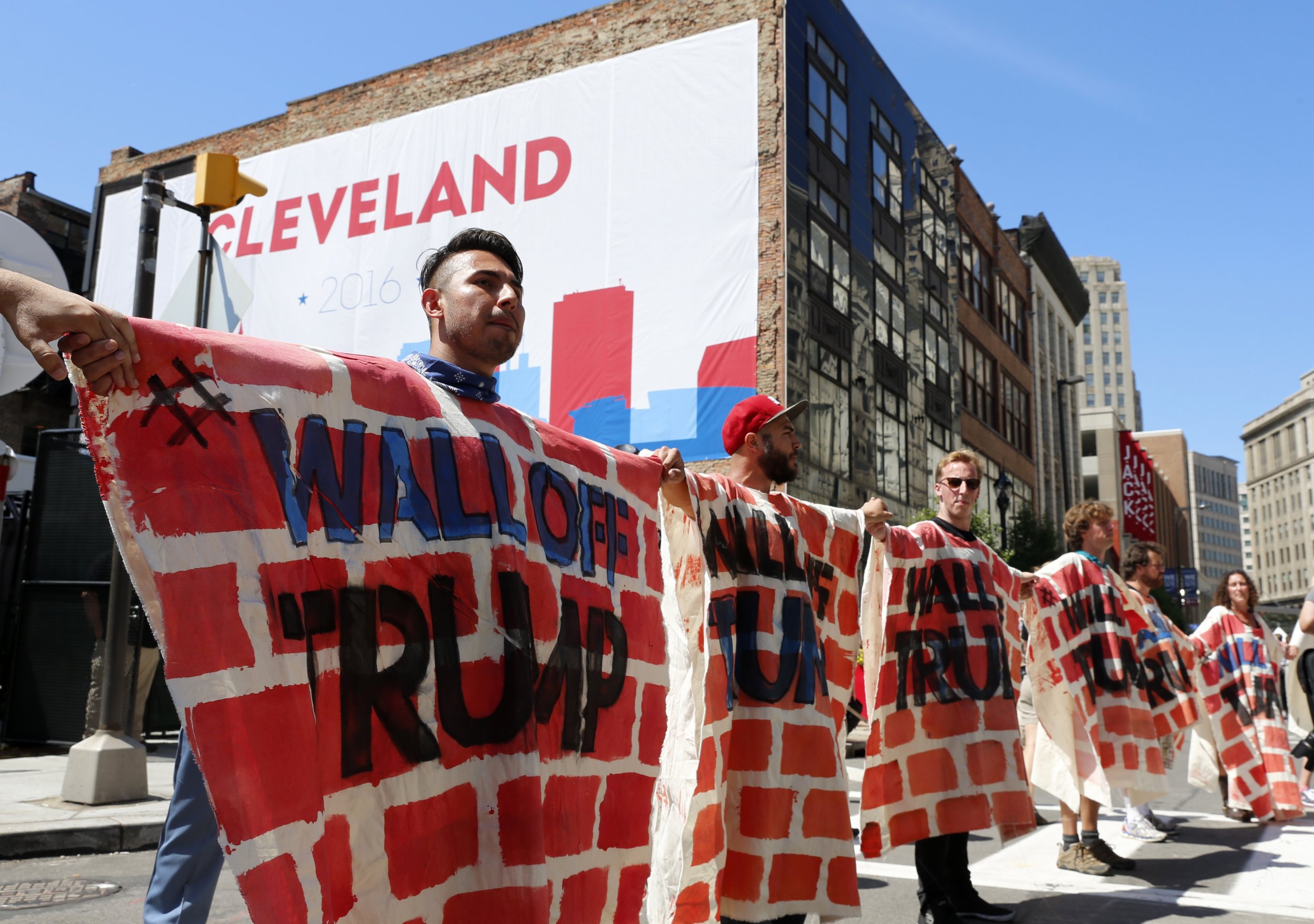 Friends don't let friends vote Trump—if they're Hillary Clinton supporters, that is. And the same dynamic holds true among supporters of Donald Trump, according to a Pew Research Center report that indicates friends are sticking together when it comes to the candidate they back.
Just a quarter of voters who lean toward Trump say they have at least some close friends who support Clinton, with a third saying they have zero close friends who support her. The numbers are more drastic in the Clinton camp: Only 18 percent of her supporters have at least some friends who support Trump, with nearly half saying they have zero close friends who dig the Donald.
Accordingly, Clinton and Trump backers alike also are far more likely to discuss the election with others who favor the same candidate. They mostly talk about the candidates' personalities and comments, rather than specific issues and policy positions, according to Pew.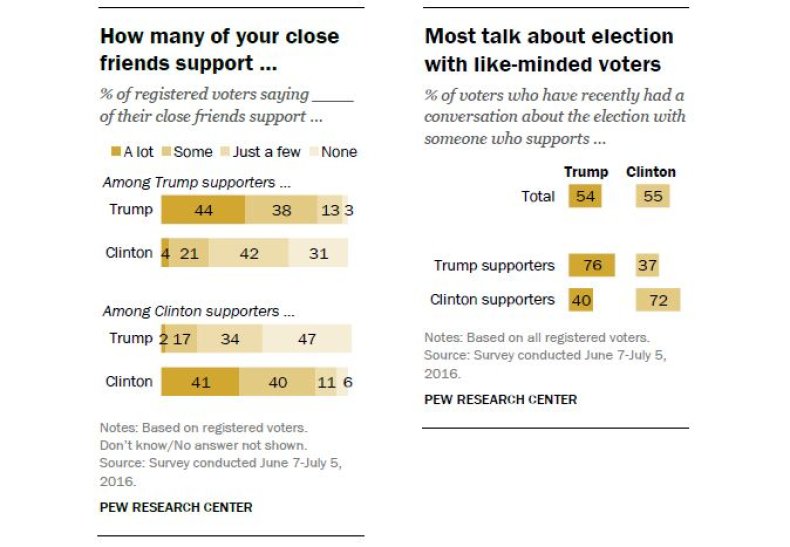 This points to a problem: The U.S. is deeply politically polarized—the most polarized it's been in nearly a quarter-century, according to Pew—and the contentious presidential campaign is reinforcing this trend.
Melissa Byrne, a political consultant who worked on Bernie Sanders's digital team, cites what she refers to as Trump's penchant for hate-mongering as a big part of the problem. She says it creates a hate bubble of people who share their anger on social media, where the rage spreads.
"It's creating a contagion of people who just want to blame somebody and be angry, as opposed to rolling up their sleeves and getting involved to make things better," Byrne says.
Spewing venom on social media isn't exactly new when it comes to politics, but compared with the last five election cycles, candidates' social media posts now outpace their websites and emails as sources of news, and roughly a quarter of U.S. adults turn to social media posts to keep up with the election, Pew says. Christine Chen, executive director for Asian and Pacific Islander American Vote, agrees that social media are further fueling political polarization.
"I remember back in the time when Democrats and Republicans still had their families get together and actually talk to one another," she says. "But it's no longer that way. It's so easy to antagonize and bait people [on social media], versus having a safe space to be able to have a productive conversation."
Forget about "productive"—in this election cycle, we can't even get voters to argue anymore. Though most voters say the outcome of the election "really matters," only 37 percent say they've had an argument about the race, and 8 percent say they have had a "major" argument.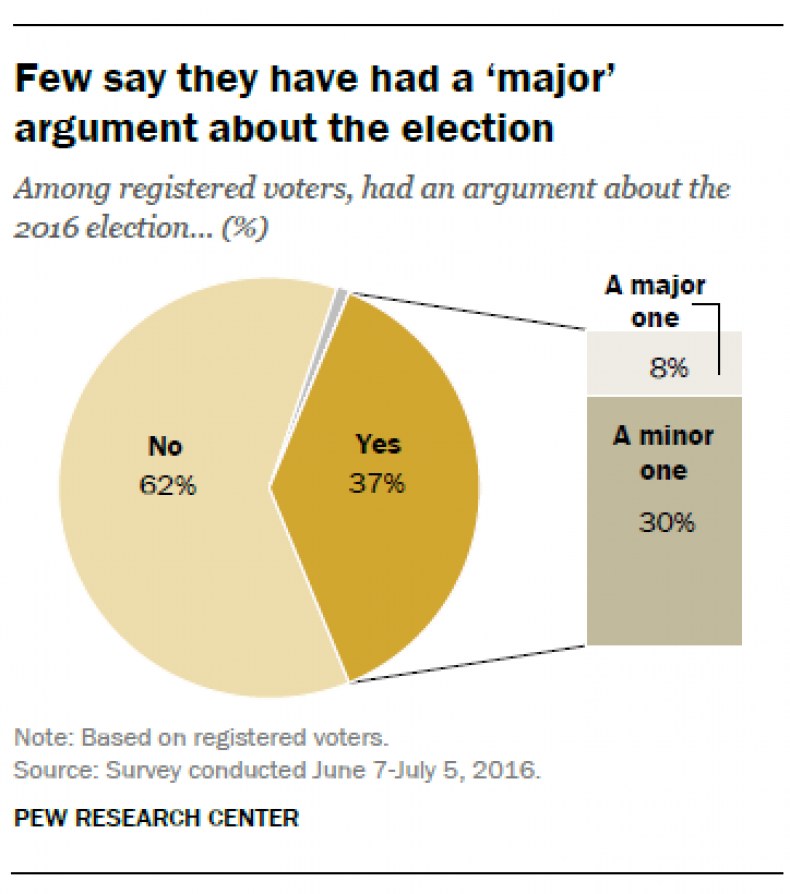 To get around this problem, Byrne zeroed in on "rank-and-file" voters while working on Sanders's campaign, ensuring they knew how to share their personal stories more effectively online.
"You get outside of people who are high-impact activists who are more likely to have friends [on social media] that are either swing voters or people who are just not active," she says.
Thus, it seems that while Trump is busy making preparations for the wall he plans to build between the U.S. and Mexico, the wall between Democrats and Republicans is growing stronger by the day. So Ezra Klein can write as many anti-Trump opuses as he wants, and John Oliver can continue to call him a "fucking asshole" on national TV, but those clips will keep getting passed around to the like-minded while being ignored by people on the other side politically, in a seemingly endless cycle of polarization.