Hillary Clinton Says She Is Under Pressure to Run in 2020: 'Never, Never, Never Say Never'
Former Secretary of State Hillary Clinton has refused to rule out adding herself to the crowded field in the Democrat primary race.
On a tour promoting a book she co-wrote with her daughter Chelsea, called The Book of Gutsy Women, the former New York senator was repeatedly pressed by BBC radio presenter Emma Barnett about whether she would repeat her 2016 run.
Initially replying "no," the former first lady then said: "I never say never to anything."
"I think all the time about what kind of president I would have been and what I would have done differently and what I think it would have meant to our country and the world.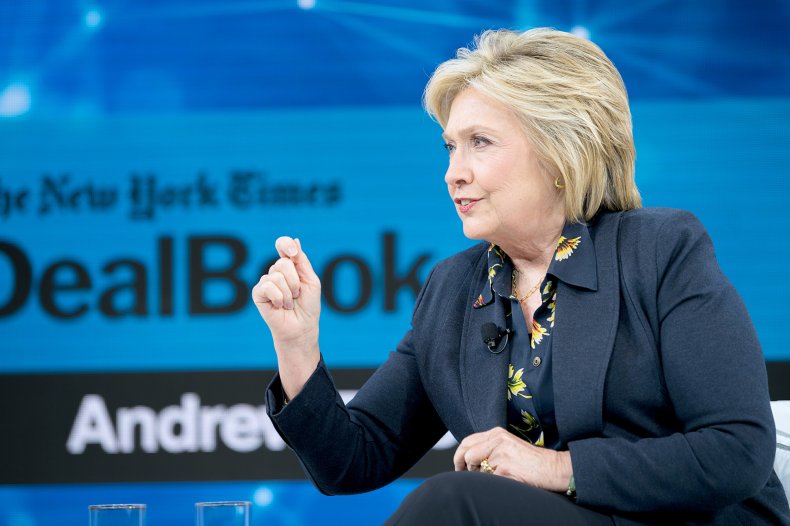 "So of course I think about it, I think about it all the time. Being able to do that, and look, whoever wins next time is going to have a big task trying to fix everything that's been broken," Clinton continued.
Chelsea Clinton, who was also in the BBC studio, added that she was "always in her corner," and that "whatever she decides to do I am here to support and love her."
Chelsea Clinton said that it was important "to retire...the current occupant of the White House and get back to having a country that is a pluralistic, robust, respectful, kind democracy that hopefully functions for everyone and I don't think we have any of these things being true in our country right now."
Barnett pursued the line of questioning, noting that former President Bill Clinton had recently refused to rule out another presidential run for his wife.
The BBC presenter asked again: "So you are ruling it out?"
Hillary Clinton replied: "I, as I say, never, never, never say never. I will certainly tell you, I'm under enormous pressure from many, many, many people to think about it.
"But as of this moment, sitting here in this studio talking to you, that is absolutely not in my plans," she said.
The deadline has passed to file on the Democratic primary ballot in a number of states, such as Alabama, Hillary Clinton's former political heartland of Arkansas and New Hampshire.
However, some of the 14 states voting on so-called "Super Tuesday" in March have filing deadlines next month, as reported by the BBC.
Former New York mayor Michael Bloomberg may enter the race amid Democrat concerns over the teetering campaign of former Democrat frontrunner Joe Biden.
Meanwhile, ex-Massachusetts Governor Deval Patrick is also reportedly considering a run, according to CNN.