Hillary Clinton: Trump 'Not Someone Who Should Ever Have the Nuclear Codes'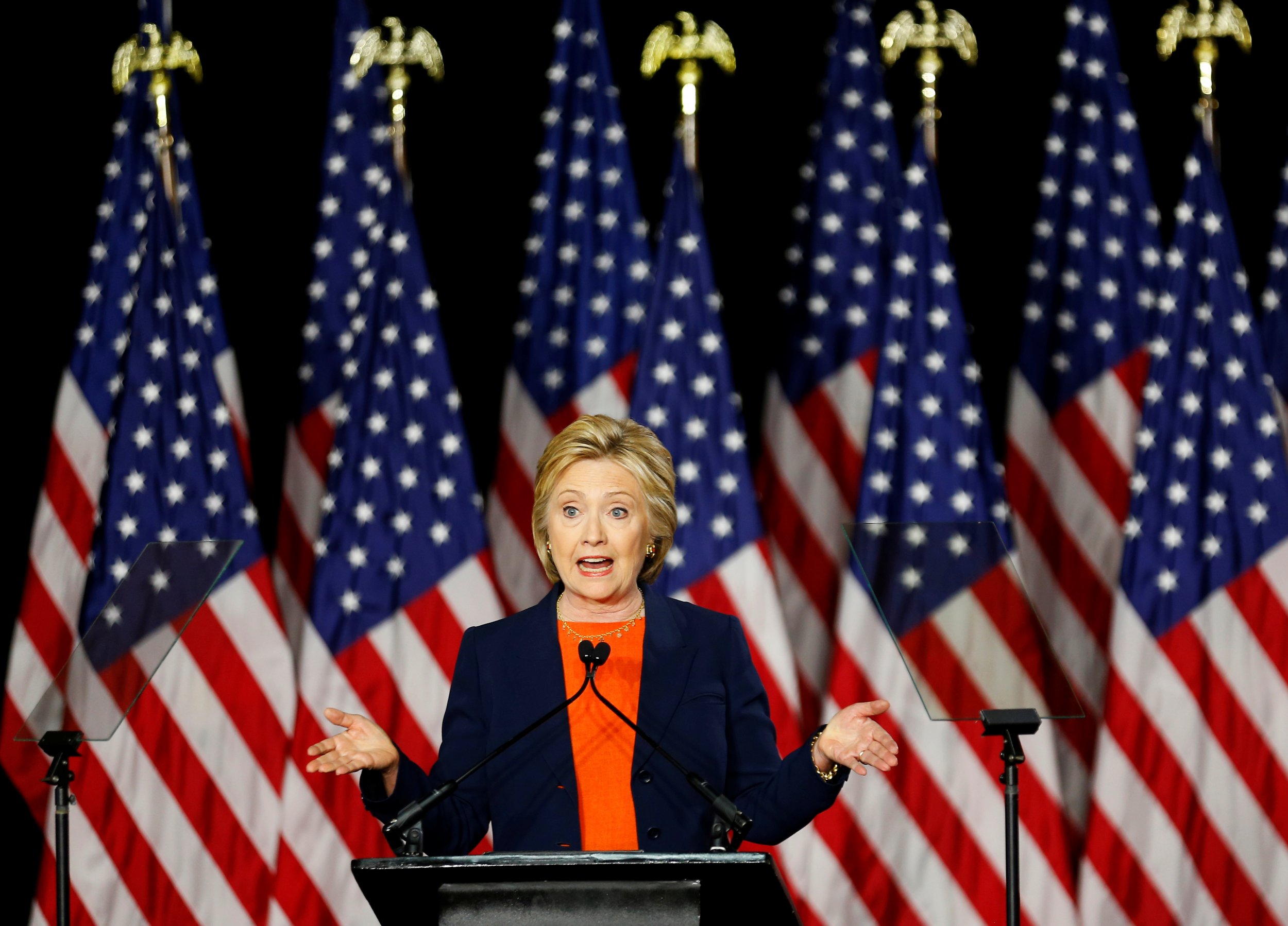 Seventeen American flags framed Hillary Clinton as she delivered the ferocious opening salvo in what promises to be a monthslong barrage aimed at convincing Americans that voting for Donald Trump in November would be a "historic mistake."
Her much touted speech, which focused heavily on foreign policy, was unusually personal for Clinton, who prefers to abstain from the down-and-dirty politics Trump favors. But on Thursday in San Diego, Clinton did not hesitate to tear into her Republican opponent, calling him "dangerously incoherent," "temperamentally unfit" and "thin-skinned." She called his ideas "not really even ideas" but "a series of bizarre rants, personal feuds and outright lies."
"This is not someone who should ever have the nuclear codes, because it's not hard to imagine Donald Trump leading us into a war just because somebody got under his very thin skin," the former secretary of state said to applause.
Clinton also criticized his stance that the U.S. should leave NATO, arguing that if Trump is elected president, "they'll be celebrating in the Kremlin."
The speech marked a fundamental turning point in Clinton's campaign. With the end of the Democratic primaries looming on June 7, Clinton turned the full force of her attacks from her Democratic rival, Vermont Senator Bernie Sanders, to Trump, using her harshest language to date. Beyond calling Trump divisive, she appeared to question his mental health.
"I will leave it to the psychiatrists to explain his affection for tyrants," Clinton said, referencing Trump's praise for Russian President Vladimir Putin and his suggestion that the massacre of civilians in Tiananmen Square by the Chinese government showed "toughness."
If the speech was a sharpened attack on Trump, it was also a recognition of her commitment to an activist foreign policy, one that challenges formidable adversaries like Russia and exerts American power—diplomatic, economic and military—where needed. This was not the speech of someone trimming her sails to appeal to Sanders's less hawkish voters. Aside from her attacks on Trump, it's the kind of speech Clinton could have given before entering the presidential race.
It was, however, a campaign speech at heart, one that looked ahead to her general election foe. According to aides, the speech was designed to put the differences in temperament between Clinton and Trump in stark relief—and it appeared to do just that. Clinton lambasted Trump for his trademark Twitter tirades, saying he has few skills beyond "composing nasty tweets...I'm willing to bet he's writing a few right now."
Indeed, Trump waited only minutes before tweeting that Clinton appeared to be "reading poorly from the telepromter [sic]!"
Clinton also touted her foreign policy experience while belittling Trump's lack of it. "There's no risk of people losing their lives if you blow up a golf course deal," Clinton said to laughter. "But it doesn't work like that in world affairs."