Hillary Clinton: 'Gun Violence Is a National Emergency'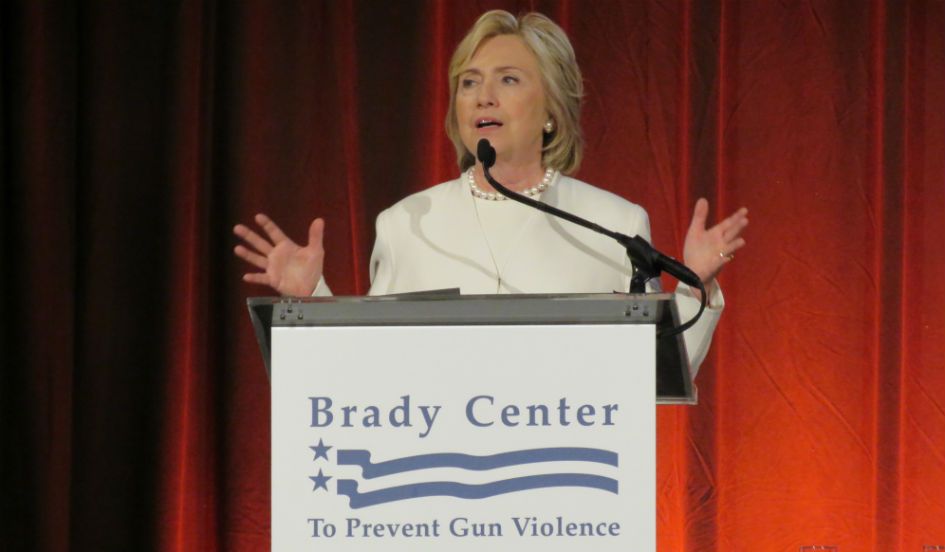 After receiving an award in New York City on Thursday evening in recognition of her continued leadership in gun violence prevention efforts, Democratic presidential candidate Hillary Clinton called the issue a "national emergency" and urged Americans not to give up hope that the gun lobby can be defeated.
"It is long past time to say enough," said Clinton, the Democratic front-runner and former secretary of state. "Enough talk. Enough delay. It is time to act."
Clinton received the inaugural Mario M. Cuomo Leadership Award at the Brady Campaign to Prevent Gun Violence's Annual Brady Bear Awards Gala, where the tagline of the night was "enough"—of shootings and gun-related deaths nationwide.
"There is no reason whatsoever of why we can't come together to take action," she said at the event, which was hosted at Cipriani on Broadway in Manhattan. "The problem is not finding common ground. The problem is politicians finding the courage."
The Brady Campaign, which works to extend background checks at the national level to all sales of firearms—including transactions at gun shows and on the Internet—recognized Clinton as the first recipient of the leadership award for her work in promoting gun control measures and dedication to the Brady Handgun Violence Prevention Act, more commonly known as the "Brady Bill."
Background checks have been required nationwide since the Brady Bill was signed into law in November 1993. It has stopped more than 2.4 million gun purchases to prohibited purchasers, such as felons and domestic abusers, according to the Brady Campaign.
But the decades-old measure doesn't apply to about 40 percent of total gun sales that occur each day because of loopholes in the system. Expanding background checks to all sales of firearms has overwhelming support from the American public.
Gun control prevention has emerged as a central issue on the campaign trail. The Democratic candidates have remained vocal about the topic since their first debate on October 13, which took place in the wake of the most recent high-profile mass shooting, this time at Umpqua Community College in Roseburg, Oregon.
Clinton has attacked her closest Democratic primary rival, Vermont Senator Bernie Sanders, from the left. As a legislator, he previously backed a measure that allowed gun manufacturers immunity from lawsuits and voted against the Brady Bill on multiple occasions. He had to answer to the opposition at the first debate.
Since announcing her bid to run for president in April, Clinton has introduced stricter new proposals for gun safety, including closing regulatory loopholes for shows and Internet vendors and holding manufacturers liable for crimes committed with their products. On Thursday night, she called those ideas "utterly sensible policies."
In the past, Clinton has proposed a national gun registry and called for the repeal the Protection of Lawful Commerce in Arms Act of 2005, which grants immunity to firearms dealers and manufacturers. She has made enacting tighter gun laws a key part of her campaign. Following the August shooting of two journalists on live TV in Moneta, Virginia, she told the country: "We cannot wait any longer."
The Brady Campaign's "Bear Awards" are named for the late James "Bear" Brady, President Ronald Reagan's press secretary who was shot and seriously wounded in 1981 during an assassination attempt on the commander-in-chief, and his late wife, Sarah. The couple fought to pass the landmark Brady Law. Sarah Brady, who became a tireless gun control activist after her husband was shot and left partly paralyzed, died in April.
Two other vocal gun control activists, Governor Andrew Cuomo and U.S. Senator Chuck Schumer, both of New York, also spoke Thursday about their continued efforts to pass gun control legislation.
"For me, what makes it so tragic is the deaths are so avoidable," Cuomo said. "This is a man-made crisis." In response to the December 2012 massacre at Sandy Hook Elementary School in Newtown, Connecticut, where 26 people died, Cuomo passed the New York Secure Ammunition and Firearms Enforcement Act of 2013.
Schumer promised to bring the universal background check bill to the floor of the Senate early next year.
Brady Campaign President Dan Gross stressed his belief that the movement has reached a tipping point. "We're finally at the precipice we've been waiting for," he said.
Before concluding her speech, Clinton urged the audience to continue fighting for the cause.
"Don't give in to frustration, disappointment or just giving up," she said. "My plea to all of us is to deliver, finally, the key to keep all Americans safe."